Story Progress
Back to home
Indian Batting Not Only about Virat Kohli: Ben Stokes
On the third day of the fourth Test, Virat Kohli fell for 15 but India still had a solid day with the bat with Lokesh Rahul making 199 and other contributions coming from Parthiv Patel (71) and Karun Nair (71 batting) against England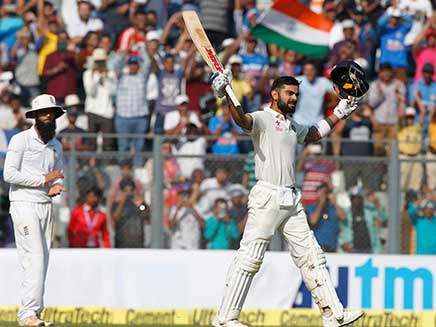 Virat Kohli was out for 15 on the third day of fourth Test against England.
© BCCI
Highlights
Virat Kohli was out for 15 on Day 3 of fourth Test vs England

KL Rahul scored 199, while Parthiv and Karun Nair scored half-centuries

India trail England by 86 runs at stumps on Day 3
Indian batting is much more than Virat Kohli, according to England all-rounder Ben Stokes. "In every game, someone (from the Indian team) has gone on to get a big score. It's nice to see the back of Kohli but yes unfortunately someone else obviously ends up getting a big score," said Stokes.
On the third day of the fourth Test, Kohli fell for 15 but India still had a solid day with the bat with Lokesh Rahul making 199 and other contributions coming from Parthiv Patel (71) and Karun Nair (71 batting). At close of play, the hosts were 391/4, trailing England by 86 runs. India ended up scoring 331 runs in a single day after resuming at 60 for no loss, leaving England with plenty to ponder on.
"I think we tried a lot but sometimes you are going to hold your hands up and say the partnership that they had throughout the day, they played really well.
"The things that we tried to do, maybe we didn't get the rewards that we deserved. Broad getting Kohli with a good bit of plan bowling, changing the angle that came round and up the wicket with the change ups. We can say that we didn't get the rewards for our efforts," lamented Stokes.
Stokes, who bowled nine over in India's innings, was surprised that there was no help or reverse swing on offer.
"I think that's probably been the most surprising thing. We have kept the ball in really really good condition but it really gets soft easily here compared to the Kookaburra we used in Bangladesh, where we managed to get (reverse swing) quite a lot," he felt.
Having already lost the series, England are keen to get a consolation win but their chances will depend on how they fare on day four.
"Definitely, we don't want to go away 4-0 or 3-0. We want to walk away with a win and go away with our heads held high. That all depends on how tomorrow goes, if we can get out there and run through them in a session. Go out and get some runs and put them under pressure."
Stokes dismissed Cheteshwar Pujara for his only wicket so far in the innings.
"I think we get into the dressing room and say we worked really hard today and you get rewards tomorrow and it's always nice to get a wicket at the end of the day and both guys (Nair and Vijay) have to start again tomorrow.
"Then if we get one, there is obviously the all-rounders, but we can get the wicket in close succession. So yes that's probably our aim tomorrow to try and restrict them and not try and let them get too far ahead."
He also felt for Rahul, who missed out on a famous double ton by a single run.
Promoted
"I don't think I have ever played a game where someone has got out (for 199 ). He played well but at the end we took his wicket. Credit to him, he played really really well," added Stokes.
(With inputs from PTI)
Topics mentioned in this article
Virat Kohli
Lokesh Rahul
India Cricket Team
England Cricket Team
India vs England 2016
Cricket