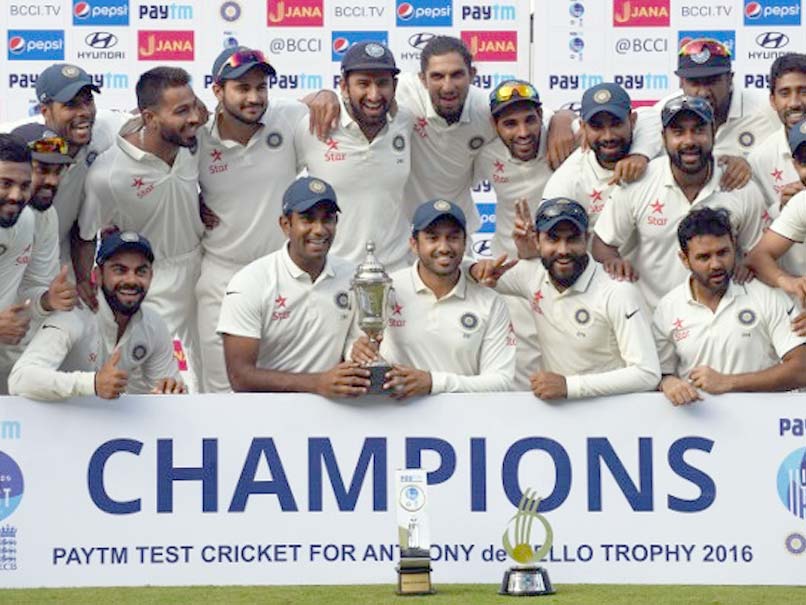 India crushed England 4-0 in the five-match Test series.
© AFP
India have finished 2016 as the no. 1 Test team in the ICC rankings following their 4-0 win over England in the five-match Test series, which ended with a sensational innings-and-75-run win in the Chennai Test on Tuesday.
With the win in Chennai, India have finished the year with 120 points, 15 more than the second-placed Australian team. India gained five points from the series against England.
England, on the other hand, have slipped to fifth place in the rankings from the pre-series position of second following their hammering in India.
The visitors dropped four points after the 4-0 series defeat in India, slipping from 105 points to 101. They are now placed just a point behind Pakistan and South Africa, who have been ranked third and fourth, respectively.
India's 15-point lead over the second-placed Australia has put them in prime position to finish atop the rankings on April 1, 2017, which is the cut-off date for the ICC cash awards.
The top-ranked side will receive an amount of USD 1 million, while the second-ranked team will be rewarded with USD 500,000. The third and fourth placed teams will be paid USD 200,000 and USD 100,000, respectively.
The ICC Test rankings will next be updated once the ongoing series between Australia and Pakistan draws to a close.
(With inputs from PTI)