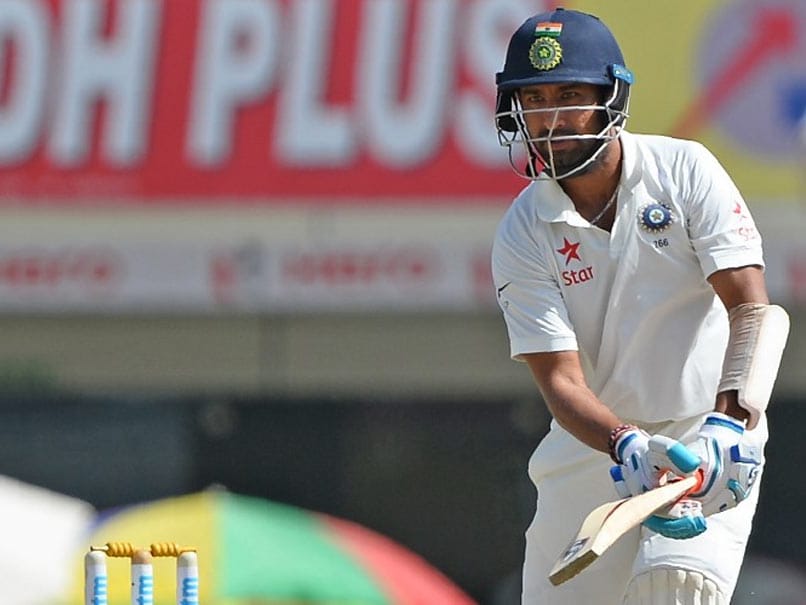 Cheteshwar Pujara lashed out at the Australian media
© AFP
Cheteshwar Pujara on Thursday took on the Australian media for comparing India captain Virat Kohli's attitude with the US President Donald Trump. Pujara, coming out of an epic double-century in Ranchi that helped India dominate the second half of the Test match, saying the focus had shifted from the game, which should not have happened. He called 'Kohli' a great leader and reiterated Team India's complete support for the captain. "I think it's really sad to hear such comments. We fully support Virat and he is one of the great ambassadors of this game," Pujara said in Dharamsala.
"I think the focus has shifted somewhere else, which shouldn't have happened. We are very much focussed on the game. He is a great leader and so we are fully supporting him.
"We are looking forward to the next game rather than worrying about anything else," said Pujara, who along with KL Rahul has been India's most consistent batsman in the series.
The current series has dominated air space as much off the field as it has been for the combative cricket that has been played on it.
The series has seen some great performances from both sides with Steve O'Keefe picking up 12 wickets in the first Test match, Steve Smith scoring big in the series and Nathan Lyon picking up an eight-for to Pujara scoring a double ton and Wriddhiman Saha scoring his third century in the last Test match.
But everything seems to have taken a back seat thanks to the bad blood that has spilled over with equal contribution from all stakeholders.
It started with Kohli loosely accusing opposite number Steve Smith of cheating during the 'DRS' episode, which the Aussie skipper had termed 'brain fade'.
From being called 'leader of snakes' to 'the Donald Trump of cricket' by the visiting media, Kohli has been facing all kinds of allegations at a time when he has also not been amongst runs.
Not to be left behind was Cricket Australia CEO James Sutherland, who took a sly dig at the Indian captain, stating that perhaps he doesn't know the spelling of sorry.
Once what Steve Waugh termed as 'mental disintegration', the touring Australian media has taken it to an altogether different level attacking Kohli, whose form has not been great of late.
The continuous attack on Kohli prompted former Australian skipper Michael Clarke to comment on record that "two or three journalists (from Australia) are trying to tarnish Virat's image which he should not be bothered about".
(With PTI Inputs)