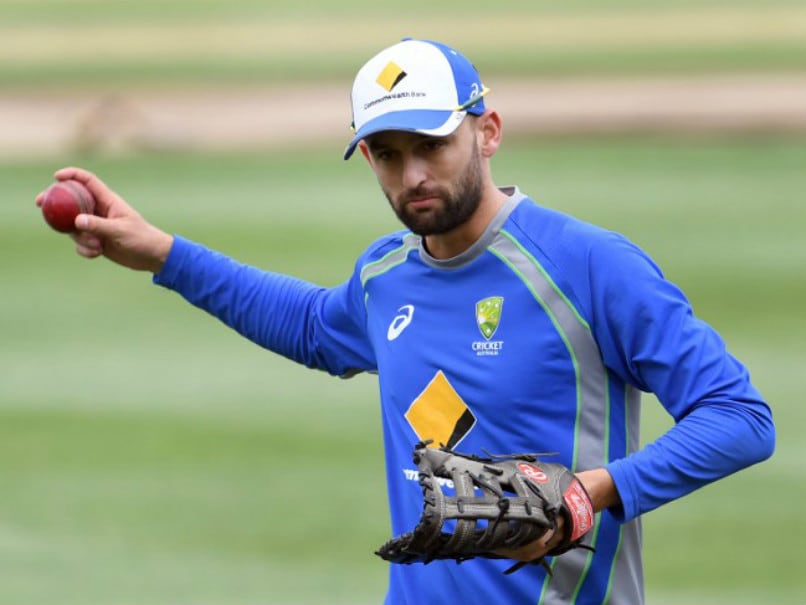 India vs Australia: Nathan Lyon revealed that he has been watching a lot of Ravichandran Ashwin.
© AFP
Australia visit India to play a four-Test match series with another trial by spin awaiting the visitors. India in their ranks have the current top ranked Test bowler in Ravichandran Ashwin and surely the off-spinner will pose the biggest danger for the Australians. However, the Australians are not going to just going to lay down and accept defeat. Australian offie Nathan Lyon on Tuesday revealed that he has been studying Ashwin and feels he has a lot to learn from the Indian tweaker. Lyon said whatever he has picked up from Ashwin he would look to put it into practice in the upcoming series.
Not just Ashwin but also lying in wait in India's armoury is the No.2-ranked Test bowler -- Ravindra Jadeja. The Australian batsmen will have to be at their best to keep the Indian duo at bay.
Aswhin has been in tremendous form and it was once again on show against England as the Indian offie took 28 wickets as India routed the English 4-0 in the 5-match Test series.
"I have watched a lot of Ashwin. He is a world class bowler and I can learn a lot from him," Lyon told reporters on Thursday.
"I'm not going to tell you what I have been working on. I definitely changed my approach to the subcontinent conditions as compared to four years ago. We have to wait and see how it comes out, I guess.
"I have been watching a lot of footage of Ashwin, the way he goes about it, his different release points. He is a world-class spinner, the best at the moment in the world, there is a reason for it. Been studying him a lot, hopefully I can put that in play," he added.
The last time Australia visited the sub-continent for a Test series, Steve Smith's side was mauled 3-0 in Sri Lanka by the islanders.
They were also beaten 2-1 by South Africa at home last year, which led to severe criticism of the team in Australia.
"I am aware you need to change a few things here and there. But it's a game of cricket. We are playing on the same wickets as they are. So there are no excuses. There is going to be different challenge lying ahead for us on this tour. We have a really good squad together. Wickets are going to turn, going to reverse, the big quicks are going to play a role. It's a good challenge for the whole team," he said.
Lyon, who has played 63 Tests and taken 228 wickets, said he was enjoying the additional responsibility of being the lead spinner.
"I'm enjoying the responsibility, doesn't add any more pressure. Our job is to bowl well together and in partnership and put pressure. I am looking at this as a chance to pass knowledge to some, especially the younger spinners who have not toured here before," said Lyon.
"Am good mates with (left-arm slow) Steve O'Keefe. We play for the same side Sydney Sixers and New South Wales as well. We played the last Test in Sydney against Pakistan. We bowled well together. He's totally different to what I am, we complement each other well. Looking to bowling with him.
"If you are going to come out and try to take wicket off every ball, you are going to get hit for boundaries. For us, coming over and competing here is about building pressure, either with quickies or spinners at the other end. Try to give minimum runs and make the Indians play the big shots. That's where we are going to build pressure," he explained.
Harbhajan Singh has made no bones about the fact that the hosts are overwhelming favourites to secure another series win at home, however, Lyon chose to downplay the Indian spiinner's comments.
Harbhajan had dubbed the current Australian team as the weakest ever to tour India.
"Good luck to him. Everyone has his opinion. As an Australian team we are worried about our processes. We are not worried about what everyone believes and thinks about this team. We think we have got really strong squad here. We have got unbelievable talent in the room out there. We have got good leaders with David Warner as vice-captain and Steve Smith as captain. There are some very young talents.
"We are confident in our change room. We'll come out and compete hard with India. We know it's going to be hard work, we know it's going to be a challenge. India are the No. 1 side for a reason. We're playing in their backyard. We don't expect our big fast bowlers to come out and get them five down (on the first day). It's a big challenge for us. We are looking forward to it," he concluded.
(With PTI Inputs)