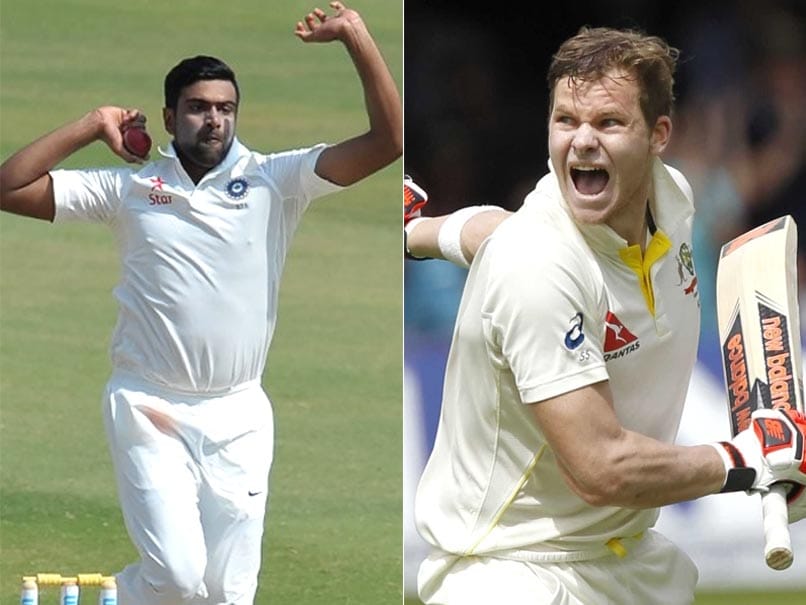 Ashwin and Smith will be up against each other in the upcoming Test series
© AFP
Ravichandran Ashwin, currently the No 1 bowler in the world in Test cricket, will be licking his fingers ahead of the upcoming Test series against Australia starting on February 23 in Pune. Ashwin who has been at the top of his mark and became the fastest to reach 250 wickets in Tests, is coming off from a very good series against England, having picked up 28 wickets in the five-match Test series. With the pitches likely to favour spinners, it is only a matter of time for Ashwin to get into his groove and keep adding to his wickets tally.
Quite capable of taking the new ball, Ashwin however, may not have it that easy against the Australian captain Steve Smith. Known to be a good player of spin bowling, Smith doesn't shy away from using his feet against the spinners - one of the key ingredients to counter turn. Ashwin, however, is a much-improved bowler than what he was the last time Australia toured India, where the visitors were decimated 4-0.
The 30-year-old has over the years learned to use the crease to good effect and alter the length of the ball as and when it is applicable. Ashwin's success over the last couple of years has been largely attributed to landing the off-spinners, out of all the variations he possesses, at the right place with more revolutions on the ball, getting it to dip and turn at the same time, making short work of the batsman who are not only beaten on flight but also on length.
The biggest challenge ahead of Smith would be to pick the length early and not commit to a shot or play it late. The 27-year-old has grown up playing at the Sydney Cricket Ground (SCG) that tends to assist the spinners more than seamers.
Gifted with nimble feet, Smith will probably try and unsettle Ashwin by looking to play his shots and punish the loose balls on offer that will be few and far in between. At least, that could keep away the close-in fielders who would be breathing down his neck for most part of the series.
All in all, the contest between Ashwin and Smith promises to be a riveting one that can be intriguing in more than one ways. There will be a lot of mind games on offer but it will be Smith's skill to counter Ashwin that will decide the fate of the battle.