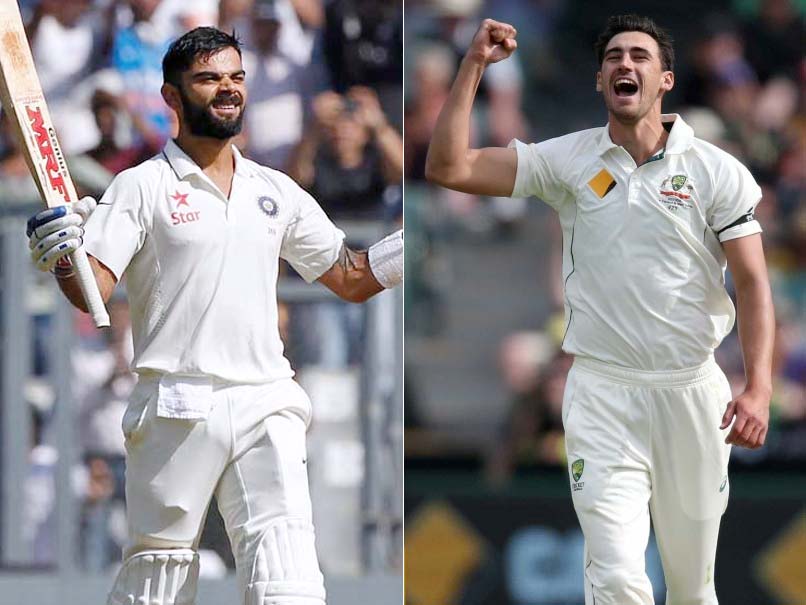 Mitchell Starc and Virat Kohli are expected to have an intense duel during the series.
© NDTV
If there was ever a contest that was going to fire the imagination, it would always be an aggressive batsman against an equally in-your-face fast bowler. In the current cricket scenario, you would be hard-pressed to find two more aggressive guys than India skipper Virat Kohli and Australian pace spearhead, Mitchel Starc. In what is being termed a pretty weak Aussie contingent, Starc stands out, being one of the best in the business. As for Kohli, his record speaks for itself.
While many Australians, including Michael Hussey, Glenn Maxwell and David Warner have said they won't go after Kohli verbally, it would be too much to expect Starc to be completely quiet, especially if the Indian skipper were to come in to bat early on. Given that the Indian openers haven't exactly been consistent, that is not such a long shot.
At the same time, if Kohli is able to counter Starc's searing pace and the ball going both ways, we should be in for a run-fest, which will only add to the spice between the two, especially if reverse swing kicks in.
Starc and Kohli are not unknown to one another, the Australian having been a premium member of the Kohli-led Royal Challengers Bangalore, and the two have together contrived and conspired against most others in the business.
However, the Australian pulled out of IPL 2017 shortly before the auction in Bengaluru on Monday, focusing more on the job at hand. That job is getting the better of Kohli and the other Indian batsmen.