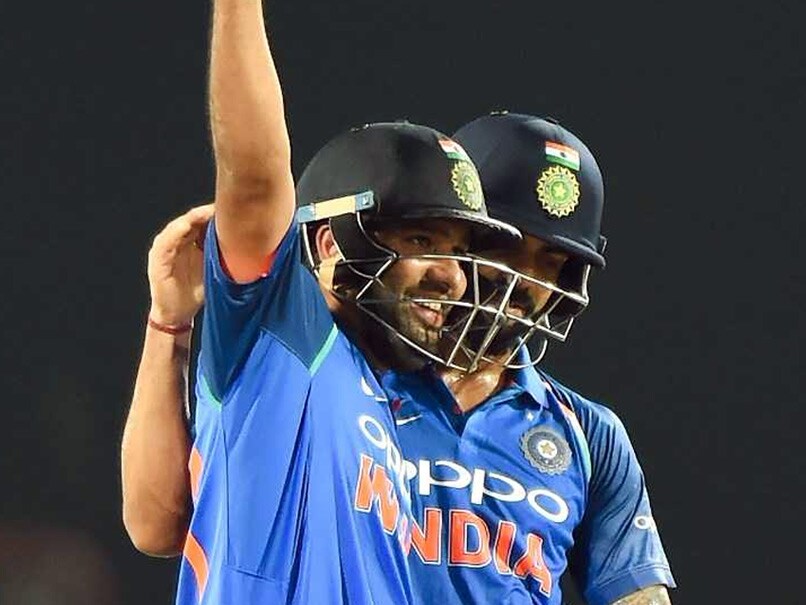 The Indian top order has been firing on all cylinders in recent series.
© AFP
India have a problem of plenty when it comes to choosing the batting top-order. In the absence of regular opener Shikhar Dhawan, Rohit Sharma and Ajinkya Rahane forged a brilliant opening partnership to thwart the Australian pacers time and again. And while Virat Kohli might not have had the best of series as per his lofty standards, there is no denying he continues to be the best batsman in world cricket currently. Former India captain Sunil Gavaskar was all praise for the Indian top order, saying that whether it be Dhawan-Rohit or Rahane-Rohit along with Kohli coming at one-down, "India's top 3 are the world's envy". 
Chasing 243 to win, Rohit and Rahane set it up nicely with a 124-run partnership for the opening wicket, their third century stand in a row. 
Rohit ended the series as the highest run-getter with a whopping 296 runs at an average of 59.20 and a strike rate of 104.22. Rahane, meanwhile, was fourth with 244 runs at an average of 48.80.
In the previous ODI series against Sri Lanka, the Indian top 3 had once again dominated their opponents. Kohli ended the series as the top run-getter with a brilliant average of 110, followed by Rohit, who amassed 302 runs at an average of 75.50.
Dhawan, despite missing the final ODI of the Lanka series, was the fourth highest run-getter with 190 runs in four matches at an average of 63.33.
"Between four and seven, it should be a floating batting order. The kind of top 3 that we have, I think they are the world's envy right at the moment. Whether it is Shikhar and Rohit or Ajinkya and Rohit, then Virat at 3, it's the world's envy. These three are scoring runs most of the time, so No.4 generally comes into bat between the 30th and 40th over and doesn't get too much time," Gavaskar told NDTV.
Kohli failed to score a century in the five-match series against Australia, but still managed a decent series average of 36 after scoring 180 runs in total. Kohli had a best of 92 and despite a duck to his name, ended up being the sixth highest run-getter in the series.
Speaking about Kohli's knock in Nagpur where he made a patch 39 off 55 balls, Gavaskar said,"It was not an easy pitch to bat on, it took you a little while to get used to it. The ball was not coming on to the bat as well as it did in Indore and Bengaluru and that's why Virat struggled a little bit with his timing. Also, he didn't have too many runs to score at the end of the day after the start that Rohit and Rahane had given. There was not much for Virat to do but he made sure that there wasn't a second wicket that fell quickly after Rahane went and thwarted the Australians."