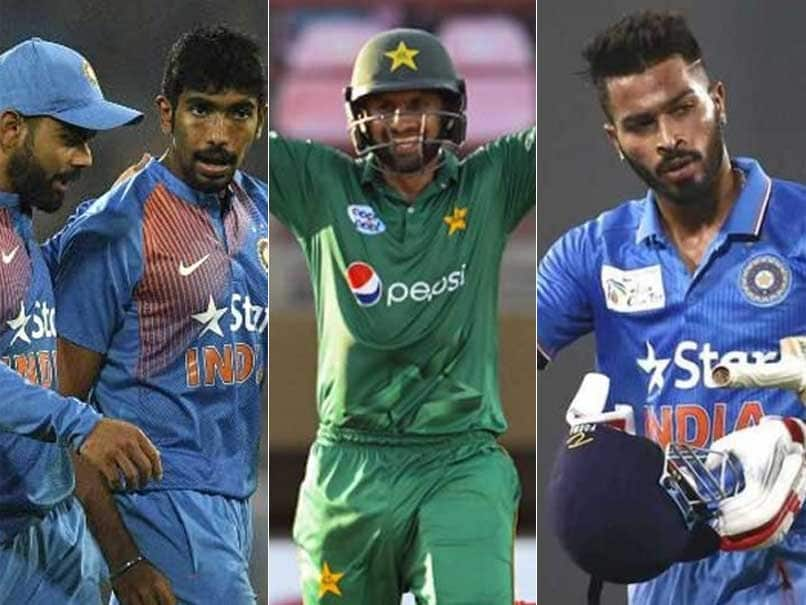 The Pakistan veteran will be playing his 6th ICC Champions Trophy.
© AFP
The ICC Champions Trophy, previously known as the ICC Knock Out Tournament, began its journey in 1998 and has seen many young guns and veterans performing at the big stage. As the sixth edition of the tournament approaches, many former players will be watching it on TV, while some will be in commentary boxes or studios. But, they will cheer for a man who will carry the flag of the oldies -- Pakistan's Shoaib Malik, who will be playing his 6th edition.
The 35-year-old Malik has been the part of all six Champions Trophy tournaments since 2002. He has played 15 matches so far, scoring 326 runs at an average of 25.07. He has one century and three fifties to his name in the tournament.
Malik, who made his ODI debut against the West Indies in 1999, has more than 6711 runs under his belt. He has played 247 ODIs for his country.
Following is an estimate of where some of the Indian players were when Malik made his debut:
Jasprit Bumrah: The youngest member of the India squad, the death overs specialist was just 8 years old when Malik made it to the Pakistan's Champions Trophy 2002 squad. This will be Bumrah's first Champions Trophy assignment.
Hardik Pandya: Known for his fierce batting and bowling, the all-rounder has cemented his place in the team in a short period of time. Pandya, who was one of the key members in Mumbai Indians' IPL 2017 triumph, was also 8 when Malik made his debut.
Mohammed Shami: Mohammed Shami will be making his maiden Champions Trophy appearance. At 11, Shami must have been learning the tricks of pace deliveries in 2002.
Bhuvneshwar Kumar: Known for his ability to swing the ball both ways, Bhuvneshwar will be playing his second Champions Trophy. Bhuvneshwar would have been on the fringe of school cricket at the age of 12 in 2002.
Virat Kohli: The Indian captain must have been honing his skills at inter-school meets at the age of 13 in. Kohli, who was the part of the team in 2009 and 2013, will be up for his third Champions Trophy assignment.