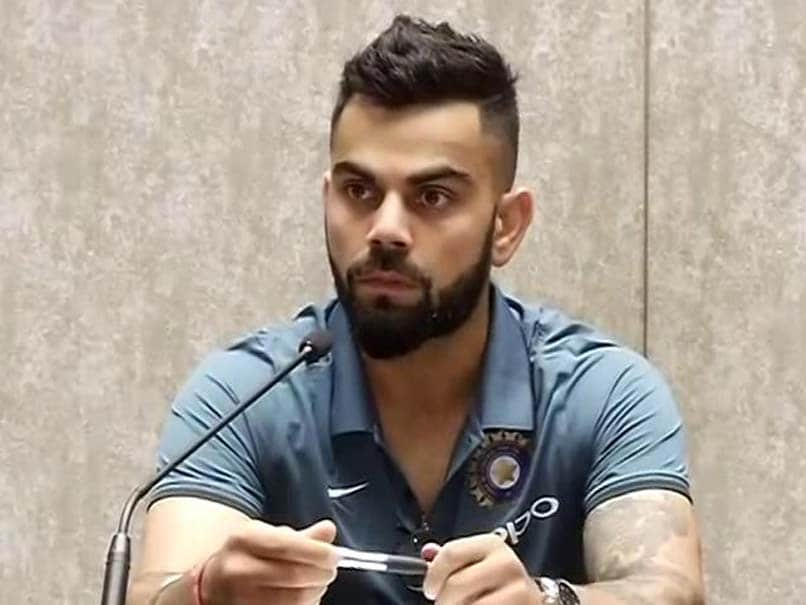 Virat Kohli-led India will face Pakistan on June 4.
© NDTV.
India will be looking to retain the ICC Champions Trophy without losing any matches and the only thing that matters to skipper Virat Kohli is to win matches for India. "I would never play for redemption, my only motivation is to keep winning games for my country and doesn't matter the conditions I am playing in, it might be in sub-continent, it might be England, Australia, South Africa, the aim always is to win games and I am willing to do whatever I can to be able to achieve that for the team," Kohli said at the press conference before the team's departure for the tournament.
"People might look at it redemption, opportunity or stuff like that but in my head I don't think of those things at all, for me it's a game of cricket played anywhere in the world," the Indian skipper added.
He believes that the standard of competition in the Champions Trophy is higher than World Cup. The Indian captain was answering a question which related to his poor run in the recently-concluded Indian Premier League (IPL).
Kohli had a fairly indifferent IPL, with 308 runs from the 10 innings he played after recovering from an injury he picked up during the Australia series.
His display included four half-centuries, which by his standards was a rather poor show, given his standards -- he had four consecutive centuries in IPL 9.
The Kohli-led Royal Challengers Bangalore ended at the bottom of the table and were dumped out of the tournament at the end of the league stage. They managed to win just three of their 14 league matches, the third win coming in their last match last match, against Delhi Daredevils.
"We want to win it without losing a game," Kohli said. "We have to be at top of our game from Ball 1."
India begin their campaign against arch-rivals Pakistan at Edgbaston on June 4. Kohli said that his sole ambition is to win matches for India.
"If players don't do well in India and then go back, there is no hype around it, you don't do well away from India it is like a knife hanging on your neck, so I don't believe in those things. 
"India, Pakistan game is always exciting but for us it is a game of cricket," Kohli said. "The hype around India-Pakistan game not always in our control," he added.
Kohli said that the presence of players like Mahendra Singh Dhoni and Yuvraj Singh in the squad only added to it.
"If given freedom, Dhoni and Yuvraj know how to bring their experience into play," he added.
The tournament begins on June 1.
India have two practice matches to play ahead of the tournament proper, against New Zealand and Bangladesh.