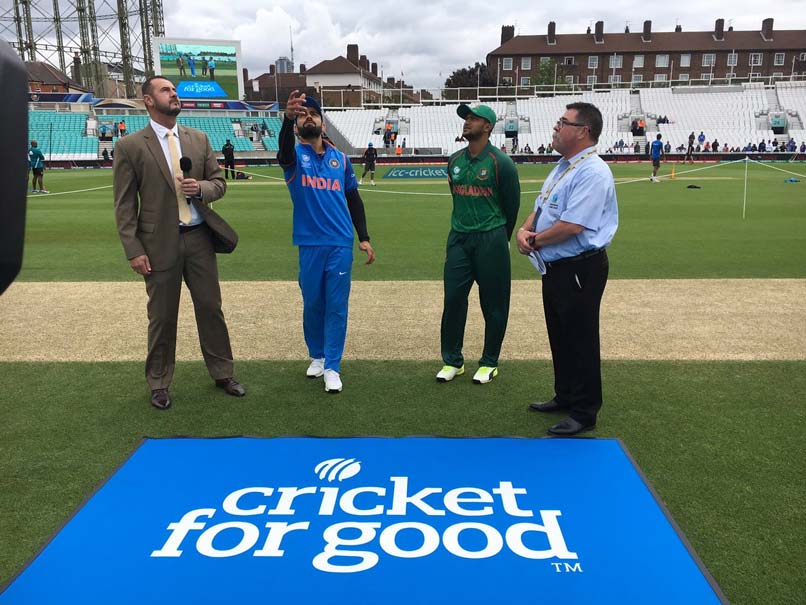 ICC Champions Trophy Highlights: India vs Bangladesh Warm Up match.
© BCCI
Dinesh Karthik and Shikhar Dhawan had to rebuild the Indian innings after the former champions lost a couple of early wickets against Bangladesh. Karthik top-scored for India before he was made to retired out on 94 and a brilliant cameo from Hardik Pandya (80*) at the end took India to a mammoth 324 for 7 at the end of 50 overs. Bangladesh never really got going in the run-chase and were bundled out for 84 in just 23.5 overs. For India, Bhuvneshwar Kumar was the pick of the bowlers who returned with figures of 3 for 13 as Umesh Yadav gave him good support by picking up three wickets. (SCORECARD)
ICC Champions Trophy highlights, India vs Bangladesh practice match straight from The Oval.
21:06 IST: Wicket! That's it! It is all over. Rubel Hossain is the last man to get out. Hardik Pandya gets his first wicket of the match. India win by 240 runs. Bangladesh 84 all out in 23.5 overs.
21:03 IST: Rubel Hossain is the last man in for Bangladesh.
21:01 IST: Wicket! Sunzamul's stay at the crease has come to an end. Ashwin strikes in his first over.
20:56 IST: Sunzamul fails to capitalise on the free hit. All he could manage was to edge it to the slips. But no damage done as it was a free hit.
20:55 IST: Shami almost bowls a beamer and it has been called a no ball by the umpires. So a free hit for Sunzamul.
20:48 IST: Taskin Ahmed is the new man in.
20:46 IST: Wicket! Bumrah gets his man. Mehedi Hasan goes for the cut but only manages to get the edge through to the keeper.
20:43 IST: Four! Hasan goes for the pull and gets it away for a boundary.
20:39 IST: Bangladesh 72 for 7 in 18 overs.
20:29: Four! Four! Sunzamul throws his bat at it and it flies over the slips.
20:28 IST: Bumrah finds the edge but it splits the gap between keeper and first slip. Sunzamul survives a scare.
20:12 IST: Wicket! India on a roll here. Now Shami gets his name in the wickets column. Mushfiqur Rahim takes the long walk back. Bangladesh 47 for 7 in 12.4 overs.
20:08 IST: Three boundaries of the Bumrah over. Mehedi Hasan off the blocks quickly.
20:07 IST: Bumrah and Shami are bowling in tandem.
20:05 IST: Four! A welcome boundary for Bangladesh. Mushfiqur Rahim puts it away in style.
19:55 IST: Mushfiqur Rahim and Mehedi Hasan need to build a partnership here for Bangladesh.
19:52 IST: After 8 overs Bangladesh stand at 23 for 6.
19:49 IST: Wicket! Mosaddek Hossain nicks it to the keeper. Umesh Yadav picks up his third wicket. Bangladesh are in danger of getting bowled out inside their quota of overs.
19:44 IST: Wicket! Karthik takes a brilliant catch. Mahmudullah departs and Bhuvneshwar picks up his third wicket.
19:42 IST: Wicket! This is a big blow for Bangladesh. Bhuvneshwar strikes again. Removes Shakib Al Hasan.
19:37 IST: Four! Short and wide and Shakib Al Hasan does the rest. Picks up a boundary.
19:32 IST: Wicket! Another one bites the dust. Imrul Kayes now takes the long walk back. Bhuvneshwar Kumar picks up his first wicket.
19:27 IST: Wicket: Quick, straight and full from Umesh Yadav. Sabbir Rahman has no answer to that. Stumps are all over the place.
19:25 IST: Wicket! Umesh Yadav strikes for India. Soumya Sarkar departs. Bangladesh lose their first wicket in run chase.
19:15 IST: Umesh Yadav to share the new ball with Bhuvneshwar Kumar.
19:12 IST: Six runs coming off the first over. Soumya Sarkar yet to get off the mark.
19:10 IST: So first boundary off the bat for Bangladesh. Imrul Kayes is the beneficiary.
19:08 IST: Welcome back for the second innings. Imrul Kayes and Soumya Sarkar opening for Bangladesh.  
18:40 IST:  India 324/7 (Karthik 94; Rubel 3/50) vs Bangladesh after 50 overs.
18:37 IST: Six! Pandya finishes off the innings in style. 80 off 54 balls for him
18:35 IST: Bowled! Ashwin's short stay at the crease comes to an end. India 315 for 7
18:31 IST: Six! Low full toss and Pandya hits it for a six.
18:25 IST: Wicket: Jadeja goes for the big one and in the process perishes. India lose their sixth wicket.
18:15 IST: Six! Jadeja comes down the track and it has gone a long way. It is in the upper tier.  Mehedi Hasan is the bowler.
18:11 IST: Six! Pandya takes on Mustafizur and deposits him into the stands.
18:10 IST: Four! Pandya smashes it through point.
18:06 IST: 250-up for India in the 43rd over.
17:55 IST: Six! Full toss and Pandya opens his arms. Hits it for a maximum.
17:47 IST: India 225 for 5 in 39 overs. Pandya 16*, Jadeja 6*
17:35 IST: Ravindra Jadeja is the new man in for India.
17:32 IST: The team management thinks that Karthik has had a very good outing and it is time for others to have a crack at the middle. So Karthik has retired out after a well made 94.
17:25 IST: Pandya goes straight and gets a boundary. 200-up for India.
17:22 IST: Hardik Pandya is the new man in, joining Karthik.
17:17 IST: Wicket! Jadhav looking to go inside out but instead gets bowled. India 196 for 4 in 32.5 overs. 
17:15 IST; First a pull off the back foot and then a slog sweep off the front foot. A four followed by a six from Karthik. Sunzamul is turning out to be expensive.
17:12 IST: Karthik hits through the line. Picks up another boundary.
17:07 IST: Four! Short and Karthik pulls it for a boundary.
17:03 IST: Two back to back boundaries for Karthik. India 164 for 3 in 29.3 overs. Karthik 63*, Jadhav 24*
17:00 IST: 150 up for India. Karthik, Jadhav going along nicely.
16:52 IST: Dinesh Karthik brings up his fifty.
16:47 IST: Jadhav goes for the pull and gets a boundary.
16:44 IST: Kedar Jadhav is the new batsman.
16:40 IST: Wicket! Dhawan comes down the track. Tries to go over mid-wicket but finds the man. Sunzamul strikes for Bangladesh. India lose their third wicket.
16:38 IST: Now Dhawan joins the party. Gets another boundary.
16:38 IST: Two boundaries in the over for Karthik.
16:36 IST: Shikhar Dhawan brings up his fifty with a single.
16:34 IST: 100 up for India in the 21st over. Dhawan 49*, Karthik 37* 
16:28 IST: Four! Dhawan goes inside out and hits Mehedi over the top of covers for a boundary.
16:12 IST: India 69 for 2 after 15 overs.
16:03 IST: Dhawan and Karthik have played sensibly after India lost two early wickets.
15:49 IST: Karthik drives Taskin through the covers and picks up two runs.
15:35 IST: This is a big opportunity for Dhawan to step up. The left-hander is in need of some big runs.
15:30 IST: WICKET! India lose their second wicket as Rahane is cleaned up by Mustafizur.
15:25 IST: FOUR! Short from Rubel and Dhawan pulls the ball for a much-needed boundary.
15:19 IST: Bangladeshi bowlers have been excellent so far. Rahane and Dhawan are being cautious.
15:06 IST: WICKET! Rubel Husain gets the breakthrough, Rohit Sharma departs for 1. Excellent delivery from the pacer. The right-hander gets an inside edge and the ball rips through the stumps. Huge celebration by the Bangladesh team. India 3/1 in 1.1 overs.
15:04 IST: Excellent over from Mustafizur. Just 3 runs off the first over. Rohit 1*, Dhawan 2*. India 3/0
15:00 IST: Indian openers Rohit Sharma and Shikhar Dhawan are at the crease. Mustafizur will open the attack for Bangladesh.
14:55 IST: Here are the Playing XIs:
Bangladesh: Tamim Iqbal, Soumya Sarkar, Imrul Kayes, Sabbir Rahman, Mushfiqur Rahim (wk), Shakib Al Hasan (captain), Mahmudullah, Mosaddek Hossain Saikat, Mashrafe Mortaza, Mustafizur Rahman, Rubel Hossain, Taskin Ahmed, Sunzamul Islam, Mehedi Hasan, Shafiul Islam
India: Shikhar Dhawan, Rohit Sharma, Virat Kohli (captain), Ajinkya Rahane, Yuvraj Singh, MS Dhoni (wk), Ravindra Jadeja, Dinesh Karthik, Kedar Jadhav, Hardik Pandya, Ravichandran Ashwin, Bhuvneshwar Kumar, Mohammed Shami, Jasprit Bumrah, Umesh Yadav
14:32 IST: Bangladesh won the toss and put India in to bat.