Story Progress
Back to home
Pakistan vs New Zealand Live Score, Over 1 to 5 Latest Cricket Score, Updates
Live Updates of Today Match between New Zealand vs Pakistan from Edgbaston, Birmingham. Check commentary and full scoreboard of the match.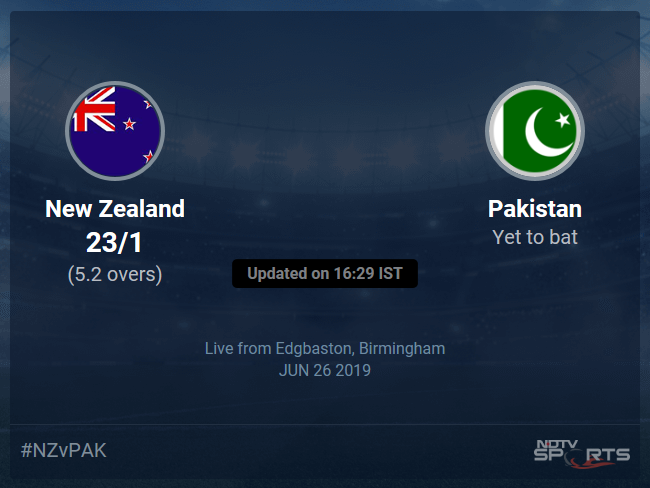 PAK vs NZ Latest Score
4.6 overs (0 Run) Angling across the batsman outside off, on a length, Williamson makes a leave. Nicely carries to the keeper.
4.5 overs (0 Run) On a length and around middle, defended off the back foot.
4.4 overs (4 Runs) FOUR! Wrong line and length. Easy pickings for Williamson. A length delivery on the pads, Kane picks it up and flicks it through square leg. The fine leg fielder tries his best to make the stop near the fence but fails.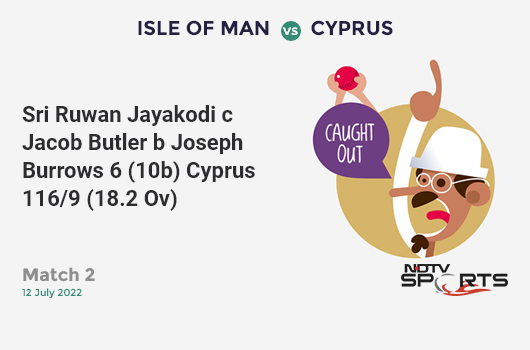 4.3 overs (0 Run) Shows the full face of the bat and defends the ball off the back foot.
4.2 overs (0 Run) Chooses to leave the ball outside his off stump.
4.1 overs (0 Run) Too full in length and on off, Williamson digs it out to point.
The experiment with Mohammad Hafeez is over! Shaheen Afridi is now inserted into the attack. There is some sightscreen issue at the moment and hence the delay. This is taking a lot of time for the groundsmen to fix. We already have a delayed start to this match and this is the last thing you want.
3.6 overs (0 Run) Pitches it up and on off, Munro drives off the front foot but straight to mid off. End of a 10-run over, a good one for the Kiwis.
3.5 overs (0 Run) Fractionally short and on off, Munro defends it off his back foot to the off side.
3.4 overs (0 Run) No, double bluff. A touch short in length around off, shaping back in a hint, Colin defends it back from the crease.
Square leg drops back. Fine leg comes up. Bouncer coming?
3.3 overs (4 Runs) FOUR! Action replay of the previous boundary. Once again Amir is on the shorter side outside off, Munro remains on the back foot and whacks it past the diving point fielder for a boundary.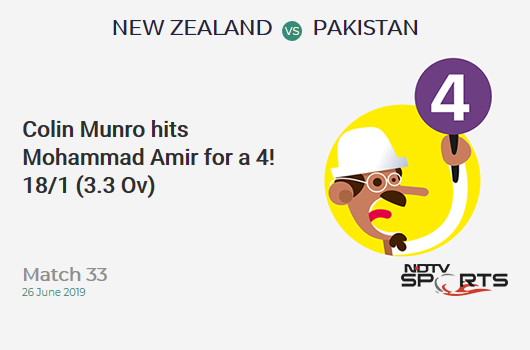 3.2 overs (4 Runs) FOUR! Right from the middle of the bat this time. Back of a length ball just outside off, Colin Munro camps back and hammers it square of the wicket on the off side for a cracking boundary. This shot will give him some confidence.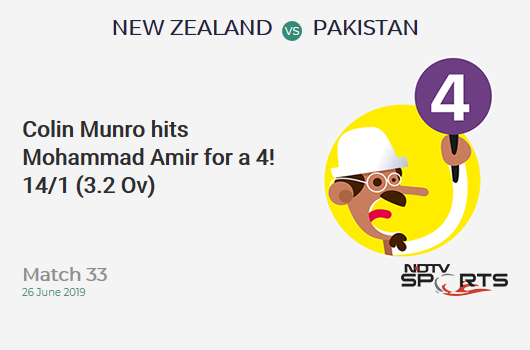 3.1 overs (2 Runs) In the air... SAFE! Amir spears in a full ball on middle, Munro flicks it in the air over mid-wicket and it falls safely in the deep. Two runs taken.
2.6 overs (0 Run) Allows the ball to spin back in and turns it off his pads to the leg side. Not in the gap. Another good over by Hafeez.
2.5 overs (1 Run) Up and just over extra cover! Loopy and full ball on off, spinning away a bit after landing on the footmarks, Munro lofts it just over the in-ring fielder for a single.
2.4 overs (1 Run) Too full in length on middle, Williamson nicely flicks it past the square leg fielder and takes a single.
2.3 overs (0 Run) Flighted and on middle, Kane flicks it past short leg but straight to square leg.
2.2 overs (0 Run) Nearly a catch to short leg. Tossed up ball on middle, spinning in, Kane moves back and tries to work it on the leg side. It takes the inner half and goes wide of short leg.
2.1 overs (0 Run) Hafeez is bowling with a short leg now. Serves a flighted ball on middle, Williamson flicks it with the spin to wide mid on.
1.6 overs (0 Run) On a good length and around off, it straightens just a bit after pitching, Munro covers the line and blocks it on the off side. End of a brilliant first over by Amir.
1.5 overs (0 Run) Amir goes very full and on off, Munro keeps his eyes on the ball and defends it back to the bowler.
1.4 overs (1 Run) Off the mark this time. Amir pulls his length back just a bit and serves it on middle and off again, Kane taps it down in the gap at covers and scampers across to the other end.
1.3 overs (0 Run) Beauty of a delivery! Another outswinger by Amir. This time the line is on middle and off. Williamson tries to defend from the crease but it beats the outside edge.
1.2 overs (0 Run) Left alone. Amir delivers a good length ball in the channel outside off, Williamson shoulders arms.
Kane Williamson is the new batsman in. Once again the skipper has been called upon early. He will have to play another vital role here and be the pillar. Amir has two slips in place for Kane.
1.1 overs (0 Run) OUT! Guptill drags it on! Amir is flying in celebration. What a start for him and Pakistan! He delivers it full and outside off, tempts the batsman to have a go, Guptill obliges and attempts to drive but ends up inside edging it onto the stumps. The crowd erupts in joy. Another early departure for Guptill. This time on the first ball of the second over. Last time, it was on the first ball of the match. His poor World Cup also continues.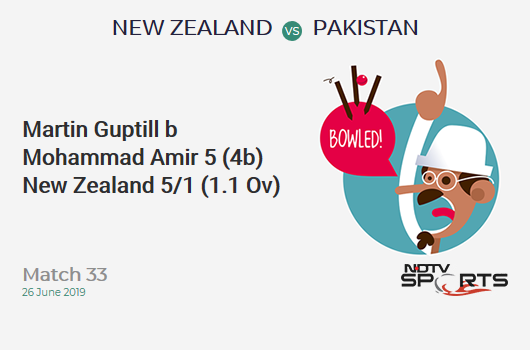 Mohammad Amir to bowl from the other end with the second new ball.
0.6 over (0 Run) Flatter and a touch shorter on middle and leg, Munro gets back and punches it to covers. Good start for Pakistan!
0.5 over (0 Run) Tossed up ball on middle, Munro shapes up for a big slog sweep but fails to middle it properly. The ball takes the inside half and rolls to mid-wicket.
0.4 over (0 Run) Flighted delivery, landing too full on off, Munro digs it out back to the bowler.
A slip in place for the left-hander.
0.3 over (1 Run) This is the first one that spins. Shorter on off, it grips in to the right-hander. Martin tucks it towards mid-wicket and gets a single.
0.2 over (0 Run) Floated on middle now, Guptill strokes it to mid on.
0.1 over (4 Runs) FOUR! What a start this is for New Zealand! Hafeez tosses it up on middle and leg, Guptill picks it up early and sweeps it away towards backward square leg for a boundary.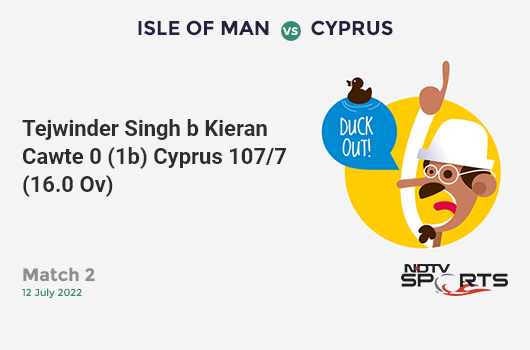 We are all set to begin. The New Zealand opening duo of Colin Munro and Martin Guptill stride out to the middle. The Pakistan players follow them out and are taking their respective position in the field. Once again it is going to be Mohammad Hafeez who will bowl the first over with the first new ball. He opened the bowling against South Africa too.
We are minutes away from getting underway! The players from both teams are out in the centre for their respective national anthems. Once again a big crowd has come to support the Asian team. The conditions are overcast at the moment and the artificial lights are switched on. The fast bowlers will certainly get some assistance early on but they will have to bowl testing lengths, unlike England yesterday.
Pakistan (Unchanged Playing XI) - Imam-ul-Haq, Fakhar Zaman, Babar Azam, Mohammad Hafeez, Haris Sohail, Sarfaraz Ahmed(C/WK), Imad Wasim, Shadab Khan, Wahab Riaz, Mohammad Amir, Shaheen Afridi.
New Zealand (Unchanged Playing XI) - Martin Guptill, Colin Munro, Kane Williamson(C), Ross Taylor, Tom Latham(WK), Jimmy Neesham, Colin de Grandhomme, Mitchell Santner, Matt Henry, Lockie Ferguson, Trent Boult.
Pakistan skipper, Sarfaraz Ahmed says that he would have batted as well. Tells that they were not worried about the conditions while thinking so. Mentions that he has a good bowling attack and they are looking to do their best. Praises Amir for his recent form and also lauds the efforts of other bowlers. Terms their last win as a complete team performance and admits that catching is a concern for them. Hopes to do well as a fielding unit in this match. Signs off by saying that Pakistan are capable of doing anything and they are taking it game by game.
New Zealand skipper, Kane Williamson says that it is a used surface and hence the decision to bat first. Adds that they will have to hang on for a little bit at the start as there will be some movement for the bowlers early on. Informs that they are going with an unchanged XI. Mentions that there was a consideration for trying some other players but they have stuck to the playing XI. Tells that Pakistan are a very good team and the Black Caps just need to keep improving with their performance. Wants his players to fulfill the role given to them.
Toss - Up goes the coin and it falls down in favour of Kane Williamson. NEW ZEALAND WILL BAT!
Hello and welcome everyone! After a bit of a delay, we are ready to get underway. This is an important match for Pakistan to keep their campaign alive but in Black Caps, they have a very formidable challenge waiting. New Zealand have been invincible so far and a win today will take them through to the semis. They have played neat and clean cricket so far and the close win against West Indies would have given them extra confidence. Pakistan, on the other hand, have been unpredictable as always but the resemblance of the 1992 World Cup edition in their performance has kept the fans worldwide interested. We are expecting a great match today here at Edgbaston. Stay tuned for more...
Topics mentioned in this article