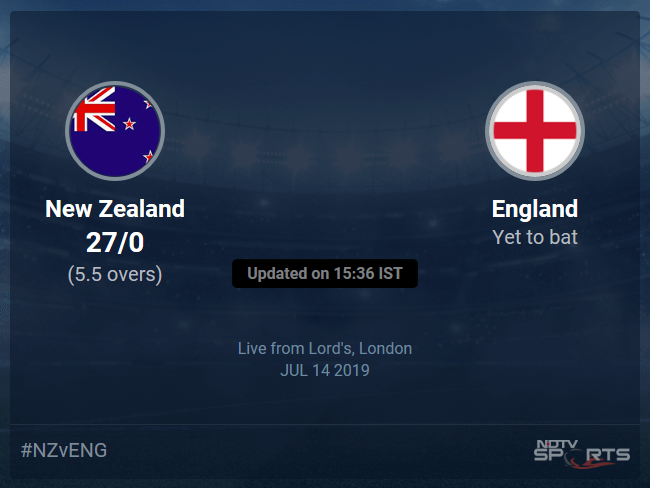 4.6 overs (0 Run) Another dot to end another good over from Woakes. This is on off, Nicholls defends it onto the ground.
4.5 overs (0 Run) Another length ball outside off, Nicholls once again guides it to point, off the front foot this time.
4.4 overs (0 Run) Shorter in length and outside off, Nicholls guides it to point.
4.3 overs (1 Run) Almost! This is angled into the middle pole, Guptill looks to defend but does so outside the line. It goes off the inner half towards fine leg for one.
4.2 overs (1 Run) Shorter and outside off, Nicholls hops and guides it down to third man for one.
4.1 overs (0 Run) Good length and outside off, HN leaves it.
3.6 overs (1 Run) Another single to end! 12 from the over. Nicholls now works it towards mid-wicket and takes one.
3.5 overs (1 Run) This is bowled into the body of Guptill, cramping him for room. MG works it through the leg side for one.
3.4 overs (4 Runs) FOUR! Hammered! That is hit with some power! Good Archer did not get a hand to that one. Guptill once again uses his feet and makes this into a half volley. He smashes it over the bowler who does stretch his hand upwards but the ball goes past him by then. Guptill has come out with a lot of intent here. Just the way he likes to play.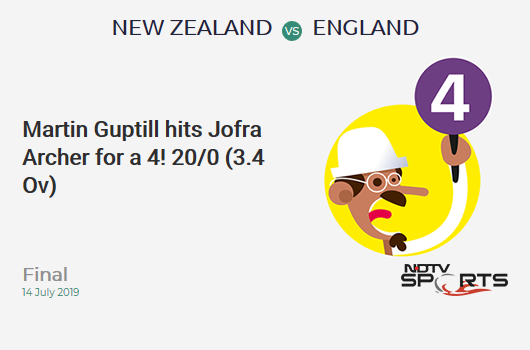 3.3 overs (0 Run) Well done Buttler! This is outside off, Guptill leaves it. It swings away after going past the batter. Buttler dives and stops it.
3.2 overs (6 Runs) SIX! Brilliant shot from Guptill but he would have surely had his heart in his mouth for a bit. Guptill comes down the track and also makes room and Archer bowls it short outside off. Martin arches and looks to upper cut. It seems a little edgy but just about clears the third man fence. First of the final.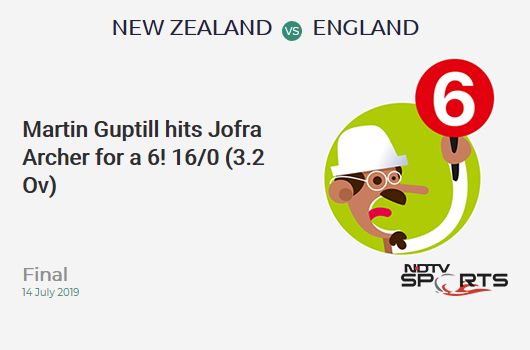 3.1 overs (0 Run) Good length and around off. Guptill keeps it out.
2.6 overs (0 Run) Back of a length and on off, Nicholls goes back and keeps it out. A testing over from Woakes.
2.5 overs (2 Runs) On the pads, Nicholls works it through square leg and takes two.
2.4 overs (0 Run) Good length and on middle, this is defended.
2.3 overs (0 Run) NOT OUT! The ball is going over! Never saw that coming to be honest. At first, it seemed plumb. Woakes lands this just behind a length and on middle, this one comes back in. Beats the inside edge of the bat and hits the back pad. An appeal and the umpire raises the finger. Nicholls has a chat with Guptill, he does indicate that he feels it is high. Guptill gives him the nod and they take the review. Replays roll in and they show the on-field call has to be overturned. Top class review from Nicholls. The last time against England, he did not take one when he was given out. That time too the ball was going over, this time he does take it and survives to fight another day.
Nicholls is a goner! He has reviewed. Only an inside edge can save him.
2.2 overs (0 Run) This is fired outside off, Nicholls shoulders arms to this one.
2.1 overs (0 Run) A little too straight, this it worked to square leg.
1.6 overs (0 Run) A good first over by Archer. The last ball is on a length and on off, MG keeps it out.
1.5 overs (0 Run) What happened there? A huge appeal, actually, Archer started celebrating but then it has been turned down. England do not review too. Replays suggest that is a top class decision. A brilliant ball though by Archer. This lands on middle and off and then straightens. Guptill is squared up as he tries to defend. It goes off the back thigh and to the keeper.
1.4 overs (2 Runs) Two now! This one comes back in just a little from middle, Guptill works it through backward square leg and takes two.
1.3 overs (0 Run) Confusion but no harm done! This is shorter and on middle, Guptill works it towards square leg and sets off but Nicholls sends him back in time.
1.2 overs (1 Run) A leg bye! This is on the pads, Nicholls looks to flick but misses. The ball brushes the pads and rolls on the leg side. A run is taken.
1.1 overs (0 Run) Goes extremely full but there is no swing for Archer. Nicholls plays it to mid on.
Jofra Archer to bowl with the second new ball.
0.6 over (0 Run) A dot to end! 5 from the first over. Good length and outside off, MG shoulders arms to this one.
0.5 over (4 Runs) FOUR! Guptill is off the mark in style! This was uppish but away from the fielder. A little luck there for Guptill which he probably hasn't had in the World Cup so far. No better day for it to go your way than today. This is a back of a length ball outside off, Guptill stands tall and guides it in the air but wide of point. Despite the rain in the morning, it races away.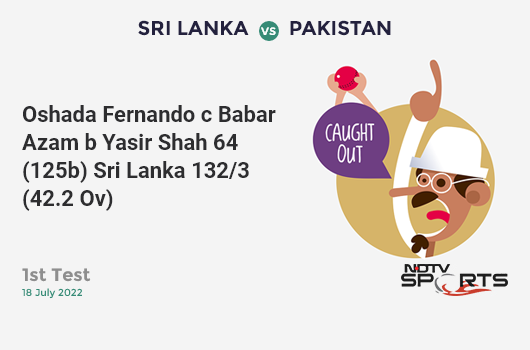 0.4 over (0 Run) Guptill comes down the pitch again, he then looks to cut this fractionally short delivery. It is too close to play that shot so he mistimes it to point.
0.3 over (0 Run) A tighter line this time, it is on middle, Guptill works it to mid-wicket.
0.2 over (0 Run) A little movement for Woakes. He lands it around off and gets it to shape away. Guptill takes a few steps down the track and lets it be.
0.1 over (0 Run) Corrects his line and bowls it on off, Guptill defends it out.
0.1 over (1 Run) WIDE! New Zealand are underway! But Guptill just might have indicated that he is going after the bowlers straightaway. This is wide outside off, Guptill needs no sighters. He goes after it but misses.
Done and dusted with the National Anthems! It is game time now. The English players make their way out to the centre and they are followed by the New Zealand openers, Martin Guptill and Tom Latham. Chris Woakes has the first new ball in hand and he will be bowling to the right-hander. Here we go...
Time for the National Anthems! A huge round of applause as the umpires and the players make their way out to the middle. New Zealand will sing their first and then it will be England's turn.
England (Unchanged Playing XI) - Jason Roy, Jonny Bairstow, Joe Root, Eoin Morgan (C), Ben Stokes, Jos Buttler (WK), Chris Woakes, Liam Plunkett, Adil Rashid, Jofra Archer, Mark Wood.
New Zealand (Unchanged Playing XI) - Martin Guptill, Henry Nicholls, Kane Williamson (C), Ross Taylor, Tom Latham (WK), Jimmy Neesham, Colin de Grandhomme, Mitchell Santner, Matt Henry, Lockie Ferguson, Trent Boult.
Eoin Morgan says he is not at all disappointed, it was a 50-50 call and it does not matter now. States the team which plays well will lift the trophy. Informs Bairstow is fully fit and they are all ready for this game. Their performance against Australia was very good, especially the bowlers, they started off really well and the others continued the good work and he hopes to do something similar. Everybody has put in a lot of hard work in the last 4 years and they have created a different amount of expectations. They have played high pressure games and the semi finals was one too, he hopes they can put in a good performance.
Kane Williamson says it is a tough decision, if you look at the surface, it seems a bat first surface but the conditions overhead gets him a touch confused. States it was great to get over the line against India but today is a different game and against a different team. Mentions he will always back Guptill with the bat, they know what kind of a player he is. Further adds they have showed a lot of fight and character and he hopes for the same. Also tells, it is a lot different from the 2015 finals, it is a different venue, different team and anything could happen. Ends by saying it would be special if they manage to get over the line.
TOSS - It is time for the toss. The two captains are out there. Morgan flips it, Williamson calls tails and it lands in his favor. NEW ZEALAND WILL BAT FIRST!
PITCH REPORT - Sourav Ganguly says there has been a bit of rain in the morning but the sun is out. States the surface looks very green, a lot greener you would see in the ODI game. Reckons it might just assist the pacers early on. Further adds it is a big game so the decision at the toss will be an important one. He ends by saying, the team which wins the toss should bat first.
Kevin Pietersen recently said, the team which beats India, will probably go onto win the World Cup. In today's case, both the sides have done so but there can be only one winner. The English team are firm favorites on recent form and also, they seem a stronger side on paper. New Zealand however, did not enter the Semi Finals in the best of forms but their win over India would have taken their confidence to another level so they also can't be ruled out. One believes, it is a battle between the dynamic English batting line-up against the excellent bowling line-up of New Zealand. All to play for today. Let us hope we witness a thrilling final.
The time has come, the last day of the World Cup, two teams, England and New Zealand, have a chance to create history today. A win for either in this final, will see their long wait end to get their hands on the cup. Also, the final is being played at probably the most prestigious ground, the Home of Cricket, the Mecca of Cricket, Lord's. It just does not get better than this. Hello and welcome to the coverage.
Topics mentioned in this article
England Cricket Team
New Zealand Cricket Team
Lord's, London
World Cup 2019
New Zealand vs England, Final