Story Progress
Back to home
New Zealand vs Australia Live Score, Over 41 to 45 Latest Cricket Score, Updates
Live Updates of Today Match between New Zealand vs Australia from Lord's, London. Check commentary and full scoreboard of the match.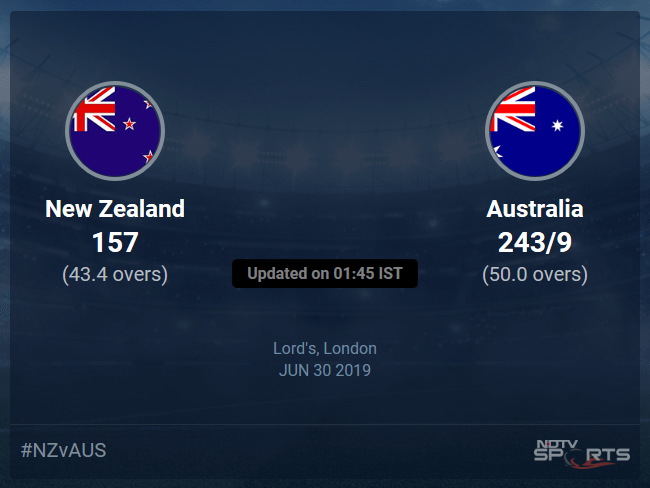 NZ vs AUS Latest Score
That ends the game. Australia stay on top, with 14 points while New Zealand are tied with India on 11 points. Sunday, June 30, 2019, sees two of the potential tournament favourites taking on other. Though, whether those tags are still relevant or not, is a different question. India and England clash at Edgbaston and the game begins at 10.30 am local (0930 GMT). ADIOS! TAKE CARE!
Victorious Australian captain, Aaron Finch, says that he is feeling very happy at the moment, to see his side recover from 92/5. Jokingly says that it is nice to see the middle order get some hit in the middle but then is serious enough to quickly point out that it was not the matter they intended to give them that. Praises Carey's knock and all his bowlers. On Australia's improved bowling performance, Finch says that in the past, they have been defensive in overs 20-40, where they have observed other teams take wickets. Of late, they have been doing that and it has resulted in a change of fortune. On being asked whose idea was it to give Steve Smith the ball, Aaron says that he looked up at the team's balcony and was getting some indications from Justin Langer and Ricky Ponting while Smith himself was keen to bowl.
New Zealand skipper, Kane Williamson, says that it was a challenging pitch to bat and as a bowler, if you hit the right areas, you could pick up wickets. Admits that they were in a position of strength for the first half but then credits the Aussies for rebuilding their innings. On the possibility of Trent Boult coming back earlier for his final spell, Williamson says that the match-ups kind of dictated the bowling changes. For instance, he says, that spin was proving to be a bigger threat and hence, Kane decided to continue with spin. Praises Carey for taking the game away from them. On his own team's batting, Williamson sportingly admits that Australia adapted better to this surface than the Kiwis. Stresses that the New Zealand batsmen struggled to get partnerships. Wants his side to forget this match quickly and move forward. On the final league game against England, Kane says that the playing surface will be key. Wants to take a day's break for now and then look ahead to the next game.
ALEX CAREY HAS BEEN NAMED THE MAN OF THE MATCH. On Australia's poor start with the bat, Carey says it was not the start they wanted. Further adds he just wanted to spend time, assess conditions and bat as deep as possible. States the wicket was towards the slower side, there was turn and Kane Williamson was bowling well. Tells he though stuck to his strengths and it turned out to be a nice day for him. Credits Khawaja for the way he played and also praises Starc for the way he bowled. Informs he is enjoying batting at the moment and likes spending time in the middle. Further adds he is happy with how he is keeping as well. Ends by saying they go to Manchester now and that is also a big game and they would look to work on their weak areas.
What is wrong with New Zealand? Peaking too early? They were well on course to make it to the semi-final but two successive losses have pegged them back a touch. If England lose to India on Sunday, the Kiwis will confirm their semi-final berth automatically. They will be hoping that happens. Stay tuned for the presentation...
23 wickets in this World Cup for Mitchell Starc. Yards ahead of the next best, Lockie Ferguson, who has 17 scalps. He becomes the FIRST PLAYER WITH 3 5-FERS IN ODI WORLD CUPS. The bowling attack was just too good and guess India and Australia are the only two teams in this competition who believe that if they get anything over 200, they have the bowling attack to defend that.
Back-to-back losses for the Black Caps. However, in this game, they looked totally at sea while batting. They got off to a quick start but then surprisingly, fell back. Once they got defensive, Australia got an opening and they pounced. Starc, Behrendorff and Cummins then choked the Black Caps and Nathan Lyon did his bit.
A walk in the park for Australia. At the halfway mark, probably felt that 243 was 20 runs shy but the bowling just stepped up a notch. The Kiwis barely got going and and leave aside a brief half century stand between Taylor and Williamson, they were never in the chase.
43.4 overs (0 Run) OUT! CAUGHT! A huge smile on Starc's face and why not? He has picked a fifer. Second in this World Cup and his 7th in ODIs. He bangs it short and down the leg side. Santner helps it on its way but does not keep it down and the ball ends up landing into the hands of Behrendorff at fine leg. AUSTRALIA WIN BY 86 RUNS!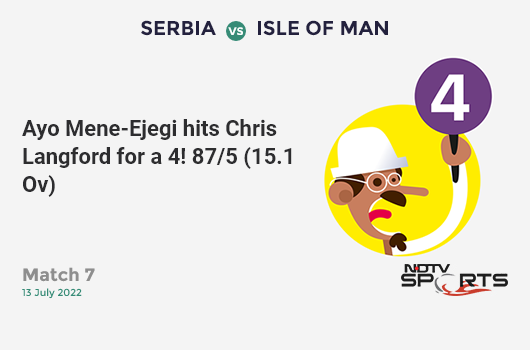 43.3 overs (0 Run) Santner backs away and Starc follows him with a low full toss. Santner mistimes it to mid off.
Seems like the leather of the ball has come off. Maxwell throws it to Finch who shows it to the umpire. Joel Wilson takes out a pair of scissors and cuts off the thread.
43.2 overs (0 Run) A yorker on the pads, Santner looks to flick but misses to get hit on the pads. It rolls towards fine leg but no runs taken.
43.1 overs (0 Run) Good length and around off, Santner backs away and looks to go over the off side but misses.
42.6 overs (0 Run) Once again uses his feet and looks to go big. It goes off the inner half through mid-wicket. Santner does not want a run. 13 from the over. Don't think that makes a difference to Australia at the moment.
42.5 overs (2 Runs) Boult comes down the track and looks to swing, it goes off the inner half towards fine leg for two.
42.4 overs (1 Run) The batsman rocks onto the back foot and punches the ball. They pick up a single.
42.3 overs (4 Runs) FOUR BYES! Flatter and down the leg side, Santner looks to pull but misses it goes past the keeper and into the fine leg fence.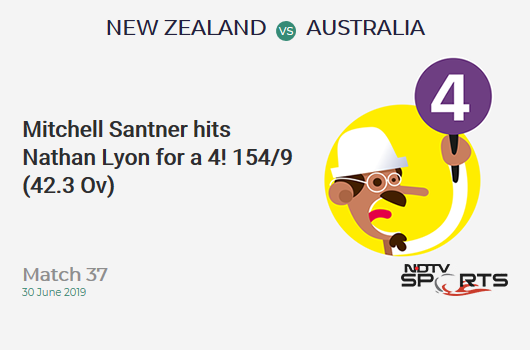 Now then, not seen this happened often! The ball seems to have gone missing. However, they have found it but it seems like Warner and the security guard were searching for it at the wrong place. Warner though, takes some time out and eats some chips offered by one of the spectators. Finch looks at that and smiles.
42.2 overs (6 Runs) SIX! Santner will probably look to have some fun now! He shuffles in and brings in the slog sweep, hits it right off the middle and it goes into the stands at the mid-wicket region.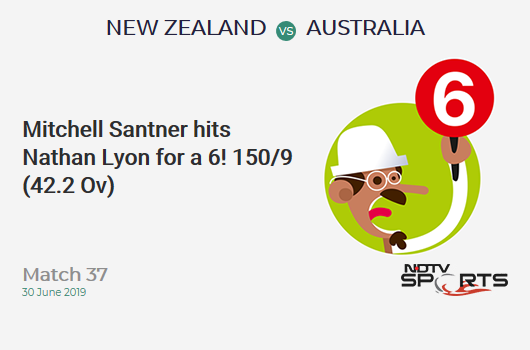 42.1 overs (0 Run) That does not bounce! Santner takes a few steps ahead but then sees the length is short and outside off. He goes back and tries to slap but is beaten by the low bounce.
41.6 overs (0 Run) This is shorter and on the body, Boult looks to heave it but it goes off the inside edge to the keeper.
41.5 overs (0 Run) TB makes room again and Starc follows him with a yorker, this is jammed out.
41.4 overs (0 Run) Boult moves around his crease in the attempt to disturb the length and line of the bowler. Starc sticks to bowling it on the stumps. Boult hits it back to the bowler.
41.3 overs (0 Run) Goes short and outside off, Boult clears his front leg and looks to flat-bat it but misses.
41.2 overs (0 Run) Boult keeps it out! Not hat-trick! On the stumps, Boult blocks it.
Trent Boult is the last man in. Can he save the hat-trick?
41.1 overs (0 Run) OUT! TIMBER! Starc gets his fourth! This is trademark Mitchell Starc. He comes running in from around the wicket, bowls it slightly fuller on middle and off. It pitches and straightens. Also skids through. Ferguson is not only late in bringing his bat down but also plays down the wrong line. The furniture behind is disturbed. Can he take a fifer in this over? Also, he is on a hat-trick. We have already seen one today, will we see another?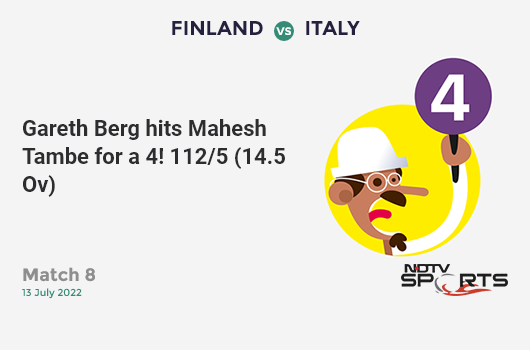 40.6 overs (0 Run) On off again, Santner guides it to point.
40.6 overs (2 Runs) WIDE! Down the leg side, Ferguson lets it be. The keeper fails to collect it cleanly and a run is taken.
40.5 overs (0 Run) On off again and LF guides it to point.
40.4 overs (0 Run) Ferguson dances down the track but does not get to the pitch of it. He keeps it out.
40.3 overs (1 Run) DROPPED! Difficult to call that a drop catch though. It would have been another blinder today. Santner comes down the track and hits it uppishly towards mid on. Warner there leaps, sticks his left hand up and tries to take it but the ball does not stay in. The ball rolls behind him for a run.
40.2 overs (0 Run) On off again and Santner pushes it to covers.
40.1 overs (0 Run) Flatter and outside off, Santner looks to push it through the off side but misses.
Match Reports
Topics mentioned in this article