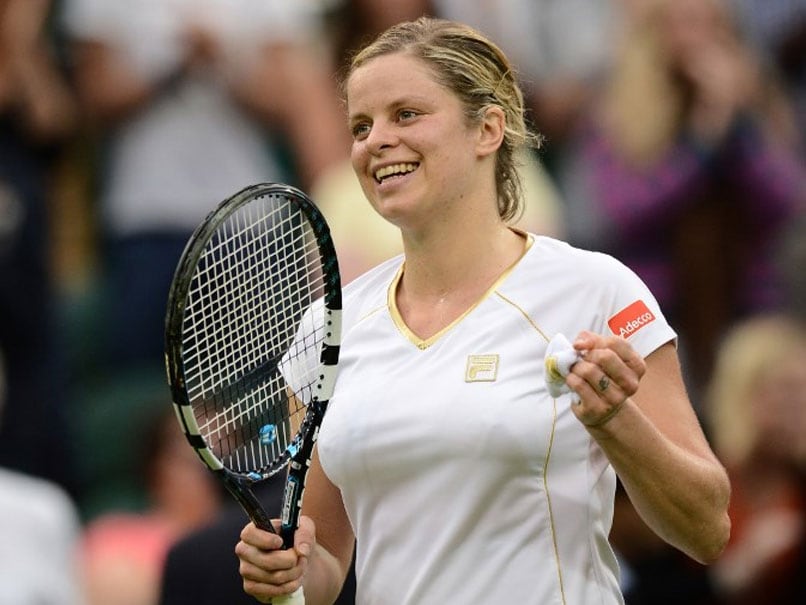 Kim Clijsters decided to have a bit of fun in her Ladies' invitational doubles match on Friday.
© AFP
The Wimbledon is known for its plush green grass courts and a strict dress code, and Belgian tennis star Kim Clijsters took that to heart as she sparked an amazing scene after inviting a male fan to play a point. During a ladies' invitational doubles tennis match on Friday, an exhibition for fans to come see older or retired players, Clijsters decided to have some fun away from the intensity of the Centre Court. The four-time major champion plucked a male fan from the stands, and after the fan had duly obliged, she made him put on a white skirt to adhere to the strict rules about clothing for competitors at the All England Club.
Clijsters had asked the crowd where she should serve to win the point. A male fan in the crowd shouted "body". Clijsters then invited the man to play a point, and to his credit, the fan didn't back down and made his way to the court, much to the joy of the crowd.
However, there was one little problem. He was dressed in blue shorts and a green t-shirt. But Clijsters quickly corrected that by running to her bag and returning with an extra white skirt.
"That's a man. In a skirt. Trying to return Kim Clijsters' serve"

Always expect the unexpected in the invitation doubles...#Wimbledon pic.twitter.com/lsArQJe4Rg

— Wimbledon (@Wimbledon) July 14, 2017
Due to the man's stature, it looked unlikely that he would fit in to the skirt but to the delight of everyone present he just about managed to. The scene had the entire place in splits and even Clijsters couldn't control herself and dropped to the ground laughing.
Once the Belgian overcame her laughing fit and the fan was Wimbledon-ready, it was time to get down to business.
Clijsters served and to loud cheers the man astonishingly got the ball back over the net.