Story Progress
Back to home
Leander Paes Was Aware of Selection Situation: Mahesh Bhupathi
India defeated Uzbekistan 4-1 to enter the Davis Cup World Group Playoffs.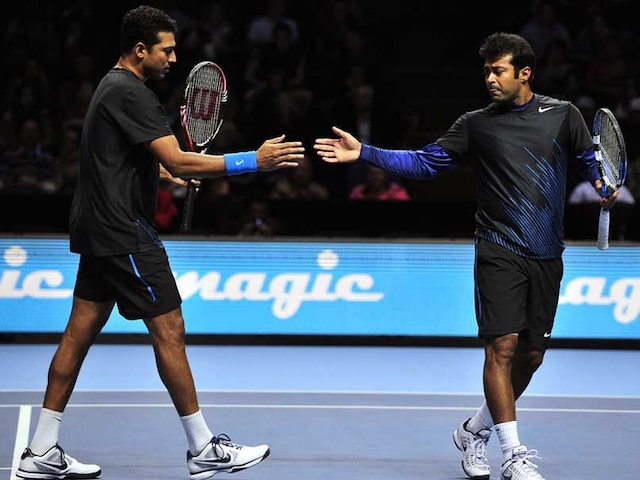 Leander Paes and Mahesh Bhupathi once had a very successful doubles partnership.
© AFP
Highlights
India defeated Uzbekistan 4-1 in the Davis Cup on Sunday

They have now advanced to the World Group Playoffs

Mahesh Bhupathi is the non-playing captain of the Indian team
Even after India's 4-1 win against Uzbekistan in the Davis Cup tie in Bengaluru, the focus seemed to stay on the team selection for this tie. Mahesh Bhupathi, in his first tie as India's non-playing captain, picked Rohan Bopanna ahead of Leander Paes to play the doubles rubber with Sriram Balaji. Bhupathi said it was a tough call to take. "There were several things to take into consideration going into this tie," Bhupathi told NDTV from Bengaluru. On learning that he had not made the cut for the tie, Paes had said, "One simple phone call would've done the job - to say whether you're needed or not. As simple as that. It doesn't have to be like this."
However, Bhupathi denied Paes' claims of no communication.
"I had a very candid communication with Leander about the selection situation. I made it very clear to him that I was not going to pick the team before Thursday. So the decision of him coming down all the way to India was something I had left to him," he said.
"And it's not about Leander, but every player on the team. Rohan had also come down all the way from Miami, knowing very well that he was a reserve player."
Paes claims the selection criterion had to be consistent. He was coming off an ATP Challenger title in Mexico, and was hence in form.
"He joined in just a day earlier, and unfortunately after three games, it started raining and we couldn't get anymore practice. With two debutantes on the side already, I wasn't willing to take the risk of playing Leander who hadn't trained with Bala at all," said Bhupathi.
Paes and Bhupathi, both hugely successful in Grand Slams, with each other, and other partners, have shared a rocky relationship for years.
"We don't communicate as such, there is no regular communication. I spoke to him about Davis Cup when I was in Dubai, and later on too," he told NDTV.
Interestingly, Paes was a part of Bhupathi's International Premier Tennis League (IPTL) in its second season after choosing to skip the first.
Bhupathi to Paes: Stay out
Bhupathi said he had no "personal agenda" in keeping Paes out of the Indian team and said his former partner's decision to leave Bengaluru mid-way into the tie was a final nail in the coffin.
Bhupathi made public his WhatsApp chat with Paes on March 5. In their chat, Bhupathi is seen categorically telling Paes that he was still undecided about the combination but logically Bopanna would suit the conditions in Bengaluru.
Bhupathi is livid that Paes has accused him of bias and using his position to exclude him from the playing squad.
"Through the 20 years of my career, I always believed facts will always surface and unless I was pushed into a deep hole I never responded or felt the need to because regardless of what was said the media would play is up as a personal feud. Let me the first to say, there was never a personal feud. When I came on the Davis cup scene in 1994 I was a Leander fan and was excited to see him play Wayne Ferreira who was 10 in the world," Bhupathi wrote in a stinging yet emotional Facebook post.
"....he demolished Ferreira in straight sets. I become more than a fan, besides the tennis, he had the outlandish charm with the tennis hierarchy and media. However things changed quickly, when both our captain sir Jaideep Mukerjea and coach Enrico Piperno were strong armed out of the team end of 1999 because he had heard a rumour of them being upset he didn't come for the tie against Italy but was fully fit to play Chennai Open the following week, that should have been the first red flag.
"He had his own definition or lack of for the word 'Respect' and it quickly become apparent there was only one train on the tracks, either you get on or stay home, I could probably write a book on all the instances over the years but I am trying to keep this short."
Bhupathi said why he was friends with Somdev, Rohan, Sania, Purav, Saketh was becauase they had mutual "RESPECT which they never got in any form from the other (Paes)".
"I always try and treat people how I like to be treated and that's the basic way you treat colleagues."
"If I were to forget for five minutes, all the times he took his spot on the team for granted and showed up late for Davis cup or the Olympics, or not comply with team requests on uniform or outfit, or blatantly tell the captain or management that things have to fall in place the way he needs them to, his leaving Bangalore on Saturday in the middle of our tie was the final nail in the coffin."
In a clear warning, Bhupathi made it clear that if Paes does not like his ideas, he should not come in his way since he has backing of AITA.
"....I enforced a gag order on the team so there would be none (drama), but he didn't adhere to that either. I have been given the full support now of the federation, and the selection committee so now there is a New Train on the tracks, it's to get India back to the World group, it's full of energy, youth, positivity, hard work, and dreams..those who don't like it should stay out of the way because we don't plan to stop till we get there!!!" Bhupathi concluded.
Bopanna is No.1 doubles player: Bhupathi
Paes has no reason to "sulk" since he was conveyed in advance that his place was not confirmed in the final four, Bhupathi said.
"He deserves the respect after what he's achieved for the country to be given the option to be in the six. We gave him the option and he readily took it. So after that, to sulk about not being in the four was a bit unprofessional," Bhupathi said.
Coming into the tie, Paes had a won a Challenger event in Mexico and joined the Indian team on Wednesday while the rest of the members assembled on Sunday.
"Like I said in the press conference on Thursday, I am a big believer that we don't require a doubles specialist for the Davis Cup team. As of today, Rohan Bopanna is India's No.1 doubles player by far," he said.
Bopanna said the captain had said the same thing to all the players, including him.
"Mahesh said the same thing what he was saying to Leander and me as well. He said he is not going to pick the team till Wednesday. Until the day before, I did not know I was going to be a part of the team and I was here to practice with the team, irrespective of I am going to be fit or not," he said.
Bopanna said being part of the team and when two players are making debuts, one needs to stay to make them comfortable and share his international experience with youngsters.
Promoted
"Being part of the Davis Cup team, it is all about supporting and staying there to make comfortable the two debutantes, and also sharing my experience with them. I would like to share it instead of taking back home and keeping it with me," he said.
(With inputs from PTI)
Topics mentioned in this article