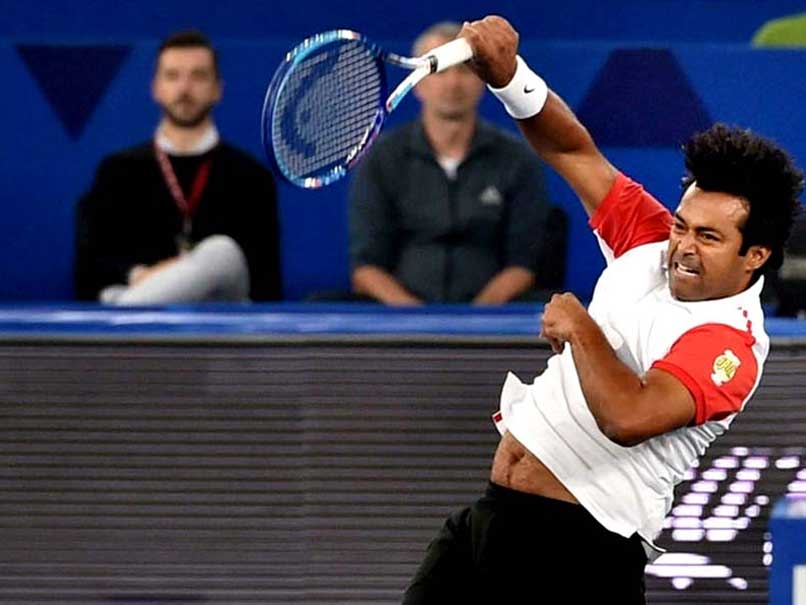 Leander Paes, with six Chennai Open trophies, is the most successful player at the tournament.
© PTI
Indian tennis great Leander Paes has ruled out immediate retirement from professional tennis, clarifying that his remarks were misconstrued. Paes in fact stated that he intends to clinch another Chennai Open Trophy in 2018. Paes and his Brazilian partner Andre Sa started the new season with a loss to the Indian pair of Purav Raja and Divij Sharan in the opening round on Wednesday.
"I hope to be back and I hope to be holding this trophy again," Paes said when asked if it was his last appearance at the Chennai Open.
Paes, with six Chennai Open trophies, is the most successful player at the tournament.
"I will keep playing hard and keep playing strong. I think there was a bit of misunderstanding the other day when Somdev pronounced retirement. Someone asked me a question and I said, it could be today, tomorrow or six months or somewhere down the track and all of a sudden it became like if Leander is retiring," Paes said.
"Things were put of context but that's fine. I still love my tennis, I am really passionate about it."
Paes hasn't has a great start to the partnership with his 111th teammate but he remains positive and wants to motivate the Brazilian to win a Grand Slam.
"I want to motivate this guy to win a Grand Slam, that's what I want to do," Paes said.
"For me, it's about going back to the drawing board. It's one thing to put a team together but my forte is to get this team to win. We believe in each other, results will come.
"When you keep working hard, luck favours the hard-working. Luck favours the brave. It's not rocket science to win. You put in the hard work, it will come. And I have good belief in this man, I am going to stick with him," Paes said emphasising that this partnership will be intact through the season.
While Paes has already crossed 40s, Sa is 39. Asked if age will affect them when they are out there competing with younger and fitter players, both Paes and Sa rebuffed the suggestion.
Sa said,"It's not tricky. We had long careers, we are pretty good athletes and we are in good shape. It won't give us any trouble. I am pretty fit and he was moving at the net, like he moved in 90s. He is the same. I don't think age is going to be a factor."
Paes also refused to be bogged down by the defeat in their first match as a team.
"Some seasons you jump out of the gate and end up winning the first week of the year and continue well from there. Some seasons you start well but don't do well after that and this season we have not started well but it's just one match. " Sa, who arrived in Chennai only a day before the match, refused the suggestions that his late arrival did not give him enough time to acclimatise to the conditions.
"I don't think so. I won't make excuses. Like he said, it's just one match. I got here in afternoon. We had enough hits on the centre court and outside courts, it's just that we were outplayed today. That's the way it is and we need to move on from here."
(With inputs from PTI)