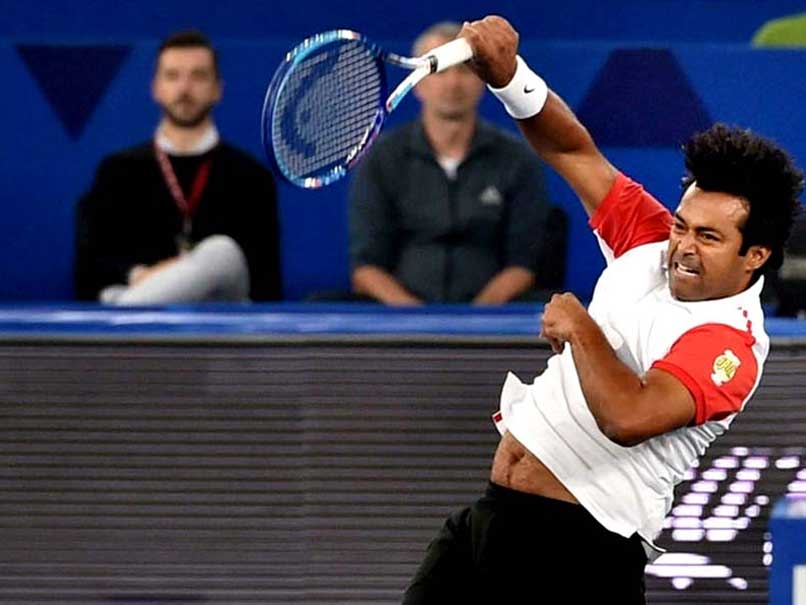 Leander Paes hinted at retirement in few months
© PTI
India Tennis great Leander Paes on Sunday hinted that he might call it quits this year itself and end his over 20 years of professional tennis career.
"At 43, I am blessed to be able to compete at this level. It is a dream and I am so blessed. I have a few people new on my team, who are going to help me on my last few months of my playing career," he said in Chennai adding, "and my post tennis career".
"I play for fun now. I play because I love the game, but there will come a point when the curtain comes down and before the curtain comes down, a thank you to you all," the 43-year-old said.
"It's been a fun run. You have been awesome with me for 20 years," he further said getting a bit emotional.
The 18-time Grand Slam champion also said that he wants to give back something to the game he played for almost two decades professionally. "I think it is the time right now to transcend and do something bigger than just winning six times. I would love to create someone who is winning it for the first time and help him realise what it takes to win the first one," Paes said.
"When he wins the first one, I will help him realise what it takes to win the next one to prove it was not a fluke. That's the dream I have now, more than going out and playing an eighth Olympics or a 20th Grand Slam or winning a Chennai Open for the eighth or ninth time. They are just numbers now," he signed off.
Considered as the most succesful Indian tennis player, Leander has won eight doubles and ten mixed doubles Grand Slam titles.
He holds a career Grand Slam in men's doubles and mixed doubles, and achieved the rare men's doubles/mixed doubles double at the 1999 Wimbledon tournament. His mixed doubles Wimbledon title in 2010 made him the second man, after Rod Laver, to win Wimbledon titles in three decades.
"No issues" with Bhupathi
With Mahesh Bhupathi taking over as the non-playing captain of the Indian Davis Cup team, Paes was asked the obvious question knowing his 'blow-hot-blow cold' relationship with his former doubles partner.
"People out there need to have credentials to be the captain and he (Bhupathi) has got credentials to be captain. In the next 18 months, we will see how it goes," Paes told PTI during an exclusive chat.
Asked if he will be comfortable having Bhupathi in the Captain's chair, Paes retorted,"Why not?"
"Country comes first. No egos. As far as I am concerned, there has never been ego. If you have to achieve excellence, you have to be student of life. Captain sits on the bench, helps you out with a few things but at the end of the day, I am out there representing the country.
"So for me, whether it was Ramesh Krishnan, SP Misra, Naresh Kumar, my first captain, Anand Amritraj or Jaideep Mukherjee or Mahesh, I have one job to do and that is to represent country," Paes emphasised.
Paes and Bhupathi had emerged as a force in late 90s in international tennis, winning three Grand Slams together before parting ways.
Their stormy relation apart from their exploits together as a team has always been a topic of discussion in Indian tennis.
Bhupathi, who replaced Anand Amritraj, will take over from April. It fuelled speculation on how the two legends will go keeping in mind the history they share.
Paes, a veteran of 54 Davis Cup ties, said he had some good memories with Anand as captain.
"Congratulations to Anand for years, we have played together. We had some memorable matches, when we beat Korea in Chandigarh also when I beat my former partner Nenad Zimonjic in the doubles in Bangalore against Serbia. That was one of my best Davis Cup comebacks. So thanks to Anand and congratulations to Mahesh."
(With inputs from PTI)