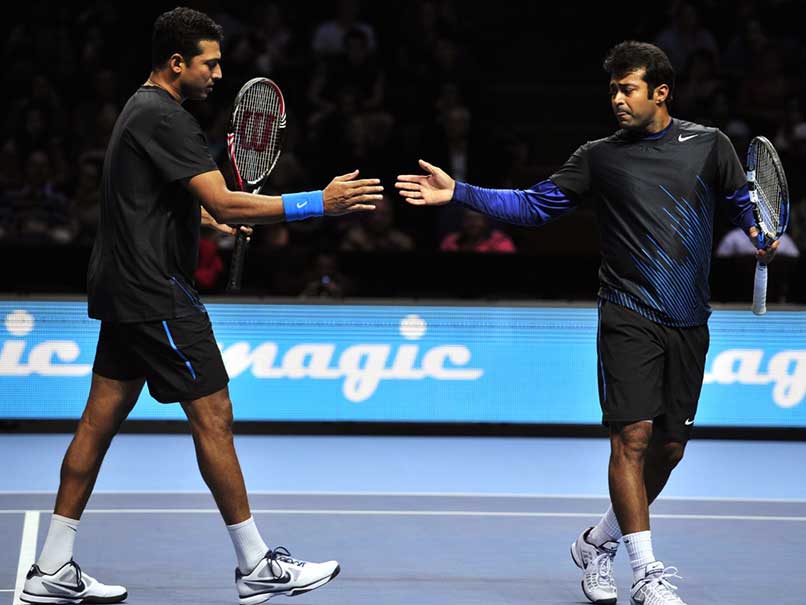 Leander Paes and Mahesh Bhupathi once shared a very successful partnership.
© AFP
The wrangle between India's senior most tennis pro Leander Paes and new Davis Cup team's non-playing captain Mahesh Bhupathi reached a nadir when the two decided to do some serious mud-slinging in public after Paes was dropped from the squad for the Asia-Oceania tie which concluded in Bengaluru on Sunday. While Paes had questioned the selection criteria for naming the squad, Bhupathi had gone public with his WhatsApp exchange with Paes and had then let loose a long tirade against the veteran on his Facebook page.
Paes had then responded with his own counters to the same and the entire sordid event refused to die down.
April 9, 2017
It also brought reaction on Monday from all quarters, including former India non-playing captain Anand Amritraj and the All India Tennis Association (AITA).
Amritraj called the wrangle a "new chapter in old story" and said the captain should have made it clear to Paes that he was not in the playing four and Paes should not have come to Bengaluru if he was not assured of a place in the playing squad.
"It's just a new chapter in old story. It's just tragic that it has cropped up again. There is fault on both sides. It was pretty badly handled by Mahesh. Why did Mahesh not send a mail to Leander and told him clearly that you are not in final four? If he had decided to pick Rohan two months back, why keep this guy (Leander) hanging?" Amritraj asked.
"Did he (Bhupathi) want to fool the Uzbeks by picking four singles players? Nobody is going to get fooled like this. And Lee (Paes) should not have come to Bangalore at all if he was not sure of playing. All this confusion could have been avoided. All Mahesh needed to do was send an e-mail to Leander that he was not being considered in final four and mark a copy to AITA."
Paes had left Bengaluru mid-way into the tie, a move which Bhupathi said was final nail in the coffin. The captain also did not like the fact that Paes spoke to media despite his gag order.
Amritraj, however, felt that Paes had no reason to stay back in Bengaluru, doing nothing.
"What's the point in hanging around? The team was already 2-0 up after Day 1. It was better if he left for the US and get acclimatised to the conditions for the next tournament. There was no point leaving on Monday. He should not have put himself for humiliation. He should not have come to Bangalore," Amritraj added.
AITA secretary general Hironmoy Chatterjee also expressed his displeasure.
"We expect these senior pros to be more mature. The way they are going about it, we are not appreciating it. We have to talk to them and make sure they behave in a much more mature manner," he said.
"Leander should not have spoken when the tie was on. Mahesh did the right thing by speaking after the tie was over," Chatterjee felt.
(With inputs from PTI)