Story Progress
Back to home
Chance For Leander Paes to Get Doubles World Record
The Indian tennis team will take on New Zealand in the Davis Cup Asia/Oceania Group 1 tie in Pune from February 3 to 5.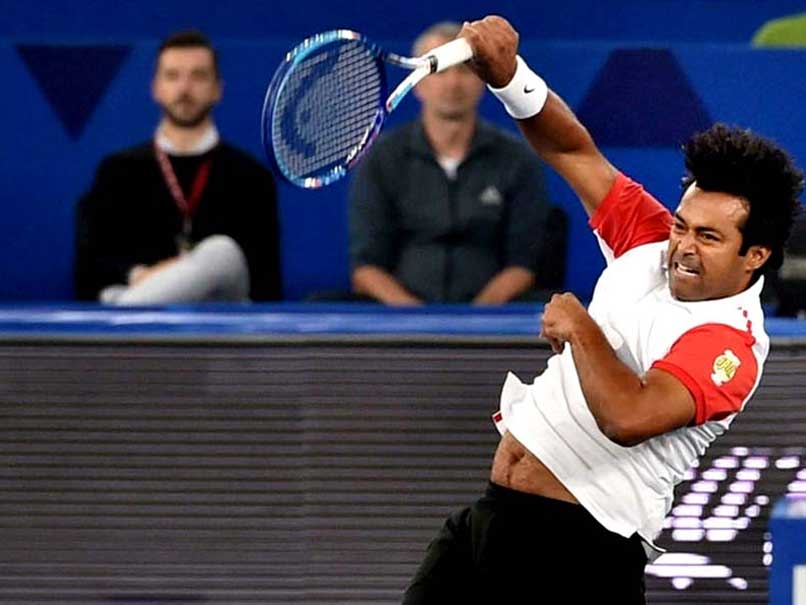 Leander Paes will be playing in yet another Davis Cup contest this weekend.
© AFP
Highlights
Leander Paes is one of the oldest tennis players on the circuit

India will take on New Zealand in the Davis Cup this weekend

It will be a Group 1 Asia/Oceania match
The India-New Zealand Davis Cup Asia-Oceania Group I tie in Pune from Friday assumes more importance than it would have otherwise merited, with the equations within the Indian team changing after this. Long-time non-playing captain Anand Amritraj will make way for erstwhile star Mahesh Bhupathi, a change that may also affect how long tennis fans will see Leander Paes in India colours. Paes also is on the verge of making history, being one doubles match win away from holding the record of best doubles performances in Davis Cup.
On top of that, Saketh Myneni is on the injured list, which means Paes will pair up with Vishnu Vardhan for the doubles. It is understood Rohan Bopanna was approached to partner Paes, but nothing came out of it.
With these things in the backdrop, India take on an unassuming New Zealand side and in spite of injuries hitting the side, they are expected to win the rubber.
Paes will be in focus, as he always is in such ties. The charismatic 43-year-old, who has 18-time Grand Slam titles under his belt, is all set for his 55th Davis Cup tie.
He is tied at 42 doubles wins with Italy's Nicola Pietrangeli and if the Indians manage to score a win in the doubles on Saturday, he will become the most successful doubles player ever in Davis Cup.
But he will have to team up with Vardhan, a last-minute call-up after Myneni failed to recover from a foot injury sustained during last month's Chennai Open. Vardhan was Paes' partner in the London Olympics, while Myneni and Paes had played together when India went down to Spain in the World Group play-off in September, 2016.
"Myneni's injury is not okay yet," said Amritraj.
Paes and Vardhan will take on the NZ pair of Artem Sitak and Michael Venus on day two of the tie.
Vardhan was given a call-up after three people spoke to India's top doubles player Rohan Bopanna, team captain Anand Amritraj said at the media conference after the draw.
"Three people spoke to him. I did not. I don't know exactly what happened," said Amritraj.
Paes, asked on the subject, said he wanted to give a call to Bopanna yesterday but was stopped from doing so.
"I was the first to suggest of making a call to Rohan but I was told not to make the call," said Paes who partnered Bopanna at the Rio Games but crashed out in the first round.
He, however, refused to divulge who prevented him from doing so.
Yuki Bhambri, ranked 368, will open India's campaign against New Zealand's number one player Finn Tearney, ranked 414, while Ramkumar Ramanathan (206) will take on Jose Statham (417) in the second singles.
(With PTI inputs)
Topics mentioned in this article