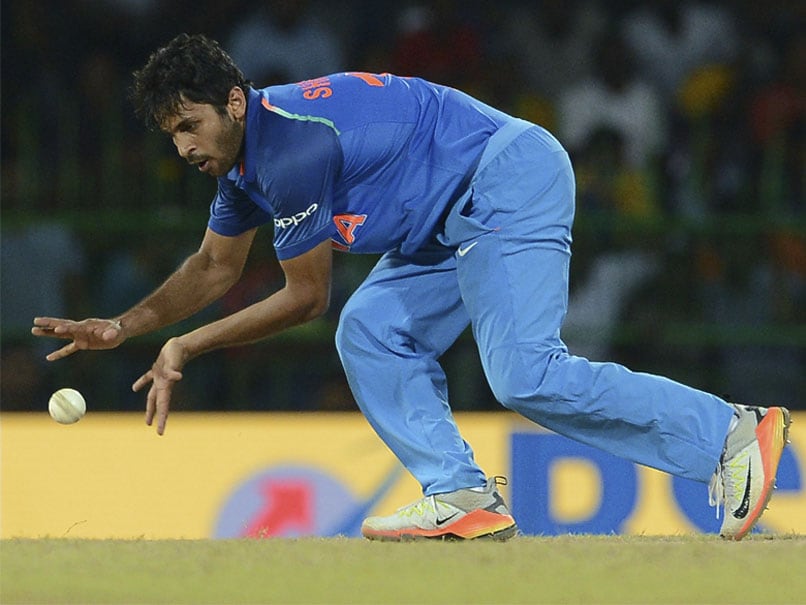 Shardul Thakur picked up one wicket in 7 overs and conceded 26 runs in the 4th ODI.
© AFP
Shardul Thakur on Thursday finally made his India debut after having received his maiden call-up more than a year ago. He has been part of the Indian set-up since 2016 under Anil Kumble when he toured the West Indies. He was included in the squad for the various home Test series as well but was released to play in domestic cricket. He then featured in the IPL for Rising Pune Supergiants. Skipper Virat Kohli's promised player rotation policy helped Thakur make it to the playing XI as Bhuvneshwar Kumar was rested for the 4th ODI against Sri Lanka. The Mumbai pacer put in a decent effort, picking up one wicket and conceding just 26 runs in 7 overs.
While fans were satisfied with his bowling performance, they criticised him for his choice of jersey number. Shardul sported 10 on his back, the number used for legendary batsman Sachin Tendulkar for most of his career.
@bcci Jersey No. 10 was Pride & Property of @sachin_rt and retired with him. Now no one can ever have this Jersey @imShard

— Anshul Gupta (@anshul_gupta17) September 1, 2017
Brother @imShard I know you would have received plenty of messages, this is one among them. Kindly request you to give up JerseyNo.10 ??

— Hariharan Durairaj (@hari_durairaj) September 1, 2017
Hey @BCCI , WTH? How can you assign #10 Jersey to @imShard ? There is only one guy worth it & he is retired now. Hope you rectify this asap.

— Abhishek Jawalkar (@dawningknight) September 1, 2017
Hey @imShard, please don't wear #JersyNo10 next time. Leave it for #Sachin10Forever #RetireJerseyNo10 @BCCI r u listening?? #RetireJersey10

— Mukesh Srivastwa (@marvelousmukesh) September 1, 2017
@BCCI you are shattering the dreams of many Indians by giving away No 10.@imShard
Please retire the jersey no 10#RetireJerseyno10

— Phanindra Reddy (@phanindrareddi) August 31, 2017
@imShard plz change ur jersy number,bcoz its belong to @sachin_rt and its retire from world cricket,Hope @BCCI will understand.

— Pappu Pandey (@tweethearts09) August 31, 2017
MS Dhoni played a key role in helping debutant Shardul Thakur claim his first ODI scalp. Opener Niroshan Dickwella caught by Dhoni off the Mumbai pacer's bowling. The batsman was given not out by the on-field umpire but India decided to review the decision after Kohli looked at Dhoni who seemed convinced the batsman was out. TV replays showed the ball had brushed the bat.
Shardul is expected to feature in India's last ODI match against Sri Lanka after Virat Kohli said that he would continue to experiment with the team's line-up. Kohli, also added that the three new players, who were given an opportunity for this match, will get another one.
The batting order is flexible and the experiment will be made depending on the situation of the game, remarked the 28-year-old.
(With inputs from agencies)