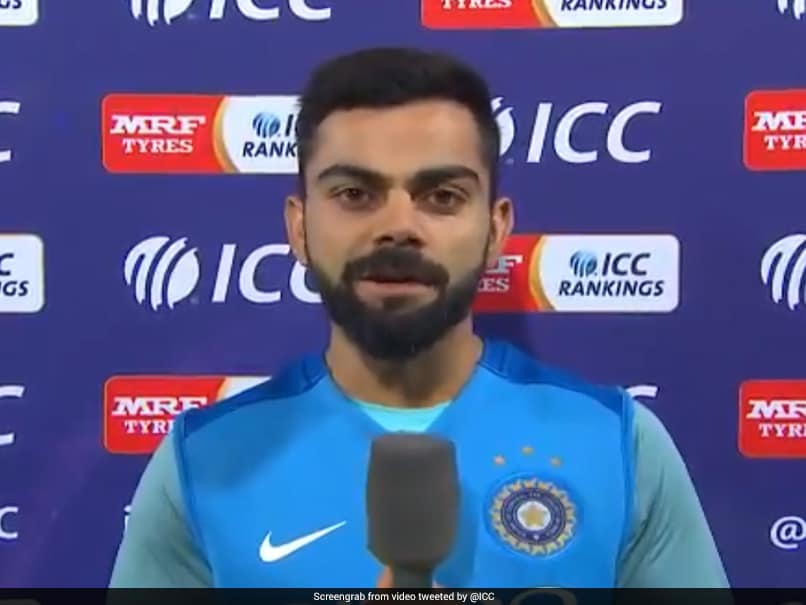 India skipper Virat Kohli had a prolific tournament against South Africa
© Twitter
Indian skipper Virat Kohli received plaudits from all quarters after his stupendous showing in the long South Africa tour. He was presented with the ICC Test championship mace by the International Cricket Council (ICC) at the Newlands Stadium following the third and final Twenty20 international on Saturday that brought the curtains down on India's largely successful tour of South Africa. In a short video posted by ICC on their official Twitter account, Kohli had a wonderful message for the Indian fans.
"A message for all India fans from @imVkohli after India retained the ICC Test Championship Mace as the number one Test side!", ICC had captioned the video.
"Having received the ICC Test mace twice in a row, it is a very special feeling for all of us in the Indian cricket team and the support staff as well. And I want to thank all the fans of the Indian cricket team all around the workd for making this possible, for supporting us in big numbers wherever we play and motivating us in the tough times", the Indian captain said.
A message for all India fans from @imVkohli after India retained the ICC Test Championship Mace as the number one Test side!pic.twitter.com/vEVNrfcsZB

— ICC (@ICC) February 25, 2018
"We promise you that we will keep the hard work going and try to entertain you as much as possible and keep Indian cricket as high as we can for as many as possible. It's been a collective effort of the fans and the team and hopefully in the coming next 12 to 18 months where we're going to play a lot of tough cricket away from home, we hope we can get the same kind of support from all the fams from across the world. We are very thankful and grateful and thankful to all of you and look forward to seeing you all in the stadiums again", Kohli added in the 51-second video.
Kohli also posted pictures of the Indian team with the T20 series trophy on his Facebook account. "Great way to end a wonderful tour and time for us as a team. Jai hind", he captioned the pictures.
India had ensured the number one spot on the ICC Test team rankings at the April 3 cut-off date and a prize of $1 million after their victory in the Johannesburg Test against South Africa last month.
India had arrived in South Africa on 124 points, with South Africa 13 points behind on 111 points. However, Virat Kohli's men will return on 121 points as opposed to South Africa's 115 points, which will be good enough for them to keep possession of the prestigious ICC Test Championship mace for the second year in succession at the April cut-off.
Kohli had become the 10th captain since 2002 to get his hands on the mace when he received it from Gavaskar following the Indore Test against New Zealand in 2016.