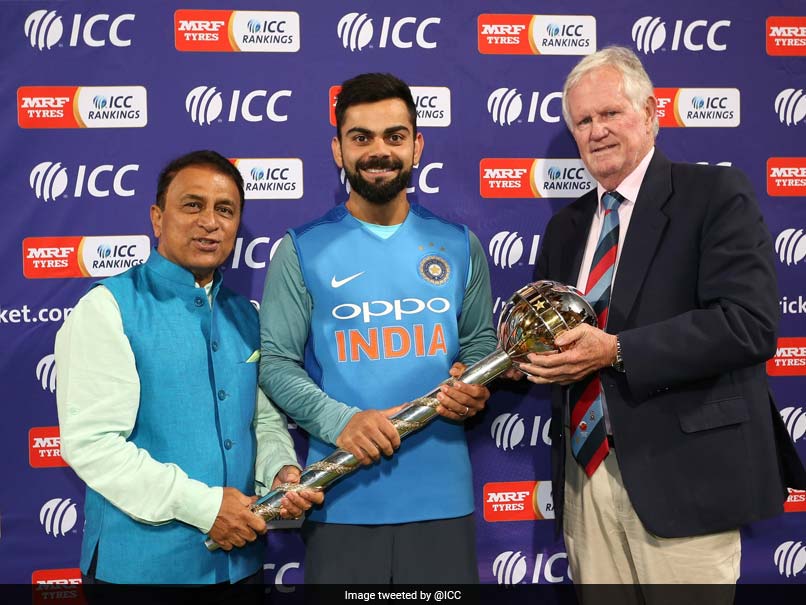 India received the Test championship mace after winning the third T20I in Cape Town
© Twitter
The International Cricket Council (ICC) presented the ICC Test championship mace to India captain Virat Kohli in the Newlands Stadium at the conclusion of the South Africa tour on Saturday. On behalf of the ICC, Cricket Hall of Famers Sunil Gavaskar of India and Graeme Pollock of South Africa made the presentation immediately after the awards ceremony for the T20I series. India had ensured the number one spot on the ICC Test team rankings at the April 3 cut-off date and a prize of $1 million after their victory in the Johannesburg Test against South Africa last month.
India had arrived in South Africa on 124 points, with South Africa 13 points behind on 111 points. However, Virat Kohli's men will return on 121 points as opposed to South Africa's 115 points, which will be good enough for them to keep possession of the prestigious ICC Test Championship mace for the second year in succession at the April cut-off.
Kohli had became the 10th captain since 2002 to get his hands on the mace when he received it from Gavaskar following the Indore Test against New Zealand in 2016.
Now, South Africa will have to win at least one Test against Australia to retain second place in the Test table, which, in turn, will earn them $500,000. In this scenario, Australia will pocket $200,000 for a third place finish. However, if Australia win by 3-0 or 4-0, then they will leapfrog South Africa into second place.
The winner of the two-Test New Zealand v England series, which will also be played in March, will decide the side that finishes fourth on the table and will take home $100,000. A drawn series will mean New Zealand will finish ahead of England.
The cut-off for this year has been adjusted to 3 April, which is the final day of the four-Test series between South Africa and Australia in Johannesburg, as well as last day of the two-Test series between New Zealand and England in Christchurch.