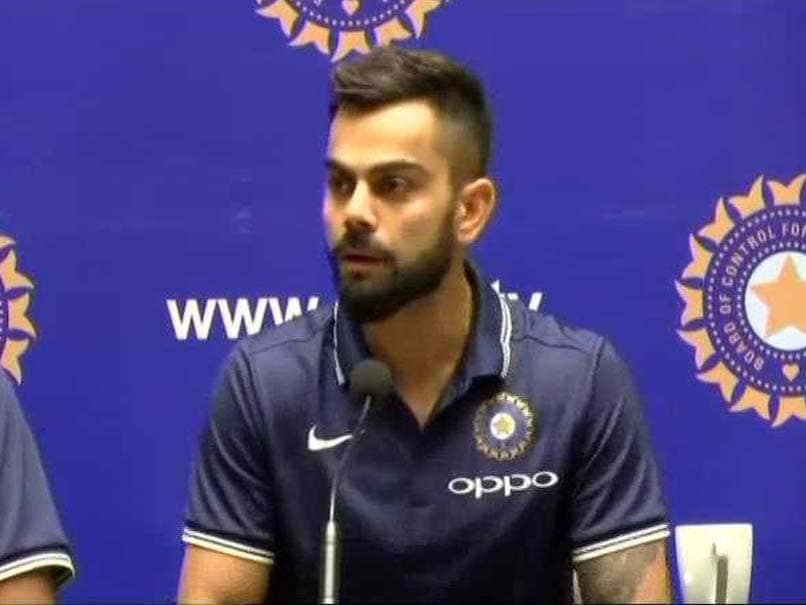 Virat Kohli addressing the press conference before leaving for tour of South Africa
© NDTV
Virat Kohli will be back on the cricket field from early in 2018 and he was all business when he addressed the media ahead of Team India's long tour of South Africa, which is being carded as the stiffest challenge for the captain. Having hosted the final reception of his wedding with long-time girlfriend, Bollywood actor Anushka Sharma in Mumbai on Tuesday, Virat was back to focusing on cricket as he and coach Ravi Shastri attended the pre-departure Press briefing ahead of the tour that begins on January 5. This series will be a stiff test for India, and Kohli is all set for that.
"Not difficult at all. I was away for something which was much more important. I think that is a period that will always remain very special for both of us (Virat and Anushka) and switching back to cricket is not difficult at all,'' Kohli said referring to his marriage.
"Getting back to the professional front is not difficult at all. It is not that I haven't done anything in the past. Three weeks obviously I have been training to get back for playing in South Africa. So somewhere in your head you are always thinking about, you have something very important coming up. Subconsciously, you are always looking forward to it, so mentally I am very well prepared," he added.
"You need to play cricket for long period of time to win abroad," Kohli said about the prospects of the team.
"The hunger this time is the same. We want to do what we couldn't the last time around," Kohli said about the team's ambitions in a country where India has historically struggled to come good.
India will fly off to South Africa to play three Tests, 6 ODIs and 3 T20Is starting January 5. The couple will travel to South Africa where Virat will start preparing for upcoming series and Anushka will spend New Year's Eve with him and return in first week of January to begin next schedule of a film with Shah Rukh Khan in Mumbai.
The Virushka receptions were gala affairs, with the star couple hosting the first one for friends and family in New Delhi on December 21. The function was also attended by Prime Minister Narendra Modi.
The second reception in Mumbai saw past and present cricketers, including former coach Anil Kumble and other sports stars like Saina Nehwal in attendance, along with the Bollywood luminaries like Shah Rukh Khan, Priyanka Chopra, Katrina Kaif and others.
India will be playing three Tests in South Africa, with the first beginning in Cape Town. The second Test scheduled to be played in Centurion from January 13. The last match of the series will be played at Johannesburg from January 24.
Thereafter, India and South Africa will be engaged in a six-match One-day International and three-game T20 International series in February.