Story Progress
Back to home
India vs South Africa: Virat Kohli Backs Team India To Beat Proteas
India have not won a single Test series in the 'Rainbow Nation' for the past 25 years but Virat Kohli said that his team is paying no attention to what has happened in the past.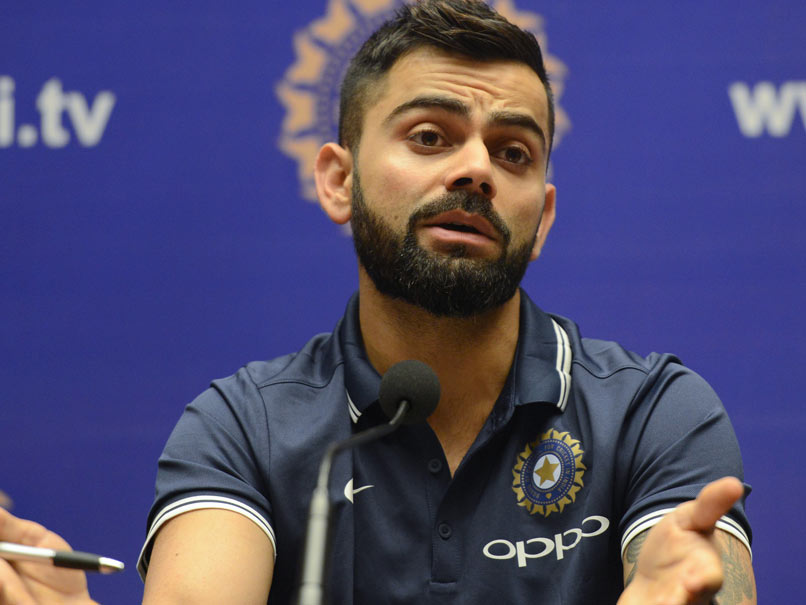 Virat Kohli said team spirit was the outstanding feature of Indian side.
© AFP
Highlights
Kohli says India can definitely win in South Africa

Kohli spoke at a press conference on Saturday

India have started their preparations for the 1st Test
Virat Kohli on Saturday talked up India's chances of ending their drought in South Africa saying with the balance in the side, "we definitely can win here". The Indian skippersaid that his team has the ability to gain a first series win in South Africa. India play three Tests, six One-Day Internationals and three Twenty20 International matches on their two-month tour with the series called a litmus test for both for Kohli as captain and the team in general. With a great mix of solid batsmen and good fast bowlers, this tour is being viewed as a golden chance for India to get one over hosts South Africa.
"Our best result here has been a drawn series in 2010-11 but I feel the kind of bowling attack we have now and the balance we have in the side, we definitely can win here. There are no two ways about it," Kohli told a news conference as India began their preparations for the first test at Newlands in Cape Town, which starts on January 5.
"We come here wanting to express ourselves, believing in our abilities and knowing we have the right balance to win test matches under any conditions we play under.
India have not won a single Test series in the 'Rainbow Nation' for the past 25 years but Kohli said that his team is paying no attention to the past series in South Africa.
"This is an opportunity for us to play good cricket. We aren't thinking about the history of past series in South Africa but concentrating on winning each session and executing our strategy well. I think international cricket is all about staying in the present and trying to do things better than your opposition at all times.
"If we didn't have that mindset, there would be no point getting on to the flight to come here," Kohli told reporters.
Though India, top of the International Cricket Council's (ICC) Test rankings, have won their last nine Test series in a row, stretching back to August 2015, their record in South Africa is poor.
Since 1992, they have won just two of the 17 Tests played there, losing five of the six series, with the 1-1 draw in 2010-11 their best return.
"We come to South Africa knowing the wickets are going to be different from those back home. We are under no illusions but we are ready for it.
"Last time we were here there was a lot of talk about our batsmen being bounced out but we stood up rather nicely.
'The most important thing is not to get surprised by the pace and bounce. It is going to be much quicker and much more bouncy than back home and you will get balls that will surprise you every now and then, so the most important thing is to focus on the game ball by ball," said Kohli, second behind Australia skipper Steve Smith in the individual test batting rankings.
"That's something we did last time. You can't afford to worry about the pace and bounce, you have to believe in your abilities and take it head-on. That's key to playing in conditions that are different from your own," he added.
(With Inputs From Reuters)
Topics mentioned in this article