Story Progress
Back to home
India vs South Africa: Losing Wickets In Bunches Cost Us, Says Virat Kohli
India lost the first Test in Newlands by 72 runs as South Africa took a 1-0 lead in the three-match series.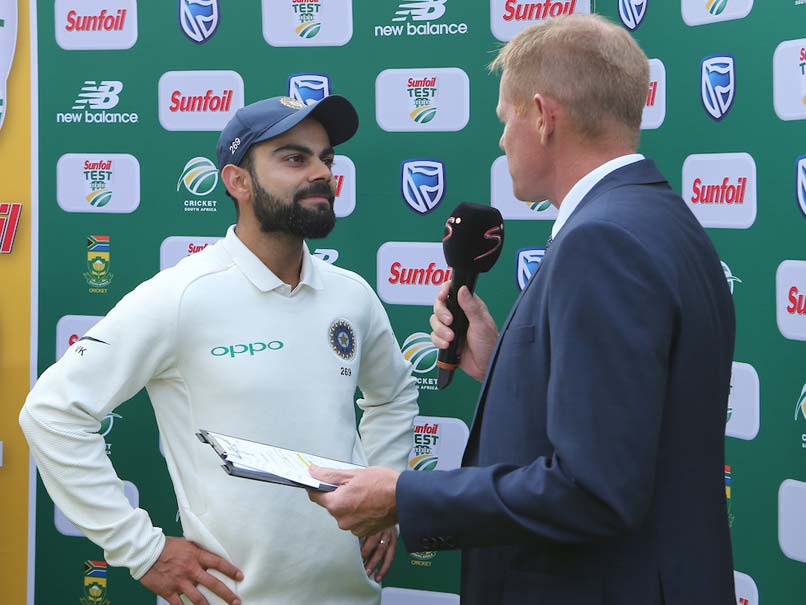 Virat Kohli speaks to Shaun Pollock in the post-match presentation ceremony.
© BCCI
Highlights
India lose 1st Test by 72 runs

India failed to string big partnerships together

Kohli was all praise for Hardik Pandya
India's tour of South Africa began with a 72-run loss in the opening Test at Newlands and failure to string big partnerships was one of the main factors behind India's inability to chase down a modest target of 208. Indian skipper Virat Kohli pointed out that losing wickets in bunches was something that needed to be looked into immediately. "Losing wickets in bunches is something we have to plug in. We were in the game for the three days and it was a wonderful match to be part of. We would have taken that if someone told 208 would be the target," Kohli said in the post-match presentation.
"Well in hindsight, we lost by 70-odd, if we had taken chances in the first innings, they would have been 220," the Indian skipper added.
Kohli felt India needed a batsman to score a 70 or 80 in the second innings.
"It was a great effort but we needed someone to get a 75 or 80. 20s or 30s were not enough. They were a bowler short (Dale Steyn) but they pitched the balls in the right areas and bowled their hearts out. We need to rectify our mistakes also."
Kohli was not too disheartened with the defeat and said that the team was still feeling good about with their performance in the Newlands Test.
"This game is all about partnerships, and crucial runs, and they did better. The bowlers learnt pretty quickly and did well in the second innings. We are still feeling good about how we went about this Test match.
"The mindset really matters when you travel away from home. You need to be positive in defence and leaving, and cash in on scoring," the straight-talking skipper said.
In India's first innings, Pandya's 93-run knock was the difference between an embarrassingly low score and the competitive total that India managed to put on board, and the Indian skipper was all praise for the Baroda all-rounder.
"We believe in Pandya. He always wants to do well, even away from home. He showed a lot of character and the knock was brilliant."
Man of the match Vernon Philander said that India had caught them off-guard on the first morning but 286 was a fantastic score.
"Coming to Newlands, it is generally slow, but they caught us off guard in the first morning. It was a wonderful effort with the bat from us in the first innings. What better crowd, what better conditions you can ask for!"
Philander complimented Kagiso Rabada and Morne Morkel for keeping things tight in Steyn's absence.
"We were one seamer down but KG and Morne also bowled pretty well. I have been coming back after the break, so I felt a little stiff.
"Look, Dale has been one hell of a champion, one hell of a leader. Hopefully, he is back as soon as possible," he added.
(With PTI Inputs)
Topics mentioned in this article