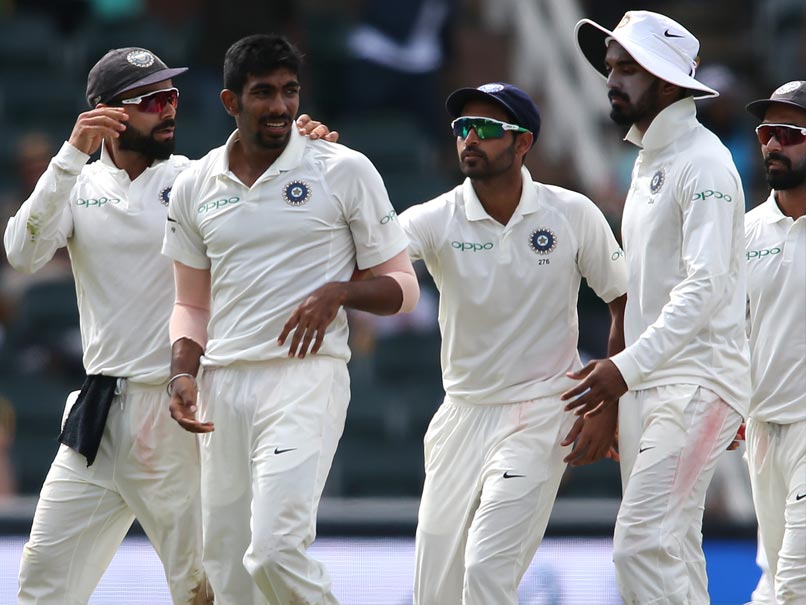 Highlights, India vs South Africa: India beat South Africa by 63 runs in the third Test
© BCCI
India made a brilliant comeback to beat South Africa by 63 runs in the third and final Test at Johannesburg on Saturday. Mohammed Shami was the star bowler for the visiting side as he ran through South Africa's batsmen in the second session. He ended the second innings with figures of 5/28. Needing 241 runs for a win, South Africa were all-out for 177 runs on the fourth day of the Test. Dean Elgar was the lone warrior for his side as the Proteas batsmen fell like a pack of cards in the session post tea. With this win, India lost the series 1-2 after the hosts had wrapped up the series earlier winning the previous two Tests. The hosts were cruising towards victory but the post tea session worked wonders for India. From 124/2 to 177/10, South Africa scripted a mammoth collapse. (SCORECARD)
Earlier, the first session of Day 4 saw South Africa on top after Hashim Amla and Dean Elgar remained unbeaten. They both weathered the initial storm as the Indian pacers failed to get any breakthrough. Both the batsmen stitched a 62-run partnership as the hosts were 67/1 before going for lunch. Amla especially played some sublime shots aided by poor bowling by the Indian bowlers. Elgar also chipped in with his patient knock.
Catch the highlights of India vs South Africa, 3rd Test, Day 4 straight from Johannesburg
20:44 IST: Thank you for tuning with us. We will return with the ODI series beginning Thursday.
20:42 IST: India win the match by 63 runs. Skipper Virat Kohli is ecstatic.
South Africa 177 all-out in 73.3 overs. (Elgar 86*, Amla 52 | Shami 5/28)
20:40 IST: OUT! Ngidi departs as India win this match. Review taken. Successfull review for India. Karthik is confident. The fielding side has heard a noise. India win the match by 63 runs. What a riveting Test match this has been.
India win by 63 runs
20:37 IST: SIX! What a shot by Elgar. Scoops it over long on for a maximum. South Africa 177/9
20:36 IST: FOUR! Ngidi hits a classy four. These are crucial runs but Dean Elgar needs to come to strike.
20:22 IST: OUT! Shami sends Morne Morkel packing. Clean bowled. Takes his fourth wicket.
20:17 IST: OUT! SA lose their 8th wicket as Rabada departs. A simple catch to the stand-in keeper Dinesh Karthik. South Africa 160/8
20:16 IST: OUT! Phehlukwayo departs as Shami strikes again. SA lose their 7th wicket. Clean bowls Phehlukwayo with an unplayable delivery. India now need 3 wickets for a win. South Africa 158/7
20:09 IST: OUT! Shami strikes. Philander clean bowled. The batsman fails to read the delivery. He departs for 10. South Africa in deep trouble and India can sense a victory here on day 4. South Africa 157/6
20:05 IST: Elgar survives. Review lost. One review remaining for Elgar. No sign of edge on the snickometer. South Africa 153/5
19:59 IST: 150 up for South Africa. They need 91 more runs to win.
19:57 IST: One more wicket and India are definitely in this match. South Africa 149/5
19:47 IST: OUT! Quinton de Kock departs for a duck as South Africa lose their fifth wicket.Ishant Sharma's delivery was unplayable as it hit de Kock plumb on his pads for an LBW. South Africa 145/5
Wicket! And they are struggling now are SA after De Kock is trapped LBW by Bumrah for a first-ball duck. Suddenly it's 145/5. It was 124/1 not so long ago. Target 241 #SAvIND #SunfoilTest #FreedomSeries pic.twitter.com/a3aOBcdkXD

— Cricket South Africa (@OfficialCSA) January 27, 2018
19:42 IST: Ishant Sharma is on fire. Maiden over to put pressure on the hosts. South Africa 145/4
19:34 IST: OUT! South Africa lose their fourth wicket. What a delivery. South Africa captain Du Plessis couldn't gauge where the ball headed to. He could just see his bails come off. South Africa 144/4
19:28 IST: If India manage to get ELgar's wicket now, it will be game on. He has been solid as a rock for them. South Africa 143/3
19:20 IST: South Africa need exactly 100 runs to win from now on.
19:17 IST: Bad news guys! Parthiv Patel has suspectedly broken his finger. Dinesh Karthik (substitute wicketkeeper) has donned the gloves.
18:56 IST: Tea. India back in this game after two quick wickets.
18:50 IST: South Africa lose their second wicket after de Villiers departs for 6 runs. ABD fails to read the delivery and an easy catch for Ajinkya Rahane. South Africa 131/3
Amla and ABD, pillars of SA batting, gone. India back in the match. We could be heading for a sizzling finish

— Cricketwallah (@cricketwallah) January 27, 2018
18:41 IST: FOUR! Loose delivery by Ishant Sharma. ABD moves outside the off stump to steer it towards the boundary for a four. South Africa 130/2
18:35 IST: WICKET! Hashim Amla departs after a brilliant 52 runs. A superb catch by Hardik Pandya and equally good fielding placement by India skipper Virat Kohli. A good innings comes to an end. AB de Villiers is the new batsman. South Africa 126/2
18:23 IST: Hashim Amla scores his 38th Test fifty as the hosts appear to stroll towards victory. A miracle for India and a major collapse will only prevent South Africa from a Test series whitewash. South Africa 123/1
18:17 IST: Jasprit Bumrah is back into the attack. South Africa 115/1
18:03 IST: Dean Elgar hits his 10th Test fifty. He has batted brilliantly and has been ably aided by Hashim Amla who is also on course towards his fifty. South Africa 112/1
17:55 IST: South Africa are taking this match away from India. India need wickets now. South Africa 108/1
17:41 IST: 100-run partnership between Amla and Elgar up as the hosts continue to dominate the visitors. South Africa 106/1
17:37 IST: 100 up for South Africa as they need 141 more runs to win against India. Amla and ELgar solid at the crease. South Africa 100/1
17:22 IST: Hardik Pandya is brought back into the attack. May be he could ignite the fire for the visitors. South Africa 93/1
17:20 IST: 150 more runs to win for South Africa. Indian bowlers look clueless as they seem to be devoid of any ideas.
17:13 IST: FOUR! What a shot by Elgar. Plays it on the onside for a boundary. Picks the fullish length and the ball races towards the boundary. South Africa 87/1
17:10 IST: A cracker of a delivery by Bumrah. Unlucky that Bumrah failed to get an edge off Amla's bat. India need a wicket and they need it fast. South Africa 79/1
Just over 20 minutes into the 2nd session of this gripping day 4 of the 3rd #SunfoilTest in this #FreedomSeries. SA have added nine so far against some much-improved bowling by India. It's 78/1 #ProteaFire pic.twitter.com/X2JyuZRziH

— Cricket South Africa (@OfficialCSA) January 27, 2018
17:00 IST: The hosts are getting closer to the target every passing moment. Indian bowlers have stuggled to break this partnership. Amla and Elgar have now stitched a 72-run partnership. South Africa 77/1
16:43 IST: FOUR! Bumrah gets punished for his poor line by Amla.The ball races towards the boundary. South Africa 74/1
3rd Test. 28.4: J Bumrah to D Elgar (33), 4 runs, 74/1 https://t.co/ixhjf9ik8J #SAvInd #TeamIndia

— BCCI (@BCCI) January 27, 2018
16:40 IST: Day 4, Session 2 begins.
Play resumes after lunch.
16:00 IST: LUNCH. Day 4 , Session 1 ends
Amla and Elgar have played well to ensure the hosts didn't lose any wicket in their chase. South Africa still need 172 runs to win this Test.
South Africa 69/1, need 172 more runs to win
15:52 IST: FOUR! Amla glances the ball to the leg side for a boundary. Poor ball by Bumrah. South Africa 68/1
15:43 IST: FOUR! Amla punches the ball to backward square leg boundary. Amla is slowly and steadily adding runs to his name. India skipper is trying all the tricks in his book to break this partnership. India are in desperate need of a wicket. South Africa 60/1
15:31 IST: 50 up for South Africa (Amla 14*, Elgar 23*). They need 190 more runs to win this match. South Africa 51/1
15:22 IST: Play resumes as Bhuvi begins proceedings for India.
15:19 IST: Partnership between Amla and Elgar is now of 43 runs off 108 balls. Time for drinks. South Africa 48/1
15:09 IST: Bumrah gives space to Elgar who punches the ball towards the mid off region for a double. South Africa 46/1
15:01 IST: Beautiful carry to the keeper. Bumrah has been maintaining his line and length. Having said that, credit to the batting duo of Elgar, Amla, who have evaded all the pressure from the opposition. South Africa 41/1
14:54 IST: South Africa need 200 more runs to win. India need to break this partnership. Both Elgar, Amla are attacking the Indian bowlers. South Africa 41/1
14:47 IST: FOUR! Elgar drives the ball after Bhuvi gives him room. The ball races towards the offside boundary. South Africa 40/1
14:45 IST: Two slips and a gully for Elgar. Bhuvi is looking for a wicket here. Attacking mindset of the visitors here. South Africa 31/1
14:40 IST: Bhuvneshwar Kumar is brought into attack.
14:38 IST: Mohammed Shami poor with his first over. Two boundaries hit by Hashim Amla. Poor line and length. Amla on the offensive. South Africa 30/1
14:30 IST: Play resumes. Day 4, First Session
Elgar ducks a huge bouncer off Bumrah's delivery. 5 WIDES.
14:19 IST: Play to resume after rain delay at 14:30 IST
Update - play set to resume at 11:00am local time.
First session duration - 11:00 - 12:30.
Second session - 13:10 - 15:25
Final session - 15:45 - 18:00 #SAvIND pic.twitter.com/ajNPeVhjc8

— BCCI (@BCCI) January 27, 2018
The sun has just about showed up but the umpires are worried about a certain patch in the ground that is damp. Next inspection by 10:30 local time #SAvIND pic.twitter.com/Tz9hXP3MpV

— BCCI (@BCCI) January 27, 2018
13:26 IST: Pitch inspection to take place in sometime. Official confirmation expected soon.
South Africa require 224 runs
India require 9 wickets

What will Day 4 hold at The Wanderers?

Join us now to find out!
https://t.co/124Wndyr7P #SAvIND pic.twitter.com/cO8yFv2oT3

— ICC (@ICC) January 27, 2018
13:06 IST: It is pouring at the moment with the covers on the pitch. It appears the match could be delayed. South Africa need 224 more runs to win.
13:03 IST: Hello and welcome to the live match updates from the fourth day of the third and final Test between India and South Africa in Johannesburg
It's begin to drizzle now and the pitch is under covers. Awaiting an official update from the officials on the start of play #SAvIND pic.twitter.com/qOMuWZYalq

— BCCI (@BCCI) January 27, 2018
The field umpires discussed the pitch issue more than five times during the day, even during the Indian innings of 247 all out, with cracks appearing on the surface. On a few occasions the ball apparently kept low at the New Wanderers Stadium.The umpires, however, discussed the matter with much more seriousness when South African left-arm opening batsman Dean Elgar (11 batting) was struck on the helmet by a delivery from Jasprit Bumrah. But it was a short delivery and climbed up to an usual height. But some of the back of length deliveries got odd bounce and struck on the bodies of the visiting and home batsmen. India were bowled out for 247 in their second innings.