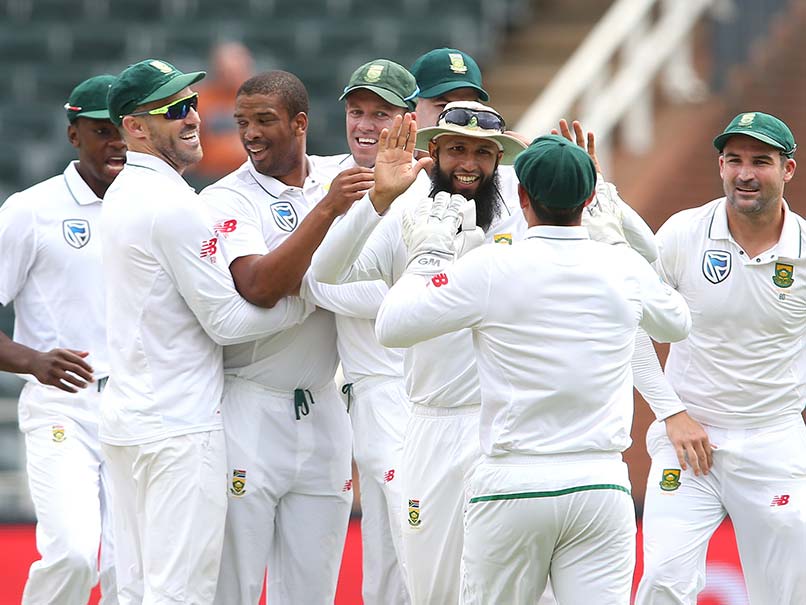 Highlights, India vs South Africa: India were bundled out for 187 runs in their first innings
© BCCI
India's disappointing batting display continued as they were all out for 187 runs in the first day of the third Test against South Africa on Wednesday. South Africa finished the first day on 6 for one from 5 overs, trailing India by 180 runs. Aiden Markram departed for 2 runs after he failed to read Bhuvneshwar Kumar's delivery and nicked it straight to the Indian wicketkeeper Parthiv Patel. The first day belonged to the hosts as they were brilliant with the ball. India, on the other hand, failed to stitch partnerships and couldn't even put 200 runs on the board. Poor shot selections by the Indian batsmen gave the hosts crucial wickets. (Live Scorecard)
India were bundled out for 187 runs in their first innings of the first Test against South Africa. The South African pacers came on top of the visitors on this seamer-friendly wicket. India's last 6 wickets fell for 43 runs and that doesn't make for a good reading. Post the tea break, Pujara played some good shots edging closer to his fifty and eventually hitting one. But once he fell, the Indian batting order failed to score runs again. Kohli, Pujara and Bhuvneshwar were the only ones to put some runs. The hosts were excellent with the ball restricting India to 187.
India fought back with a gritty half century by Indian skipper Virat Kohli after lunch in the second session. Kohli was lucky to have survived two dropped catches by the hosts but he wasn't lucky the third time. Kohli was caught by AB de Villiers on 54 runs in the 43rd over. Cheteshwar Pujara has played a slow yet steady innings to help the visitors reach 114/4 at tea. Ajinkya Rahane, who was playing his first game in this tour, couldn't withstand the bowlers threat and departed for 9 runs. Vernon Philander, Kagiso Rabada, Morne Morkel, Lungisani Ngidi, Andile Phehlukwayo have been brilliant with the ball. Barring Phehlukwayo, all the other pacers took a wicket each.
Earlier before the lunch, India were pegged back by the hosts in the first session of the final Test at Johannesburg. The South African pacers troubled the Indian batsmen right from the outset as they sent back Lokesh Rahul and Murali Vijay in quick succession. The batting conditions were difficult at the middle and the visitors were struggling. However, after the initial onslaught, the batting duo of India skipper Kohli (24*) and Pujara (5*) have steadied their ship. India were 45/2 at lunch after 27 overs. The post-lunch session should be interesting for both the teams.
Catch the live action and updates of India vs South Africa, 3rd Test, Day 1 straight from Johannesburg
21:05 IST: Thank you for joining us for the live blog. Do tune back in tomorrow for the second day's play.
21:02 IST- Stumps | South Africa 6/1 trail India by 181 runs (Dean Elgar 4, Bhuvneshwar Kumar 1/3)
The first day ends with South Africa scoring 6 runs for the loss of one wicket. A good bowling display by the hosts ensured the visitors were restricted to 187 runs.
20:51 IST- Kagiso Rabada is the new batsman for the hosts.
20:45 IST- OUT! Aiden Markram departs for 2 runs. Brilliant start for India. Wonderful delivery by Bhuvi to send Markram back to the pavilion. South Africa 3/1
2.3: WICKET! A Markram (2) is out, c Parthiv Patel b Bhuvneshwar Kumar, 3/1

— BCCI (@BCCI) January 24, 2018
20:40 IST- Bhuvneshwar maintaining his line and length. His in-swingers are a treat to watch. Both the openers have started on a positive note. South Africa 3/0
20:36 IST- South Africa First Innings begins.
South Africa openers are at the crease. Dean Elgar and Aiden Markram in the middle. Bhuvneshwar Kumar begins the proceedings for India.
20:26 IST- OUT! India bundle out for 187 runs. Bhuvneshwar becomes the last batsman to depart for India. He scored a quick-fire 30 runs in 49 balls. India's last 6 wickets fell for 43 runs. That is indeed a poor stat for the visitors. India 187-all out in 76.4 overs | Virat Kohli 54, Cheteshwar Pujara 50, Kagiso Rabada 3/39
20:20 IST- FOUR! Good shot by Bhuvi again. Length ball gets the deserving treatment by the batsman. India 186/9
20:16 IST- Badly misjudged by Ngidi and fails to take a catch. Useful runs for India. Kumar is living dangerously but these are crucial runs. India 181/9
20:10 IST- FOUR! Brilliant shot by Bhuvi straight over the umpire's head. He is now on 20 runs. These runs will come in handy for India. India 176/9
20:04 IST- OUT! Ishant Sharma departs for a duck. Rabada gets his second of the day. Poor shot yet again but can't blame the tailender. India 166/9
19:57 IST- The hosts want to wrap up the Indian innings. Ishant and Bhuvi just delaying the proceedings and trying to add some crucial runs. India 164/8 
19:42 IST- Out! India lose their 8th wicket as Shami departs for 8 runs. Needless shot played by Shami. India in trouble now as they yet again fail to post a big total. India 163/8
19:21 IST- OUT! Hardik Pandya departs for a duck as India lose their 7th wicket. Pandya did not need to play that shot. A poor shot and he gives away his wicket. An easy catch for de Kock. Unnecessary shot by the India all-rounder. Phehlukwayo gets his second wicket. India 144/7
WICKET!!! @andileluck19 has struck again to leave India in further strife. Pandya the latest to fall for a duck. The score is now 154/7 #ProteaFire #SAvIND #SunfoilTest pic.twitter.com/VxBZJ9qraL

— Cricket South Africa (@OfficialCSA) January 24, 2018
19:15 IST- OUT! Parthiv Patel departs for 2 runs as India lose their 6th wicket. Yet again, Parthiv fails to read the delivery and gives a simple catch to the South African keeper de Kock. Poor shot selection by the Indian keeper. India 144/6
62.2: WICKET! P Patel (2) is out, c Quinton de Kock b Morne Morkel, 144/6

— BCCI (@BCCI) January 24, 2018
19:10 IST- OUT! Pujara departs after scoring his half-century. He failed to read Phehlukwayo's delivery and nicked it straught to the wicket keeper de Kock who takes a simple catch. Pujara played a long and patient innings of 50 runs off 179 deliveries. India 144/4
19:03 IST- FIFTY for Pujara! He scores his 17th Test fifty. A useful and patient innings. Pujara withstood the pressure of the South African bowlers to reach his fifty. He hit 8 fours to reach his half-century. India 143/4
Laboured half century, but invaluable where India is concerned. Swells team total as well as confidence. Well played @cheteshwar1

— Cricketwallah (@cricketwallah) January 24, 2018
19:00 IST- FOUR! Pujara has upped the ante in the hosts' bowlers post tea. A gentle push on the onside and the ball rushes towards the boundary. He has now hit 8 boundaries after taking 53 deliveries to score his first run off the bat. India 141/4
18:53- FOUR! Good shot by Pujara. The ball isn't doing as much it was in the earlier sessions. Post team he has past on anything loose. Ngidi looks slightly tired. Has been bowling some loose deliveries of late. Pujara is now on 42 off 167 balls. India 135/4
18:49 IST- Parthiv is off the mark finally after 13 balls. A sweet cover drive but only gets a single off Rabada's delivery. India 130/4
18:46 IST- FOUR! A good cover drive by Pujara. His first of the day. Looked composed. He has been batting inside his crease throughout. India 129/4 
18:36 IST- FOUR! Short and wide. Gets the deserving treatment by Pujara. Ball races towards the boundary for a four. Rare bad delivery by Ngidi. India 121/4
18:34 IST- A lot riding on Pujara now to guide his team to a competitive first day total. He has been scoring at a snail's pace but he has been rock solid. India need to start scoring runs now. 36 overs are left for the first day. India 117/4
Back after tea with Rabada and Ngidi opening up. An extended final session expected with play likely to go on until 5.30pm local time. India 121/4 #SAvIND #SunfoilTest pic.twitter.com/Z0IL66k4Iw

— Cricket South Africa (@OfficialCSA) January 24, 2018
18:30 IST- Day 1, Third Session begins
18:12 IST- TEA | India 114/4
When India appeared to have steadied their batting innings post lunch, Lungi Ngidi struck in the 43rd over to dismiss skipper Virat Kohli for 54 runs. Ajinkya Rahane was the next to depart for only 9 runs. Cheteshwar Pujara is still batting 27 runs off 145 balls. The hosts have been stupendous with the ball.
End of session two on day one of the 3rd #SunfoilTest in the #FreedomSeries. Two late-ish wickets for SA have left India on 114/4. Rahane (9) going to Morkel and the big one, Kohli (54), taken out by Ngidi #ProteaFire #SAvIND pic.twitter.com/YHZOZmrhqC

— Cricket South Africa (@OfficialCSA) January 24, 2018
18:02 IST- OUT! Morne Morkel hits Rahane plumb on the knee roll. He departs for 9 runs. Originally given out. Review taken. Review lost and he is out. India lose their fourth wicket. India 113/4
17:51 IST- Rahane survives. No ball bowled by Philander. The bowler is disappointed after he bowled a brilliant ball which Rahane nicked to the keeper. However, umpire asked him to wait to check the no ball and luckily the batsman survived. India 104/3  
17:34 IST- 100 up for India after 45.4 overs. Pujara has been as solid as a rock in the middle. Rahane is still settling in after coming in for Kohli. India 100/3 (Pujara 22, Rahane 2)
17:19 IST- OUT! Virat Kohli departs for 54 runs. Lungi Ngidi strikes as he sends back the Indian skipper Kohli back to the pavilions. Kohli isn't third time lucky now. de Villiers makes sure he doesn't drop the catch again. Poor shot selection by Kohli though. Outside off stump and Kohli edges it. Just when we thought Kohli was primed for a big score, he departs. Ajinkya Rahane is the new man in. India 97/3
@imVkohli's played and missed quite a few times this innings, but also exhibited some superb off and cover drives. All told, cut above the rest

— Cricketwallah (@cricketwallah) January 24, 2018
17:14 IST- FIFTY up! Virat Kohli hits his 16th Test fifty. When India were stuttering at 13/2, skipper Kohli along with Pujara have anchored the Indian innings. Kohli has played a captain's knock and India will hope they will get a decent score on the board. India 94/2
17:10 IST- Kohli is nearing his fifty. Ngidi has been bowling really well maintaining his line and length. India 90/2
16:41 IST- FOUR! Straight down the ground by the Indian skipper. A good punch off the back foot from the Indian captain. Kohli is now on 38 while Pujara is on 19. India 73/2
16:40 IST- 52 run partnership between Pujara and Kohli off 151 balls. Both batsmen look to stabilise the Indian innings. India 69/2
16:32 IST- Kohli survives. Dropped on 34 by de Villiers. Kohli was earlier dropped on 11 by Philander. Will the drops hurt South Africa? India 65/2 
Weird shot from Kohli. Weird drop from AB. #AisaBhiHotaHai

— Harsha Bhogle (@bhogleharsha) January 24, 2018
16:26 IST- FOUR! Kohli opens the face of the bat late and the ball races to the boundary for a four. Softly guided by Kohli wide of AB De Villiers at the third slip. India 63/2
16:22 IST- Back-to-back boundaries for Pujara. Both Pujara and Kohli now have built a 46-run partnership. India 59/2 
16:15 IST- India are clearly struggling for runs. Credit to the South African bowlers for maintaining their line and length. India 51/2
16:10 IST- Session 2 begins
Philander continues from the Gold Course end. 
15:30 IST- Day 1, Lunch
India 45/2 in 27 overs. Kohli 24*, Pujara 5*, Philander 1/1
The hosts are definitely on top at the moment. But Kohli and Pujara have somewhat steadied the Indian ship after two quick wickets of KL Rahul and Murali Vijay. The South African pacers have been brilliant with the ball. Philander has been tremendous giving away only a single run while the other three have been equally impressive.
15:20 IST- Kohli-Pujara slowly building a partnership (27 runs off 94 deliveries). After losing two early wickets, both Kohli and Pujara have steadied the Indian innings. India 41/2
15:09 IST- Andile Phehlukwayo is brought into the Proteas attack. Pujara has now taken a couple since opening his account after 53 balls. India 36/2
15:01 IST- Short delivery to Virat Kohli and the bat takes an outside edge. But, Philander drops a sitter. Such a prized wicket it would have been. 
Two massive let-offs for India in the last few deliveries. First SA opt not to review when Ngidi strikes Pujara on the pads. Replays show he would have been out. Then Philander drops a tough Kohli chance off Rabada. It's 31/2 #SAvIND #SunfoilTest pic.twitter.com/aUJKDorjSQ

— Cricket South Africa (@OfficialCSA) January 24, 2018
14:59 IST- Loud appeal! That's Pujara's 50th dot-ball. He is still on zero
14:53 IST- Leg bye. Pujara fails to get a nick off the bat. He is yet to open his account. No runs from 45 balls. India 23/2
14:48 IST- Lungi Ngidi comes into the attack for the hosts. He was outstanding in his debut Test at Centurion. 
14:43 IST- Pilander looks menacing with the ball. He has maintained his line and length throughout. He has given only a solitary run in his first 8 overs taking Lokesh Rahul's wicket. India 20/2 
14:35 IST- Pujara is still runless after 31 deliveries. Has been defending the ball well. Philander is leaving no room for Pujara to get off the mark. India 19/2
14:33 IST- Play resumes
14:30 IST- Drinks
Time to strategise for both teams. Having said that, the first 13 overs belonged to the hosts with some brilliant bowling coupled with two Indian wickets. India 19/2
14:26 IST- Pujara yet to get off the mark. Another defensive shot by the batsman. He has played 26 deliveries but hasn't scored any runs yet. The hosts are bowling really well. The lateral movement has helped them a great deal. India 17/1
14:18 IST- What a delivery by Philander. This shows the conditions are difficult for the batsmen. Should India have chosen to bowl first given the current conditions? Hopefully we will get to know as the day progresses. India 13/2 
14:15 IST- Next batsman is India skipper Virat Kohli.
Here we go again.....

— Harsha Bhogle (@bhogleharsha) January 24, 2018
14:10 IST- OUT! Kasigo Rabada comes into the attack for the hosts and strikes in his first over. What a ball. Vijay has been skirting with danger and finally succumbs to a brilliant delivery. Fails to read the pace and is caught by the wicket keeper de Kock for 8 runs. India 13/2
WICKET!!! Into the attack comes home boy @KagisoRabada25 and he takes just 4 deliveries to strike as a Vijay edge is taken by De Kock for 8. India 13/2 #ProteaFire #SAvIND #SunfoilTest pic.twitter.com/AvLV7K0ITZ

— Cricket South Africa (@OfficialCSA) January 24, 2018
14:05 IST- Pujara is yet to get off the mark. Some good disciplined bowling display by Morkel has restricted the visiting batsmen till now. India 12/1
13:58 IST- Decision reviewed for LBW. Given not out by the on-field umpire. Pujara survives.  Disappointment for the hosts. India 7/1 
13:51 IST- The visitors are chasing wide deliveries. They seem to be playing with fire at the moment. Three back-to-back maidens appears to be bothering the Indian batsmen. Morkel has been terrific with the ball. Morkel finishes the over with a maiden. India 7/1
13:46 IST- OUT! India lose their first wicket as KL Rahul departs for a duck. An excellent catch by wicket keeper Quinton de Kock. Philander's clever bowling stumps the batsman. Cheteshwar Pujara is the next batsman for the visitors. India 7/1
WICKET!!! Great start for SA as @VDP_24 strikes in the fourth over. A great start to his 50th Test as Rahul edges behind to De Kock for a duck #ProteaFire #SAvIND #SunfoilTest pic.twitter.com/SR6YO9sZDr

— Cricket South Africa (@OfficialCSA) January 24, 2018
13:40 IST- Vernon Philander playing his 50th Test. Takes the ball for the hosts. Solid defensive technique by Rahul. Rahul is negotiating the ball movement really well. Maiden over for Philander. India 7/0
13:35 IST- Good movement by Morkel and equally impressive by Vijay. A good first over by Morkel. A thick edge but he gets off the mark with a boundary in the third ball. Nervy shot selection in the first over but a good shot punched down the ground in the fifth ball of the first over by the Indian opener restored his confidence. The last ball was well left by Vijay. India 7/0
13:30 IST- Day 1, Session 1 begins
India openers Murali Vijay, Lokesh Rahul are in the middle while South Africa's Morne Morkel begins the proceesings for the hosts.
13:29 IST- The first day of the third and final Test begins with India winning the toss and deciding to bat first. Ajinkya Rahane finally gets the nod to play as Rohit Sharma makes way. 
13:25 IST- The team are out in the middle. Their respective National Anthems beings played. 
I would have liked @ashwinravi99 in the side. Gives attack variety, even on a greentop, bats too. What do you think?

— Cricketwallah (@cricketwallah) January 24, 2018
13:07 IST- Teams
Good morning and welcome to Johannesburg for the final #SunfoilTest of this #FreedomSeries. Will it be a clean sweep by SA or will India salvage some pride? #ProteaFire #SAvIND pic.twitter.com/5Hwajol5pN

— Cricket South Africa (@OfficialCSA) January 24, 2018
South Africa (Playing XI): Faf du Plessis(c), Dean Elgar, Aiden Markram, Hashim Amla, AB de Villiers, Quinton de Kock(w), Vernon Philander, Kagiso Rabada, Morne Morkel, Lungisani Ngidi, Andile Phehlukwayo
India (Playing XI): Virat Kohli(c), Murali Vijay, Lokesh Rahul, Cheteshwar Pujara, Ajinkya Rahane, Parthiv Patel(w), Hardik Pandya, Bhuvneshwar Kumar, Mohammed Shami, Ishant Sharma, Jasprit Bumrah
#TeamIndia has won the toss and elected to bat first in the 3rd Test #SAvIND pic.twitter.com/SEpdvhhYIq

— BCCI (@BCCI) January 24, 2018
If you're considering four seamers, there's a lot of merit in playing 6 proper batsmen. Will India? Toss critical anyway...win and bowl. #SAvIND

— Aakash Chopra (@cricketaakash) January 24, 2018
13:00 IST- TOSS! Virat Kohli wins toss and decides to bat first. Ajinkya Rahane in for Rohit Sharma. 
12:55 IST- Toss is five minutes away from now. 
All set for the final Test #TeamIndia #SAvIND pic.twitter.com/X4WuKPFgYY

— BCCI (@BCCI) January 24, 2018
12:50 IST- The pitch shows the grass is really thick. The surface is nice and hard. As the game goes on, the cracks will open up. Veteran Sunil Gavaskar says the Indian team should go with four seamers.
12:44 IST- Hello and welcome to the live updates of the third and final Test of the three-match series between India and South Africa. We bring you the live updates from Johannesburg. We are few minutes away from the toss. 
India, though, will be buoyed by their record at the ground. They have yet to be beaten in Tests there, with a win and three draws going back to 1992/93. On the one occasion where conditions were particularly bowler-friendly, in 2006/07, South Africa were beaten at their own game. While bemoaning his team's poor batting in the current series, Indian captain Virat Kohli has hailed his bowlers, who have claimed 20 wickets in both Tests so far. This, he believes, gives India the ammunition to be competitive. Kohli himself has happy memories of the ground, having scored 119 and 96 in the drawn first Test in 2013/14 when South Africa, set to make a world record 458 to win, finished on 450 for seven, in a match which showed that batsmen can prosper at the Wanderers once the initial sting is drawn from the surface. Cheteshwar Pujara made 153 in the second innings of the 2013/14 match and India will be seeking an improvement from their number three batsman, who has made only 49 runs in four innings, including being run out in both innings in Centurion.
Ajinkya Rahane, who did not play in the first two Tests, had a lengthy net at the weekend and could be recalled on the strength of a strong record in overseas Tests.
Dinesh Karthik was flown in as a replacement for injured wicketkeeper Wriddhiman Saha and could play at the expense of Parthiv Patel, who had a poor game with the gloves in Centurion.
With their formidable fast bowling attack, coupled with more resolute batting and better fielding in the first two Tests, South Africa will again start favourites although they will be wary of a potential Indian backlash. Rain could interfere with play on as many as four days.
Topics mentioned in this article
India Cricket Team
South Africa Cricket Team
Virat Kohli
Faf du Plessis
Ajinkya Rahane
Hardik Pandya
South Africa vs India 2018
Cricket
Live Score
Live Cricket Score
Live Blogs