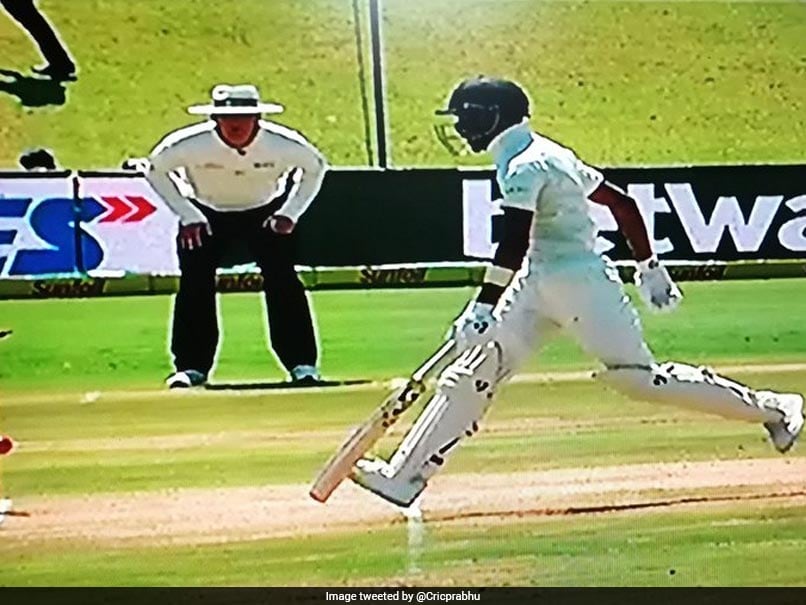 Hardik Pandya was run out for 15 runs.
© Twitter
India all-rounder Hardik Pandya came under severe criticism from Sunil Gavaskar after he gifted his wicket with a schoolboy error on Day 3 of the 2nd Test against South Africa at Centurion's SuperSport Park. Pandya pushed the ball down to mid-on and set off for a quick single. Kohli, correctly assessing the situation, sent him back. Despite Vernon Philander's direct hit, Pandya looked to have made it comfortably back into the crease. However, he failed to drag his bat across the line. The TV replay showed that his bat and foot were in the air. The South Africans could not believe their luck as a gutted Pandya walked back to the pavilion.
"Casual. No not just casual, that is unforgivable" said Gavaskar in commentary. Sanjay Manjrekar on the other hand described Pandya's attitude as "arrogant,". He also cited the example of legendary batsman Sachin Tendulkar, whose confidence never translated to arrogance throughout his career.
Today Hardik Pandya proved he is more dumber than Alia Bhatt. #SAvIND pic.twitter.com/xcpjuHDKDA

— Wa?iyullah Budye (@WasiyullahB) January 15, 2018
Early lesson for Hardik Pandya that this game will come to bite you back if you let confidence become arrogance.

— Sanjay Manjrekar (@sanjaymanjrekar) January 15, 2018
Not just the commentators, fans too weren't impressed by Pandya's effort.
He may not be the next Kapil Dev but Hardik Pandya, by not grounding bat, at least proved he's the next Ganguly. #SAvIND #INDvSA

— Stereotypewriter (@babumoshoy) January 15, 2018
#INDvSA After struggling to stay in the series, India displacy complacency. Very poor running by Hardik Pandya

— Ajay Kaul (@ajaykaul10) January 15, 2018
Hardik Pandya balancing out all the good things he has done on the tour. If you don't respect the game enough, it'll come back to bite you hard. #SAvIND

— Aakash Bang (@ABCricket19) January 15, 2018
Everyone talked about the importance of the first hour, and how it can change the landscape of this game.

Hardik Pandya's carelessness has overturned everything. #SAvsIND

— Gautam Sodhi (@GautamSodhi1) January 15, 2018
Schoolboy Error.....could possibly cost India the match. Inexplicable. #SAvIND

— Aakash Chopra (@cricketaakash) January 15, 2018
Before Pandya's dismissal, Kohli registered his 21st Test ton. Resuming at his overnight score of 85, Kohli led from the front to defy the home bowling to score the hundred, which also puts him on par with South African rival and Royal Challengers Bangalore teammate AB de Villiers in the number of centuries.
This was Kohli's 11th century away from home and in the context of the current series and the circumstances surrounding it, possibly one of the most important of his career.