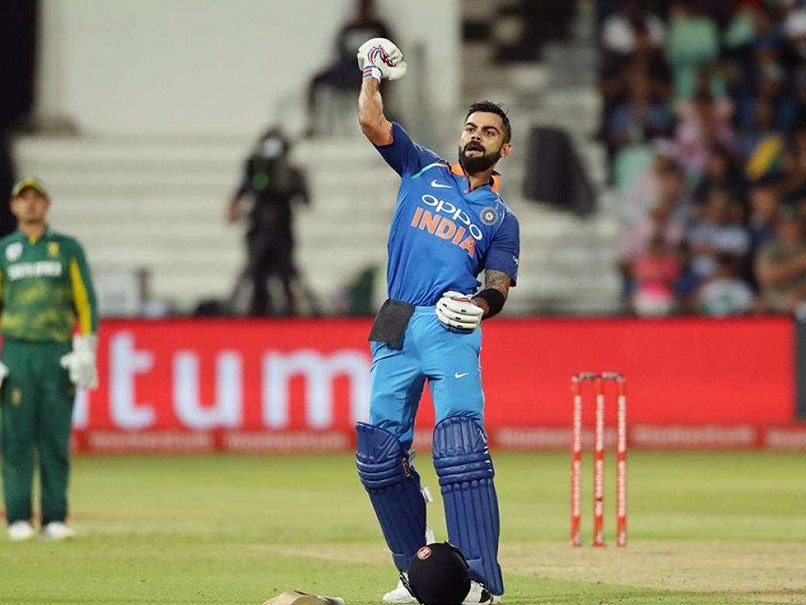 Virat Kohli scored his 33rd ton in the 1st ODI vs South Africa.
© BCCI
India cricket captain Virat Kohli has often stated that his aggressive nature helps bring out the best in him. As several bowlers across the world have now found out, on-field confrontation pumps up Kohli like nothing else. The stylish right-hander is always involved in the game, celebrating the team's success with as much enthusiasm as a personal milestone. On Thursday, Kohli notched up his 33rd ODI hundred to power India to a convincing six-wicket win over South Africa in the series opener. His celebration after his high-quality ton, however, had a distinct edge to it. In the post-match presentation, the 29-year-old revealed the reason behind his aggressive celebration.
That Agression in his eyes?? #Kohli pic.twitter.com/YHgJDmW7j8

— Mahak Mohan (@MahakMohan) February 1, 2018
"Yeah it was quite special. We wanted to take the confidence from Jo'Burg to here. We wanted one good partnership. Very very happy for Jinks as well. It is easier to break down the total when you have a number on the board. I like to understand the game. I had never scored an ODI hundred in South Africa. Thus, the celebration," Kohli said.
Kohli and Ajinkya Rahane shared a 189-run third wicket partnership at Kingsmead.
Kohli made 112 -- extending his record of centuries in one-day run chases to 20 -- and Rahane scored 79 as India reached the winning target of 270 with 27 balls to spare.
India ended a sequence of 17 successive home wins by South Africa and comprehensively outplayed the team that went into the match as the top-ranked one-day international team.
Second-ranked India controlled most of the match despite a century by South Africa captain Faf du Plessis.
Kohli made his runs off 119 balls with ten fours, while Rahane struck five fours and two sixes in an 86-ball innings.
There was a scare for India early in the South African innings when Kohli jarred his left knee when attempting a sliding stop on a soft outfield.
He left the field twice to receive treatment. He said he had also strained his groin.
"I'm fine for now," he said.
(With inputs from AFP)