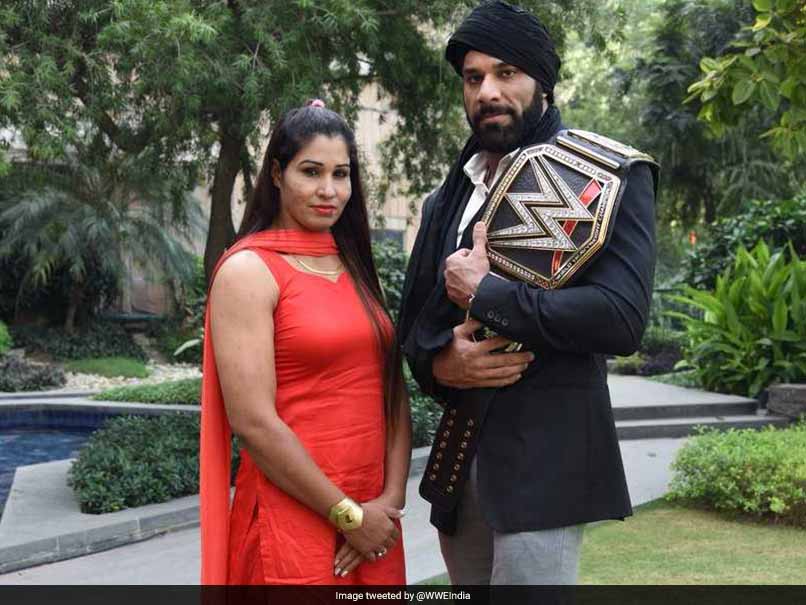 WWE Champion Jinder Mahal welcomed Kavita Devi (L) to the WWE Universe.
© Twitter
Kavita Devi seems to be making a habit of creating history. After becoming the first Indian woman wrestler to participate in a World Wrestling Entertainment (WWE) event, she is now the first Indian woman to sign with the WWE. Kavita has been awarded the WWE development contract and current WWE Champion Jinder Mahal confirmed the news during his visit to New Delhi. Mahal, who goes by the name of 'The Modern Day Maharaja' also took to Twitter to congratulate and welcome Kavita to the WWE Universe.
Sending a huge congratulations to @KavitaDeviWWE and also @WWE for making history today. Kavita is the first Indian woman to sign with WWE.

— The Maharaja (@JinderMahal) October 15, 2017
Kavita, who had won gold at the 2016 South Asian Games in power-lifting, has trained with none other 'The Great Khali' at his Punjab based wrestling promotion and training academy.
Twitter was quick to welcome the news and was all praise for Kavita.
She'll be a great addition to your team on smackdown live

— Lay Royalty (@LayRoyalty) October 15, 2017
proud moment Congo @KavitaDeviWWE

— Aniket Aryan (@Oye_Any) October 15, 2017
ohh That's amazing ..Congrats to all the #Indians for this.Kavita do well now

— Being #Armaalian!! (@navykaur1) October 15, 2017
She was so good in the #MaeYoungClassic against @DakotaKai_WWE so I'm excited to see more :)

— James A Cichon (@JamesACichon) October 15, 2017
Incredible #India making history...

— Saad Rahman (@Saad11rahman30) October 15, 2017
What a great news CHAMPION. Time to show real power of INDIAN woman to the world. It will start the women's revolution here in india.

— Hungry Animal (@_MeSumiT_) October 15, 2017
The 'Great Khali' became the first Indian to make an impact in the World Wrestling Entertainment (WWE) Universe, grabbing eyeballs of fans from around the world. 
Jinder Mahal then sent shock waves across the pro wrestling world when he clinched the WWE Championship after beating Randy Orton at pay-per-view event Backlash in May 2017. Mahal, who is a Canadian national, became the second wrestler of Indian descent after Khali to win a world heavyweight championship
Clad in an orange salwar-kameez and a dupatta tied across her waist, Kavita Devi had taken Twitter by storm when she took on New Zealand's Dakota Kai at the Mae Young Classic tournament.
Kavita Devi was one off 32 competitors to take part in the tournament. The tournament broadcast team included a trio of WWE Hall of Famers: Jim Ross, Lita and Alundra Blayze.