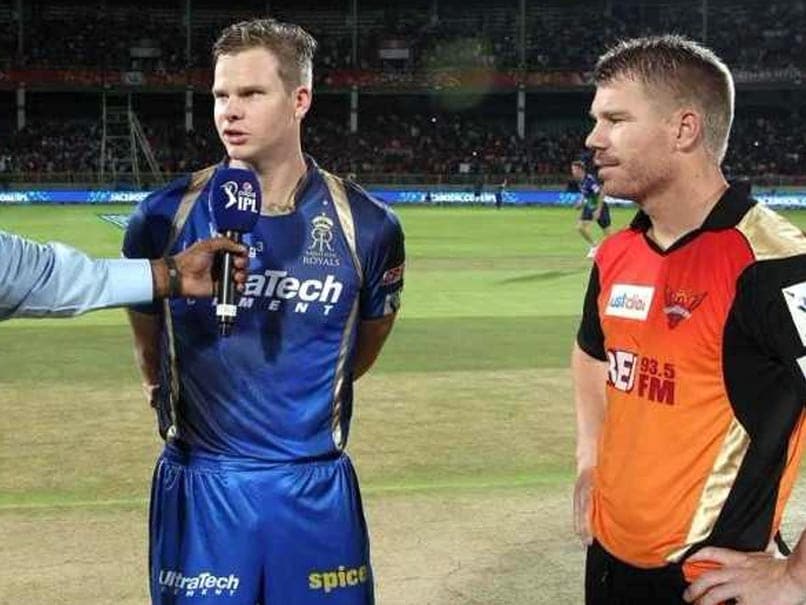 Rajasthan Royals handed over the captaincy to Steve Smith in February
© BCCI
In the wake of the ball-tampering controversy that hit the Australian Cricket in their ongoing third Test against South Africa, there have been speculations that the Indian Premier League franchises Rajasthan Royals and Sunrisers Hyderabad will sack Steve Smith and David Warner as their respective captains. IPL Chairman Rajeev Shukla told news agency ANI that it is matter of serious concern and they are awaiting ICC's decision before deciding the fate of the tainted Australia duo. "Matches will start on 7th April & we will take decision before that, in coming 1-2 days. Announcing a decision today won't be right. We are holding discussions with those concerned", Shukla said. "This is a matter of serious concern for all of us. We are waiting for decision of ICC & Cricket Australia before taking any step", Shukla added.
In a media release, Rajasthan Royals Executive Chairman Ranjit Barthakur tried to clear the air and said that the franchise will wait for the BCCI's instructions before they take a call on Smith's future.
"We have been made aware of the controversy of ball tampering in the ongoing Australia-South Africa series and await further instructions from BCCI, before we make any announcement. We at Rajasthan Royals will not tolerate any actions that are unfair by definition and bring disrepute to the game of cricket. Our Zero tolerance policy applies to everyone in our team. Please bear with us", the statement read.
Official Media Statement - Rajasthan Royals

Read more: https://t.co/gXqnIu7xUF pic.twitter.com/RWjoPwIvf3

— Rajasthan Royals (@rajasthanroyals) March 25, 2018
There has been no formal statement released by the Hyderabad-based outfit.
ICC, however, fined Smith's 100% match fee and handed him a one Test ban, while, Cameron Bancroft got a 75% fine and three demerit points for ball-tampering incident.
BREAKING: Steve Smith has been fined 100% of his match fee and handed a one Test ban, Cameron Bancroft a 75% fine and three demerit points for ball-tampering incident.

https://t.co/7A63kanBoV pic.twitter.com/rXHWXnmTqP

— ICC (@ICC) March 25, 2018
The Royals, who will be making a comeback in this year's IPL after they were restrained from playing the league in the preceding two years owing to betting allegations, handed over the captaincy to Smith in February.
Smith was a part of the Rajasthan Royals in 2014 and 2015 and was the only player retained by the franchise.
The Australian skipper had led the the Rising Pune Supergiant to the final of the IPL in 2017, where they eventually lost to champions Mumbai Indians.
On Saturday, Cameron Bancroft was caught on camera, using yellow sticky tape laden with dirt to alter the condition of the ball.
Smith and Bancroft fronted the press, and in the most stunning revelation, admitted to cheating in an explosive press conference but the former refused to step down as captain.
"I saw an opportunity to use some tape, get some granules from the rough patches on the wicket and try to change the ball condition," Bancroft said.
"It didn't work; the umpires didn't change the ball. But once I was sighted on the screens and having done that, that resulted in me shoving it down my trousers," he added.
"It was a pre-planned move concocted by the Australian leadership group over lunch", Smith admitted.
"I'm not proud of what's happened. It's not within the spirit of the game," Smith said.
"My integrity, the team's integrity, the leadership group's integrity has come into question and rightly so", he added.
There have been calls for Smith to step down or be sacked as Australia skipper after he admitted to being the mastermind of the ball-tampering saga.
Consequently, Smith and David Warner have stood down as captain and vice-captain of the Australian cricket team for the remainder of the ongoing third Test, the Australian cricket board confirmed on Sunday.