Story Progress
Back to home
Ball Tampering Scandal: Sack Steve Smith As Captain, Demands Australian Sports Commission
Steve Smith sensationally confessed that the ball-tampering had been orchestrated by himself and senior players.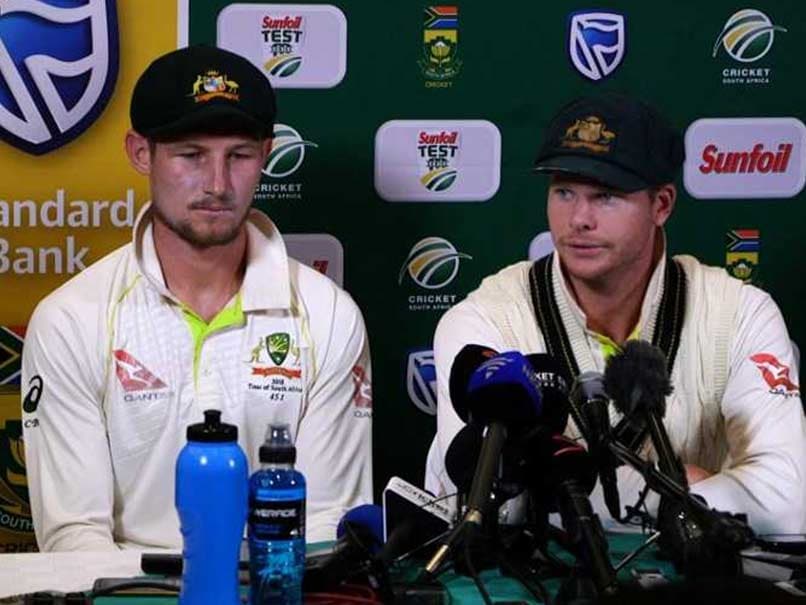 Cameron Bancroft and Steve Smith admitted to the ball-tampering during the 3rd Test vs South Africa.
© AFP
Highlights
Calls for Steve Smith to resign growing louder

Australian Sports Commission demands Smith's removal

Smith admitted to planned ball-tampering during the 3rd Test
Calls for Steve Smith to be sacked as captain are growing louder with the Australian Sports Commission (ASC) also joining in the chorus for his removal. The ASC, governed by a board of commissioners appointed by the Australian government, condemned the actions of Smith and other senior players following stunning ball-tampering revelations that have plunged the country's cricket team in crisis. Bancroft was caught on television cameras appearing to rub a yellow object on the ball during the third Test against South Africa in Newlands, Cape Town on Saturday.
Smith and team-mate Bancroft in a sensational press conference admitted to ball-tampering charges.
The Australian Sports Commission chair John Wylie, the ASC board and CEO Kate Palmer condemned the act and called for the removal of Smith and other senior members involved in the controversy.
"The ASC condemns cheating of any form in sport. The ASC expects and requires that Australian teams and athletes demonstrate unimpeachable integrity in representing our country. The Australian cricket team are iconic representatives of our country. The example they set matters a great deal to Australia and to the thousands of young Australians playing or enjoying the sport of cricket and who look up to the national team as role models," the ASC said in a statement.
"Given the admission by Australian captain Steve Smith, the ASC calls for him to be stood down immediately by Cricket Australia, along with any other members of the team leadership group or coaching staff who had prior awareness of, or involvement in, the plan to tamper with the ball. This can occur while Cricket Australia completes a full investigation."
Meanwhile, Australian Prime Minister Malcolm Turnbull said he was "bitterly disappointed by the news from South Africa" and is expecting Cricket Australia to take a decisive decision soon.
"We all work up this morning shocked and bitterly disappointed by the news from South Africa. It seemed completely beyond belief that the Australian cricket team had been involved in cheating. After all, our cricketers are role models and cricket is synonymous with fair play. How can our team be engaged in cheating like this? It beggars belief," Turnbull was quoted as saying by cricket.com.au.
"I've spoken with David Peever, the Chairman of Cricket Australia. He has said to me that Cricket Australia will be responding decisively, as they should. It's their responsibility to deal with it, but I have to say that (to) the whole nation, who holds those who wear the Baggy Green up on a pedestal, about as high as you can get in Australia ... this is a shocking disappointment.
"It's wrong, and I look forward to Cricket Australia taking decisive action soon."
Earlier, Michael Clarke, Smith's predecessor as captain, said the revelations were "disgraceful" and that he had no doubt that the skipper would be "crying in his hotel room".
"I can't believe the senior players have made a decision to do that," he told Australian television. "It's disgraceful and it's not accepted by anyone."
Australian former test bowler Rodney Hogg said Smith could not continue in his role.
"Unfortunately this is blatant cheating and Steve Smith will have to step down as Australian captain," Hogg said on Twitter.
Former England captain Michael Vaughan hit out at the decision to use Bancroft to carry out the plan.
"What I find appalling in all this is the youngster got given the job," he tweeted.
Promoted
"Was it because someone in the team had been accused of using Hand tape for a similar affect !!!!!!! So they wanted someone else to take the mantle.... Disgraceful behaviour by senior pros."
(With Reuters Inputs)
Topics mentioned in this article