Story Progress
Back to home
Ball-Tampering Scandal: Australia Labelled "Cheats" In Severe Backlash From Fans
Australia captain Steve Smith and team-mate Cameron Bancroft sensationally admitted to ball-tampering charges during the third Test against South Africa.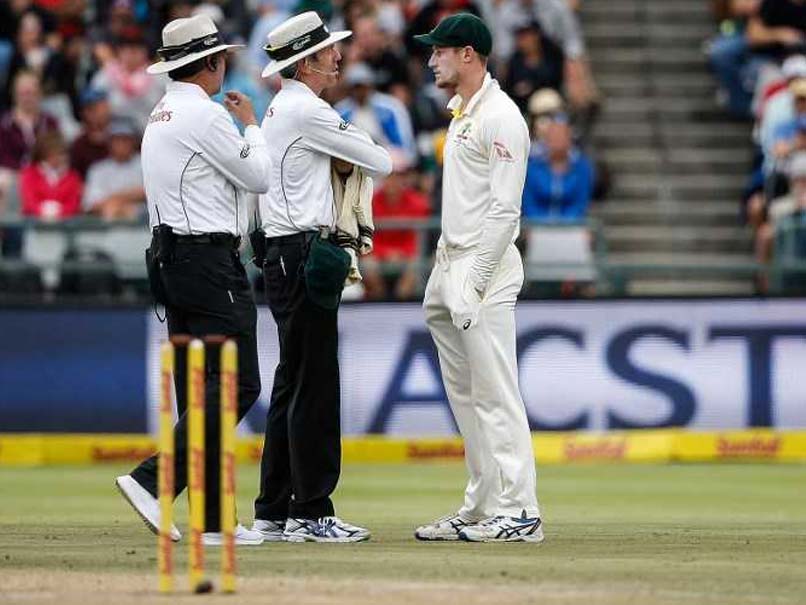 Cameron Bancroft has been charged by the International Cricket Council (ICC).
© AFP
Highlights
Australia face furious backlash from fans

Smith, Bancroft admitted to ball-tampering allegations

Bancroft has been charged by the ICC
The Australian cricket team was hit by one of the biggest scandals to hit the sport after Australia opener Cameron Bancroft and skipper Steve Smith admitted to the ball-tampering during the third Test against South Africa at Newlands, Cape Town. Following the admission, Australia came under heavy fire from fans with the cricket team being labelled a "disgrace" and "cheats" by fans on social media. Bancroft has been charged with altering the condition of the ball and faces a possible ban after he was caught on camera during the play on Saturday.
I wonder what time the Aussies will make an official complaint for the Abuse they are getting for being CHEATS ......!!!!!!!!!

— Michael Vaughan (@MichaelVaughan) March 24, 2018
Australians want a cricket team renowned for its skills and sportsmanship. For generosity in victory and grace in defeat. Instead, we have a pack of spoiled brats, moaners and sledgers. And now cheats.

— Mike Carlton (@MikeCarlton01) March 24, 2018
Of course Australia cheats at cricket. We cheat at everything now. We lost our moral compass a long time ago.

— Paul Kidd (@paulkidd) March 24, 2018
HAHAHAHA, #CricketAustralia has made my day, by the way they are NOT coping with it... If they have to cheat, there was no OTHER OPTION, losing to South Africa was Clearly NOT AN OPTION....

— Gabriella Rositta Emanuella (@msrgabriel) March 25, 2018
I'd rather lose the Ashes 4-0 than be a cheat....

— Toby Tarrant (@tobytarrant) March 24, 2018
Australians are never the drug cheats, never the illegal gamblers, never responsible for the bad behaviour on a cricket field. We are collectively in denial. Not today. We are cheats. Our Nation has been shamed. I hope ICC and CA take serious action. #SAvAUS

— James Gleeson (@JGleeson2000) March 24, 2018
I can't wrap my head around the decision by some of the Australian cricket team to cheat in a Test, as an Aussie, a cricket lover, & sports lawyer:

We can't win, let's cheat = lack of integrity, ethics, & a healthy culture

Let's use yellow tape to do it = dumb#SandpaperGate

— Mat Jessep (@MatJessep) March 24, 2018
Bangladeshi Cricket players are not so bad after all. After all they didn't cheat, like the Aussies who are born cheaters. #SAvAUS#SandpaperGate

— Sumit Agarwal (@sumit138) March 24, 2018
Such cheats...!!!!! We always knew these people can go to any length for a win. But this time, didn't even care about cameras on the ground. Shocking. Shameful behaviour. This Aussie team deserves exemplary punishment.#SandpaperGate #SAvAUS

— Manak Gupta (@manakgupta) March 24, 2018
Bancroft was caught on television cameras appearing to rub a yellow object on the ball, and later said: "I was in the wrong place at the wrong time. I want to be here (in the press conference) because I want to be accountable for my actions."
"We had a discussion during the break. On myself I saw an opportunity to use some yellow tape and the granules from the rough patches of the wicket to change the condition of the ball," said opening batsman Bancroft who is playing in his eighth Test.
"It didn't work, the umpires didn't change the ball. We have this yellow tape in our kit. The actual sticky stuff itself is very sticky so I felt it could be used to collect some stuff from the side of the pitch."
Bancroft added he "panicked" when placing the object inside his trousers.
Smith will now face calls for his resignation after admitting that Bancroft did not act alone.
Smith said: "The leadership group knew about it."
Promoted
However, the skipper said he would not resign and that coach Darren Lehmann was not part of the conspiracy.
(With AFP Inputs)
Topics mentioned in this article