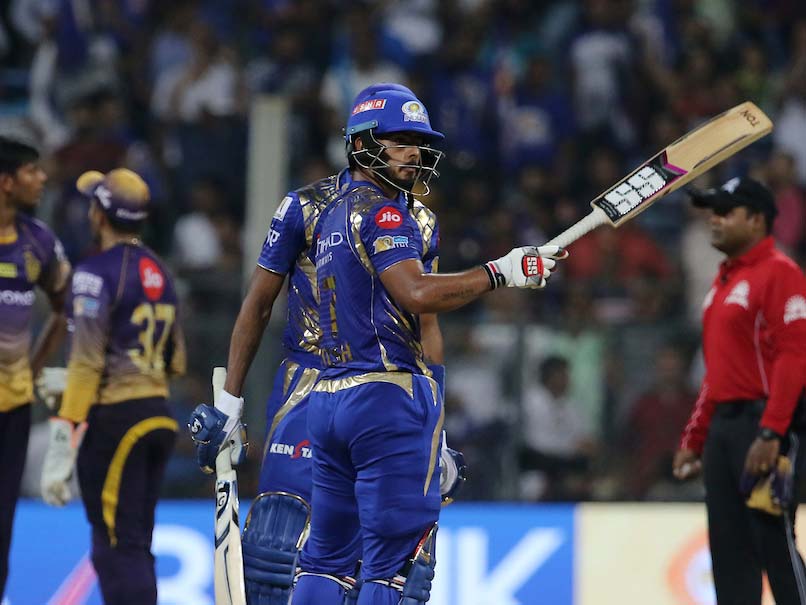 Nitish Rana scored his second IPL fifty against Kolkata Knight Riders
© BCCI
Nitish Rana scored his second IPL fifty that brought Mumbai Indians right back in the run chase while Hardik Pandya finished it off in fine fashion by playing a brilliant cameo of 29 runs off 11 balls. Kolkata Knight Riders will be disappointed with their bowling effort although Ankit Rajpoot struck thrice for the visitors but gave away way too many runs in the second last over of the innings to hand over the advantage to hosts in the final over. At the end Mumbai Indians won the match by 4 wickets with a ball to spare. (Scorecard)
Highlights, Mumbai Indians vs Kolkata Knight Riders straight from Mumbai, India
23:48 IST: Four! That is it. Mumbai have done it. Nitish Rana started the onslaught and Hardik Pandya have finished things off in style. Mumbai 180 for 6. Win by 4 wickets.
23:47 IST: Dropped! And what is more, it gives Mumbai two important runs. Rishi Dhawan the substitute fielder drops the catch.
23:45 IST: Four! Poor fielding from Suryakumar Yadav. Mumbai should win this now.
23:44 IST: Gets two of the first ball.
23:44 IST: Need 11 off the last over.
23:41 IST: Six! Pandya strikes il clean and that has gone way back into the stands. 19 runs of that over.
23:39 IST: Wicket! That is the wicket Kolkata needed. Nitish Rana departs trying to go for another big one. Rajpoot after conceding a couple of boundaries gets the breakthrough. 
23:37 IST: Nitish Rana scores his second IPL fifty. This is heading for a tense finish.
23:36 IST: Six! Full toss from Rajpoot and Rana backs away and plays the lap shot to perfection.
23:34 IST: Six! Hardik Pandya not lagging behind. 19 coming of that Boult over.
23:32 IST: Six! That is a great pick up shot from Rana. 10 off the last two balls. Game on.
23:31 IST: Four! Full from Boult and Rana gets it away through point.
23:28 IST: Four! Hardik Pandya gets on top of that short ball and cuts it well. Mumbai are still in with a chance.
23:26 IST: Four! Nitish Rana makes room and hits it over covers.
23:25 IST: Wicket! Chris Woakes comes back on and strikes almost immediately. Pollard goes for the big shot, gets the outside edge and the man at third man makes no mistake
23:18 IST: 119 for 4 in 16 overs. Need 60 off 24 balls.
23:13 IST: Four! Short again and Pollard very quick to help it along for a boundary.
23:04 IST: Six! Short and Pollard pulls it over the fence.
23:02 IST: Wicket! Pandya departs. Rajpoot strikes once again for Kolkata.
23:01 IST: Six! Beautiful cricket shot. Up and over covers. Kuldeep is turning out to be expensive in this game.
22:59 IST: Four! Pandya goes big and finds the gap through mid-wicket.
22:54 IST: Krunal Pandya is the new batsman and gets off the mark with a boundary. In fact, make that two boundaries.
22:52 IST: That was a shocker from the umpire. No wonder Rohit Sharma is livid with the decision. He has absolutely smashed that ball into the pads. The umpire didn't see it. That was a howler!
22:50 IST: Big wicket! Narine strikes for Kolkata. Removes Rohit Sharma.
22:44 IST: Rohit Sharma is the new man in for Mumbai.
22:40 IST: Wicket! Low full toss from Ankit Rajpoot and Buttler fails to get a bat on it. Hit on line and the umpire raises the finger. May have just drifted down the leg side.
22:30 IST: Mumbai Indians 71 for 1 after 8 overs.
22:28 IST: Nitish Rana is the new man in and gets off the mark with a boundary.
22:27 IST: Wicket: Kuldeep removes Parthiv Patel. Gives Kolkata the first breakthrough.
22:36 IST: Six! Parthiv joins the party. Sweeps and and sweeps well.
22:32 IST: Six! Buttler hits it through the line of the ball and that has gone all the way. Nothing much Narine can do over there.
22:25 IST: Four! Short and Parthiv walks back and pulls it for a boundary.
22:20 IST: Six! Buttler plays the lap shot and it goes all the way. Woakes can only stand and wonder.
22:16 IST: Two back to back wides from Woakes. Poor bowling.
22:14 IST: Four! Pitched up from Boult and Parthiv drives it through the covers.
22:06 IST: Chris Woakes to share the new ball with Boult.
22:04 IST: Mumbai 9 for 0 in the first over.
22:03 IST: Four! Parthiv gets off the mark in style.
22:00 IST: We are back again in the run chase. The players have taken the field. Parthiv Patel to face the first ball.Trent Boult to start the proceedings for Kolkata.
21:45 IST: Kolkata 178 for 7 after 20 overs.
21:44 IST: Out! Narine is the last man to get out of the last ball.
21:42 IST: Four! Pandey just guides it fine through fine-leg. 22 off the over so far.
21:42 IST: Six! This is a massive over.
21:38 IST: Six More! What a start to the last over. Pandey heaves it towards mid-wicket.
21:36 IST: Six! Pandey gets hold of that and that has gone a long way.
21:32 IST: Wicket! Chris Woakes takes the long walk back. Malinga picks up his second wicket.
21:31 IST: Kolkata 144 for 5 in 18 overs.
21:20 IST: Wicket! Malinga strikes with the slower ball. Suryakumar departs in trying to up the ante.|
21:18 IST: Four! Pandey gets it past through point.
21:16 IST: Six! Clears the front leg and hammers Jasprit straight! Great shot from Pandey.
21:11 IST: Four! Harbhajan bowls it wide and Suryakumar Yadav puts it away through covers.
21:10 IST: McClenaghan gets it wrong and Pandey quick to pounce on it. Six!
21:01 IST: Wicket! Krunal Pandya picks up his third. Gets rid of Yusuf Pathan. Kolkata in a spot of bother right now.
20:59 IST! Four! Welcome boundary for Kolkata. Wide outside off-stump and Pandey gets a thick outside edge. Races out to the fence.
20:58 IST: Kolkata 82 for 3 in 10 overs.
20:50 IST: Yusuf Pathan and Manish Pandey need to rebuild for Kolkata.
20:48 IST: Harbhajan Singh comes on the attack.
20:45 IST: Wicket! This a big blow for KKR. Chris Lynn departs after being trapped right in front of his stumps. Bumrah gets the breakthrough.
20:42 IST: Bumrah comes back on.
20:39 IST: After 7 overs Kolkata are 65 for 2. Time for a strategic time-out.
20:31 IST: Four! Lynn stays upright and slaps it through covers.
20:26 IST: Wicket! Uthappa goes for the slog sweep but gets too much under the ball. The man at mid-wicket comes around and takes an easy catch. Krunal picks up his second wicket of the over.
20:25 IST: Robin Uthappa off the mark with a boundary.
20:25 IST: Wicket! Gambhir goes for the sweep but finds the man at square-leg. Kolkata lose their first wicket. Krunal Pandya picks up the wicket in his first over.
20:21 IST: Six! Lynn goes big and all Malinga could do was to look at it sail over the mid-wicket fence.
20:19 IST: Bumrah this time finds the edge but it races away to the third man boundary. 15 of that Bumrah over.
20:18 IST: Four! Gambhir just chops it away through point for a boundary.
20:16 IST: Another free hit for Gambhir. This time called for bowling a ball above the midriff.
20:14 IST: Jasprit Bumrah comes on to the attack. Not a good start. Bowls a no ball and a free hit for Gambhir.
20:12 IST: Four! Gambhir opens his shoulders and the ball races away to the point boundary.
20:08 IST: Mitchell McClenaghan to share the new ball with Malinga. Poor start by the left-arm seamer. Down the leg-side and Lynn obliges by getting it away for a boundary.
20:06 IST: Lynn clears his front leg and hits it straight past the bowler. First boundary of the match.
20:03 IST: Chris Lynn to face his first ball. And he is away with a single. So both the openers are off the mark.
20:02 IST: Gambhir off the mark with a single.
20:01 IST: Malinga with the new ball. Gambhir to take strike.
20:01 IST: Here is a quick look at the teams.
#IPL Match 7 - Here are the Playing XIs for @mipaltan vs. @KKRiders #MIvKKR pic.twitter.com/WjYdA1zNvs

— IndianPremierLeague (@IPL) April 9, 2017
20:00 IST: KKR all but ready for the big encounter.
The Knight Riders @KKRiders are also ready #MIvKKR. Bring it ON - Match 7 #IPL pic.twitter.com/M11KgOd54j

— IndianPremierLeague (@IPL) April 9, 2017
20:00 IST: Mumbai Indians warming up before the match.
The @mipaltan are geared up for their first home game of #IPL season #MIvKKR pic.twitter.com/ZlkcmSKXBJ

— IndianPremierLeague (@IPL) April 9, 2017
19:58 IST: The players are out in the middle. This is a important match for Mumbai Indians having lost the first one.
19:32 IST: Malinga is back for Mumbai replacing Southee.
19:31 IST: Mumbai Indians have won the toss and have elected to field first.
19:30 IST: Toss time and Rohit Sharma spins the coin.
19:27 IST: Spirit of cricket moment captured.
Play Hard, Play Fair - Spirit of Cricket at #IPL - @ImRo45 and @GautamGambhir pic.twitter.com/4puoCIjcDQ

— IndianPremierLeague (@IPL) April 9, 2017
19:25 IST: Kolkata Knight Riders won the first match by 10 wickets while Mumbai Indians were not really up to the mark in their first match.
19:24 IST; The two time former champions will be up and against each other.
Introducing - the two-time #IPL CHAMPIONS @mipaltan #MIvKKR pic.twitter.com/TI9I4arxw1

— IndianPremierLeague (@IPL) April 9, 2017
19:23 IST: Hello and welcome to the match between Mumbai Indians amd Kolkata Knight Riders.
Mumbai did not start their campaign on a great note by losing to Steve Smith-led Rising Pune Supergiant by seven wickets at the Maharashtra Cricket Association Stadium in Pune on April 6.
The Knight Riders, on the other hand, got off to a superb start with a comprehensive 10-wicket victory over last year's table-toppers Gujarat Lions at the Saurashtra Cricket Association Stadium in Rajkot on April 7.
It will be interesting to see which team comes out on top in the battle of titans.