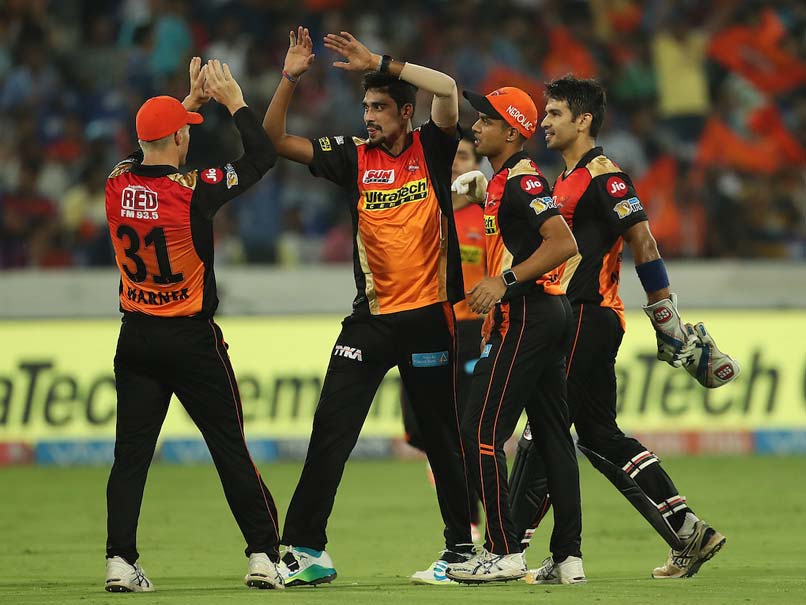 IPL highlights, SRH vs DD: Hyderabad recored their second consecutive win.
© BCCI
Sunrisers Hyderabad (SRH) beat Delhi Daredevils (DD) by 15 runs at the Rajiv Gandhi International Cricket Stadium in Hyderabad in an Indian Premier League (IPL) match on Wednesday. Leading the Hyderabad innings, Kane Williamson (89) and Shikhar Dhawan (70) posted a competitive total of 191/4. Delhi's Sam Billings and Sanju Samson once again gave their team a flying start. However, the middle order batsmen failed to capitalise on the good start. Debutant Mohammed Siraj picked up two wickets for 39 runs in his stipulated four overs. Hyderabad's disciplined bowling left the Delhi batsmen frustrated. Bhuvaneshwar Kumar showed his class in the 17th and 19th overs where he didn't concede many runs. However, it was Siddharth Kaul who bowled the last over for SRH and he took the game away from Delhi. Hyderabad's second consecutive win have put David Warner and Co second on the table with eight points. Kane Williamson was adjudged man of the match. (SCORECARD)
Catch all the highlights of SRH vs DD in Hyderabad here.
23:40 IST: Thank you for following our live blog. Do tune in tomorrow for another match of IPL.
23:36 IST: And it's over! While Sunrisers Hyderabad beat Delhi Daredevils by 15 runs at Hyderabad, Shreyas Iyer completed his half-century on the last ball.
23:35 IST: Out! Siddhath Kaul picks up Angelo Mathews, as Delhi fall back on the chase.
23:33 IST: Perfect yorker from Kaul to keep Matthews silent.
23:32 IST: Six! Delhi need 17 from four balls. Can Delhi overhaul the score?
23:31 IST: Siddharth Kaul is bowling the last over. Much pressure on the bowler to bowl perfect yorker deliveries.
23:30 IST: Delhi need 24 runs from the last over! Both teams are putting everything for the much needed win.
23:29 IST: Four! Opening the phase of the bat, Iyer squeezes the ball for a boundary.
23:27 IST: Delhi will have to get few boundaries now as the required run rate is more than 18.
23:26 IST: This match is going down to the last over for sure, Delhi need 34 from 12 balls.
23:22 IST: Crucial 18th over for both teams. Four! Matthews dispatches Kaul for a boundary.
23:20 IST: Four! Boundary off the last ball from Bhuvneshwar over. Delhi need 47 runs in 18 balls.
23:15 IST: With four overs to go, Delhi need  57 runs in 24 balls. Cracker of a match it is promising to be.
23:13 IST: Four! Matthews puts the ball over fine leg for a much needed boundary for Delhi.
23:11 IST: Completing his spell, Rashid Khan finished with 33 runs from four overs without any wicket. 
23:10 IST: Six! Dancing down the wicket, Iyer dispatches Rashid Khan for a maximum.
23:08 IST: Six! Angelo Matthews welcomes Rashid Khan with a huge maximum. Rashid Khan is yet to get a wicket in this match.
23:03 IST: Big relief for Sunrisers, Siraj traps Samson with a slower ball!! DD 105 for four.
23:00 IST: Delhi Daredevils need 87 runs in 42 balls, required rate of 12.43
22:56 IST: Four! Ah! Brilliant from Iyer - guides the ball to the third man cheekily.
22:53 IST: The required rate slowly creeping up for Delhi Daredevils, currently over 11. The visitors need 98 runs in 49 balls.
22:48 IST: After 10 overs, Delhi stand at 87 for three.
22:46 IST: Double blow!! Yuvraj sends youngster Rishabh Pant back for one ball duck.
22:44 IST: Out! Brilliant throw from substitute fielder Shankar and Yuvraj takes the bail off. Karun Nair departs for 33(23).
22:43 IST: Four! Samson welcomes Yuvraj with a boundary at sweeper cover.
22:39 IST: After nine overs, Sanju Samson and Karun Nair steady Hyderabad at 80 for one. 
22:36 IST: Six! Brilliant shot from Karun Nair for a maximum over deep extra cover.
22:34 IST: Four! Samson tickles the ball down for a boundary off Moises Henriques.
22:29 IST: After seven overs Delhi Daredevils stand at 61 for one.
22:27 IST: Four! Nair dispatches Rashid for a boundary, Nair comes to the party now.
22:26 IST: Four! Rashid Khan put away for a boundary on leg side.
22:25 IST: Big over for DD, 15 runs off Siraj over!
22:24 IST: Four! Nair, top-edges ball over short fine leg.
22:22 IST: Four! Karun Nair squeezes Siraj through the ring.
22:20 IST: Six! Samson puts Siraj away for a huge maximum over long-on.
22:18 IST: Six! Samson sends Kaul into the stands! Samson getting into the act.
22:16 IST: Score after 3 overs DD 24 for one.
22:11 IST: Out! Siraj gets Billings. Flick from the Englishman and Hooda completes the task for SRH.
22:09 IST: Back-to-back boundary from Billings!! Siraj is being taken to task!
22:07 IST: Debutant Mohammed Siraj comes into the attack.
22:05 IST: Brilliant over from Bhuvneshwar Kumar, only two runs from the first over of the second innings.
22:02 IST: Bhuvneshwar Kumar is leading the bowling attack for Hyderabad.
22:01 IST: Sanju Samson and Sam Billings have opened for Delhi.
22:00 IST: Welcome back to the second innings of the match between SRH and DD.
21:49 IST: Stay tuned for the second innings of the match between DD vs SRH.
21:47 IST: Back-to-back boundaries for Hyderabad as they finish 191 for four in 20 overs.
21:46 IST: Four! This time Henriques puts Zaheer Khan away.
21:45 IST: Six! Birthday boy Deepak Hooda smokes Zaheer Khan into the top tier!
21:43 IST: After 19th Hyderabad 174 for four. Only four runs from Morris over.
21:42 IST: Hyderabad have two news batsmen on the field, can they get a big total on board vs Delhi?
21:40 IST: Out! Morris cleans up Yuvraj Singh cheaply for three runs.
21:39 IST: Strike three for Morris! Sends Shikhar Dhawan 70 (50) back to pavilion.
21:38 IST: With two overs left Hyderabad stand at 170 for two.
21:37 IST: Big one from Dhawan! Flat six on the leg side with easy swing off the bat.
21:34 IST: Four! Dhawan slashes Morris past the wicket-keeper on the last ball of the over.
21:31 IST: Four! Dhawan pulls Morris for a boundary, cracker of a shot.
21:30 IST: Yuvraj Singh comes out to join Shikhar Dhawan out in the middle. Fact check - This marks Yuvraj Singh's 200th Twenty20 match.
21:29 IST: Out! Morris is the man to send Williamson 89 (51) back to pavilion.
21:26 IST: Four! Williamson sending the ball to every corner of the ground. Beautiful strokes from the New Zealander.
​21:24 IST: Four! Williamson picking up spots at will. Puts Matthews through deep extra cover.
21:22 IST: Dhawan and Williamson setting up platform for big last overs.
21:21 IST: Fifty up for Shikhar Dhawan. Hyderabad 134 for 1 after 14.5 overs.
21:19 IST: Four! Williamson puts Zaheer Khan for a boundary.
21:15 IST: After 14 overs, Williamson and Dhawan help Hyderabad to 127 for one.
21:13 IST: Six! Williamson switching hunting mode on. Slams Amit Mishra on the leg side for a maximum.
21:12 IST: Six! Williamson switching gears now, slams Amit Mishra over long on.
21:11 IST: Four! Dhawan boundary brings up the 100-run partnership between Williamson and Dhawan for Hyderabad off 70 balls.
21:09 IST: Only two runs off the free hit! Beautiful, bowling from Cummins.
21:08 IST: Free hit for Williamson off Cummins for bowling over the waist.
21:07 IST: Four! Williamson slams Cummins straight down the ground. Picture perfect! 
21:06 IST: 100 comes up for Hyderabad in the 13th over of the innings.
21:04 IST: Kane Williamson brings up his 2nd IPL fifty off 33 balls.
First game and he's already making an impact. Whichever format, it's pleasing to watch Williamson bat.#OrangeArmy #RiseOfOrange #SRHvDD pic.twitter.com/adDjP2q6wL

— SunRisers Hyderabad (@SunRisers) April 19, 2017
20:58 IST: Six! Kane Williamson targets Cummins now. Getting into the position early, dispatches the ball over the rope.
20:54 IST: After ten overs Hyderabad stand at 80 for one at a run rate of 8.
20:51 IST: Four! Zaheer Khan gets sweeped by Williamson over short fine leg.
20:44 IST: Four! Good bouncer from Pat Cummins, Dhawan pulls it for a boundary over keeper's head.
20:37 IST: Six again! Kane Williamson slams the ball straight down the ground, brings up fifty for Hyderabad. Sunrisers after seven overs stand at 55 for 1.
20:36 IST: Six! Williamson hammers Matthews for the first maximum.
20:32 IST: At the end of powerplay, Hyderabad stand at 40 for one vs Delhi.
20:31 IST: Guess which ace shuttler is here to support the orange army? Our very own PV Sindhu!
Champion shuttler @Pvsindhu1 is in the #IPL house #SRHvDD @SunRisers pic.twitter.com/mfn8o1U9Ml

— IndianPremierLeague (@IPL) April 19, 2017
20:28 IST: Four! Beautiful shot from Dhawan as he puts the ball away for a boundary. Nice lift of the bat and full use of the blade.
20:25 IST: What an over from Zaheer Khan! Just three runs off his first. 
20:21 IST: Delhi Captain Zaheer Khan comes into ball. And for the record, Zak is one wicket away from his 100th IPL wicket! 
20:20 IST: Decent over for SRH, 10 from Morris over. Hyderabad 28 for one.
20:18 IST: Four! Room outside off for Dhawan and clobbers it for his second boundary.
20:17 IST: Four! Wide from Morris and Kane Williamson guides the ball towards backward point boundary. Sweet sound from the bat!
20:15 IST: Former Miss World Australia/Oceania Erin Holland has come to support the Orange army.
GAME ON!! Repping my new @YWCFashion kit Go @SunRisers!! @shazmeenkara @MightyWillow1 @YUVSTRONG12 #orangearmy #OrangeVoice pic.twitter.com/s08uK9oXGB

— Erin Holland (@erinvholland) April 19, 2017
20:09 IST: Out! What a wicket for Delhi, Warner top edges Chris Morris, Amit Mishra takes the catch safely. Hyderabad 12 for one (1.5)
20:05 IST: A decent start for Hyderabad, 10 for no loss after the first over.
20:03 IST: Four! Dhawan hits the first boundary of the innings.
20:02 IST: Hyderabad get an early free hit!! Yadav started with a no-ball.
20:00 IST: Jayant Yadav has been given the new ball, is leading the attack for Delhi.
19:59 IST: David Warner and Shikhar Dhawan opening the batting line-up for the home team.
19:58 IST: Players make their way to the field.
19:49 IST: Fun fact - Since IPL 2016, Delhi have changed their combination for the 19th consecutive game!!
19:41 IST: Here are the playing XI's for both the teams.
#IPL Match 21 - Here are the Playing XIs for @SunRisers vs. @DelhiDaredevils #SRHvDD pic.twitter.com/tGhs9BNh7W

— IndianPremierLeague (@IPL) April 19, 2017
19:40 IST: Delhi Daredevil warming up before their game against SRH.
#IPL Match 21 - @ImZaheer & his men will look to breach #SRH fortress #SRHvDD pic.twitter.com/PjP7fszLLt

— IndianPremierLeague (@IPL) April 19, 2017
19:38 IST: David Warner's Hyderabad warming up before the game.
#IPL Match 21 - @davidwarner31 & his boys are warming up for #SRHvDD @SunRisers pic.twitter.com/ukFcvn43OS

— IndianPremierLeague (@IPL) April 19, 2017
19:34 IST: For Delhi, Jayant Yadav comes in for Mohammed Shami.
19:33 IST: For Hyderabad Mohammad Nabi makes way for Kane Williamson. Mohammed Siraj replaces Barinder Sran.
Zak and Davey, ahead of the encounter at home! #OrangeArmy #RiseOfOrange #SRHvDD pic.twitter.com/02k7SDBZmD

— SunRisers Hyderabad (@SunRisers) April 19, 2017
19:30 IST: Sunrisers Hyderabad win toss and elect to bat against Delhi Daredevils.
19:29 IST: It's toss time!
19:22 IST: SRH lead 5-3 on wins overall against the Daredevils.
We lead 5-3 on wins overall against the Daredevils. It's time we make it a 6 and stay unbeatable at home.#OrangeArmy #RiseOfOrange #SRHvDD

— SunRisers Hyderabad (@SunRisers) April 19, 2017
19:06 IST: Playing at Hyderabad, Sunrisers will be looking to take the home advantage and get two points in their kitty.
19:05 IST: Hello and welcome to the live blog of match between Sunrisers Hyderabad and Delhi Daredevils.
Only Warner made a difference, barring a cameo from Naman Ojha lower down the order. The skipper's 70 got him the orange cap, but the rest of the batting was none to impressive. As for DD, they were done in by the hammer blows from Yusuf Pathan and Manish Pandey as KKR turned a potentially losing position into a win. Which is why Zaheer not too worried. It is not a disaster for his side yet and they can think in terms of recovery. Zaheer would, however, surely be worried about his spin bowling, since Amit Mishra doesn't seem to be in any kind of form. Nevertheless, it is the IPL. Things and fortunes change rapidly. So, no reason for DD to panic. Yet.