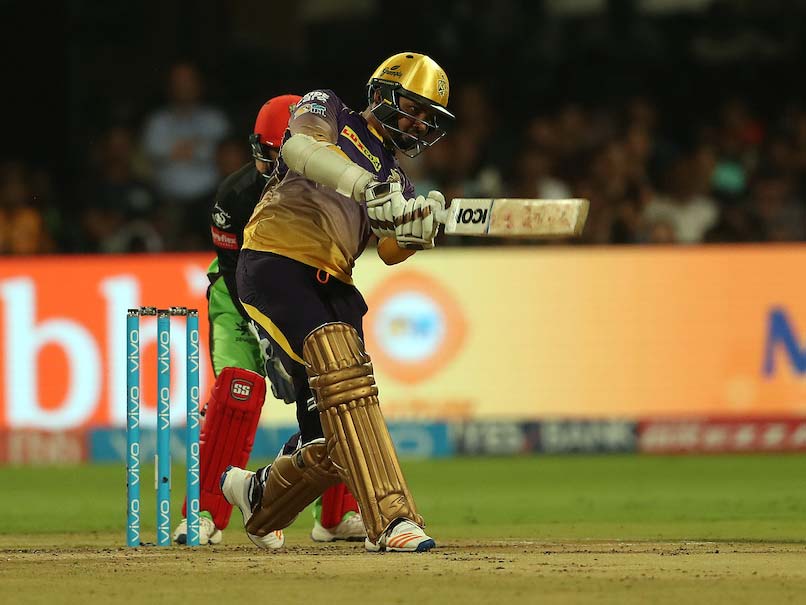 IPL highlights: Gautam Gambhir's KKR beat Virat Kohli-led Bangalore by six wickets.
© BCCI
Fireworks from Sunil Narine (54) and Chris Lynn (50) helped Kolkata Knight Riders cruise to a six-wicket victory over Royal Challengers Bangalore at M Chinnaswamy Stadium on Sunday. Opening the batting for Kolkata, Narine and Lynn annihilated the Bangalore bowlers to give a solid start to their team. Sunil Narine brought up his maiden IPL fifty in just 15 balls -- the fastest in this season -- to rip apart the home team's bowling. Supporting Narine, Lynn also bashed the bowlers to all corners of the park. In this process, Kolkata became the second team after the banned Chennai Super Kings (CSK) to score 100 runs inside the first six overs. For Bangalore Pawan Negi took two wickets for 21 runs in 3.1 overs. After this win, Kolkata rise to the second position on the table. (SCORECARD)
IPL highlights between RCB vs KKR straight from Bengaluru, India
19:37 IST: And it's done! Kolkata beat Bangalore by 6 wickets to earn two important points.
19:32 IST: Kolkata now need only two runs to win in 30 balls.
19:29 IST: Out! Chahal gets his first wicket, sends Gambhir (14) back to the pavilion. Kolkata need 3 runs in 35 balls.
19:27 IST: Kolkata need five more runs in 38 balls to win.
19:26 IST: Out! Trying to heave Pawan Negi for a biggy, Grandhomme dances down the wicket and misses the ball as Jadhav takes the bails off.
19:17 IST: Four! Wide from Negi, Grandhomme puts it away for a boundary with authority.
19:15 IST: 10 overs remaining, Knight Riders need 33 runs in 60 balls.
19:14 IST: Six! Right, getting Kolkata back in the assault mode, Grandhomme smacks Badree for a huge maximum.
19:11 IST: After nine overs, Kolkata stand at 115 for two. Need 44 more runs to win.
19:10 IST: Aniket Choudhary comes off the field due to back injury. Travis Head bowls the final delivery of Choudhary over.
19:04 IST: Out! Pawan Negi gets Bangalore back in the game, gets through the defense of Chris Lynn and the ball crashes into the stumps.
19:03 IST: Chris Lynn brings up his IPL fifty!
19:00 IST: Brilliant comeback from Bangalore! Aniket gets a wicket maiden.
18:58 IST: In a surprising move, Colin de Grandhomme has replaced Narine out in the middle.
18:55 IST: Out! Aniket Choudhary gets the first breakthrough. Well directed bouncer, Narine trying to pull, edges the ball to Kedar Jadhav. Kolkata stand at 105 for one after 6.1 overs.
18:54 IST: Kolkata is the second team after Chennai Super Kings to bring up a team 100 inside the first six overs.
18:53 IST: At the end of the powerplay, Kolkata stand at 105 for zero. It's raining boundaries at M. Chinnaswamy!
18:52 IST: Four! Short and wide from Chahal and Lynn dispatches the ball for another boundary.
18:51 IST: Six! Lynn joining Narine in the hammering, slams Chahal for a maximum straight down the ground.
18:50 IST: Four! Narine follows the six with a boundary on the off-side.
​18:49 IST: Six! Narine brings up the fastest and his maiden IPL fifty in 15 balls. Kolkata 81 for no loss.
18:47 IST: Four! Getting the yorker wrong, Narine pulls the full toss for a boundary. Narine is 44 from 14!!
18:46 IST: Four! Slower ball from Aravind and Narine makes no mistakes as he slaps the ball for a boundary straight down the ground.
18:44 IST: Back-to-back four from Narine. Kolkata is ripping apart the Bangalore batting line-up.
18:43 IST: Four! Badree is being punished by Sunil Narine.
18:42 IST: Six! Third one in the row for Narine. Badree is being taken to the cleaners.
18:41 IST: Six!! Six!! Back-to-back maximums from Narine!! 
18:40 IST: Four! Lynn has broken all hell loose!
18:39 IST: Six! Lynn is punishing the bowlers. Coming down the wicket, smokes Chahal for a huge maximum into the stands.
18:38 IST: Four! Short from Yuzvendra Chahal and Lynn does what he does best, slaps the ball for a boundary.
18:35 IST: Four! Stepping down the wicket, Narine swings hard and edges the ball above short third man for his first boundary.
18:34 IST: Flying start for the visitors, after the first over Kolkata stand at 14 for zero.
18:33 IST: Six!! Lynn has announcing his comeback with back-to-back boundaries.
18:32 IST: Four! Straight down the ground this time.
18:31 IST: Four! Lynn giving himself little bit of room, smacks Choudhary for a four.
18:30 IST: Aniket Choudhary leading the bowling attack for Bangalore.
18:29 IST: Chris Lynn and Sunil Narine are opening the batting line-up for Kolkata.
18:28 IST: Welcome back to the second innings.
18:16 IST: Four to finish the first innings. Bangalore finish at 159 for six in 20 overs.
18:15 IST: Back-to-back sixes from Travis Head. This time straight down the ground. Umesh Yadav getting his slower balls wrong.
18:14 IST: Huge six from Travis Head off Umesh Yadav.
18:13 IST: Out!! Slower delivery from Yadav, Negi sends the ball high up in the air and Chris Lynn takes a comfortable catch. Bangalore 142 for six, 19.3 overs.
18:12 IST: Four! Wide and full from Umesh Yadav, Pawan Negi smashes the ball for a boundary.
18:10 IST: Last over to go for the Bangalore innings.
18:09 IST: Six! Head smokes Woakes for a maximum straight down the ground.
18:08 IST: Travis Head hits the ball straight down the ground for two runs and brings up his maiden IPL fifty. Bangalore 130 for five.
18:04 IST: Out!! Woakes sends Kedar Jadhav back to pavilion. Trying to heave, Jadhav sends the ball straight to the long off fielder. Bangalore 125 for five.
18:02 IST: Six! Stepping down the wicket, Head clubs Rajpoot for a maximum on the leg side.
17:57 IST: Four! Kedar Jadhav pulls Woakes for boundary on the last ball of his third over.
17:52 IST: After the 16th over, Bangalore stand at 108 for four.  
17:49 IST: Out! First ball after the strategic time out, Mandeep sweeps Narine and Umesh Yadav takes a comfortable catch at deep square leg.
​17:46 IST: Mandeep Singh brings up his fourth IPL fifty. Bangalore 104 for three.
17:45 IST: The game has started and Colin de Grandhomme bowls the first ball after the halt.
​17:42 IST: Players and the umpires are walking out to the middle.
17:28 IST: The game will begin at 17:45 IST. No overs have been lost.
17:27 IST: Rain has stopped and the covers are coming off!
17:21 IST: Some good news for the fans -- groundsmen making their way as rain has almost stopped.
17:15 IST: The drizzle is heavy now at Bangalore. But play should resume in 5-10 minutes after the rain stops.
17:08 IST: Bad news for the fans! It has started drizzling at M Chinnaswamy Stadium and covers are coming on. Bangalore stand at 100 for three after 14.1 overs.
17:05 IST: Six! Length ball from Sunil Narine and Head dispatches it for a maximum.
16:56 IST: Four! Short from Rajpoot, Travis Head pulls it away for a last ball boundary.
16:52 IST: Boundaries have dried up for the home team. It's been four overs since the last boundary was hit.
16:48 IST: Ten overs gone, Bangalore stand at 62 for three.
​16:42 IST: Kolkata bowlers are doing a good job out in the middle. Bangalore batsmen are struggling to score runs.
16:38 IST: Decent first over from Ankit Rajpoot, concedes only five runs.
16:33 IST: Four! Little bit of width from Narine, Mandeep put guides the ball to deep backward point boundary.
16:31 IST: At the end of the powerplay, Bangalore stand at 40 for three. Travis Head and Mandeep Singh out in the middle.
16:29 IST: Four! On the pads from Umesh Yadav, Travis Head flicks the ball for a beautiful boundary. 
16:23 IST: Bowled! Trying to sweep Narine, de Villiers misses and the ball crashes into the wickets. Bangalore, after 4.4 overs, stand at 34 for three.
16:22 IST: Four! Shuffling around the wicket, de Villers puts away Narine for a boundary.
16:20 IST: Four! Short from Woakes, AB de Villiers dances down the wicket and pulls it for a boundary. After the fourth over, Bangalore stand at 29 for two.
16:13 IST: Out! Slower ball from Umesh Yadav traps Virat Kohli right in front of the wicket. Bangalore stand at 20 for two after 2.5 overs.
16:12 IST: Kohli dropped! Low full toss from Yadav, Kohli miscues the shot, and Piyush Chawla drops a catch at mid-off.
16:11 IST: Four!! Short from Yadav and Mandeep pulls its handsomely for a boundary.
16:09 IST: Back-to-back boundaries!! Mandeep Singh smokes Woakes for a boundary and then for a maximum. 
16:05 IST:  After the first over, Bangalore stand at one for one.
16:01 IST: What an anti-climax for Gayle, in his 100th IPL match, Gayle departs for a golden duck.
Match 46: WICKET! Chris Gayle c Gautam Gambhir b Umesh Yadav 0 (1b). Royal Challengers Bangalore 0/1 (0.1 Ovs). pic.twitter.com/WN3X4qRMrv

— NDTV Live Scores (@CricketNDTVLive) May 7, 2017
16:00 IST: First ball duck! Umesh Yadav sends Chris Gayle packing in the very first ball of the innings. 
15:59 IST: Umesh Yadav is starting the proceedings for Kolkata Knight Riders.
15:58 IST: Chris Gayle and Mandeep Singh are opening the batting for Royal Challengers Bangalore.
15:47 IST: Team Changes -- For Bangalore, Travis Head replaces Shane Watson. For Kolkata, Chris Lynn comes back in the team for Nathan Coulter-Nile, Ankit Rajpoot replaces Suryakumar Yadav and Kuldeep Yadav makes way for Piyush Chawla.
15:45 IST: Here are the playing XI for Knight Riders.
KKR XI: G Gambhir (C), C Lynn, Y Pathan, M Pandey, S Jackson (W), C Woakes, C de Grandhomme, S Narine, P Chawla, A Rajpoot, U Yadav

— NDTV Live Scores (@CricketNDTVLive) May 7, 2017
15:44 IST: Here are the playing XI for Challengers.
RCB XI: M Singh, C Gayle, V Kohli (C), A de Villiers, K Jadhav (W), T Head, P Negi, S Arvind, S Badree, A Choudhary, Y Chahal #RCBvKKR

— NDTV Live Scores (@CricketNDTVLive) May 7, 2017
15:32 IST: Kolkata Knight Riders captain Gautam Gambhir wins toss, elects to field against Royal Challengers Bangalore.
Match 46: Kolkata Knight Riders win toss and elect to field vs Royal Challengers Bangalore #RCBvKKR pic.twitter.com/0a7twrxkZQ

— NDTV Live Scores (@CricketNDTVLive) May 7, 2017
15:27 IST: It's toss time!
15:25 IST: Fun stat -- Kolkata Knight Riders batsmen have scored 13 fifties, the most by any team this season.
15:20 IST: Hello and welcome to the live blog of the match between Royal Challengers Bangalore and Kolkata Knight Riders at M. Chinnaswamy Stadium, Bangalore.
During their last meeting, KKR had handed out a 82-run defeat to RCB after bowling them out for 49 -- the lowest score in IPL history -- and Gautam Gambhir's men would look to repeat the performance on Sunday.
KKR so far has been cashing in on Sunil Narine's hit-and-miss experiment at the top. When Narine gets going, there is no stopping them as more often than not Gambhir and Robin Uthappa have capitalised on the starts.
But in the event of a failure of the trio, the likes of Yusuf Pathan must take up responsibility. Pandey have been in good form but Sheldon Jackson has not yet delivered and Jharkhand's Ishank Jaggi might just get a look-in.
RCB, on the other hand, have been the biggest disappointment of this year's IPL. They have been bowled out four times this season and are placed at bottom of the table with five points in 12 matches.
With their confidence torn to shreds after their capitulation last night against KXIP, it will be a big task for skipper Virat Kohli to instill some self-belief in the team, who would be playing for pride with an aim to finish on a winning note in their remaining matches.