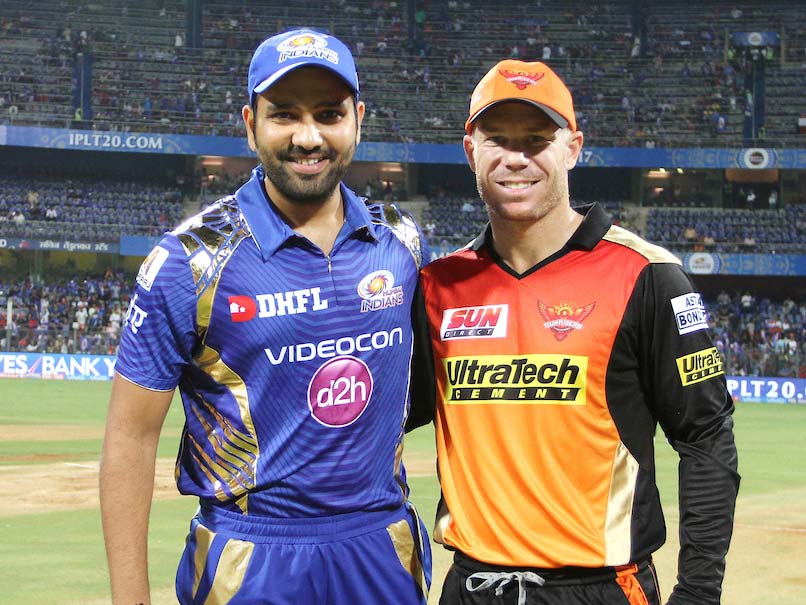 Mumbai Indians broke Sunrisers Hyderabad's unbeaten streak in this year's IPL.
© BCCI
Chasing a target of 159 runs to win, Mumbai Indians lost a couple of wickets early. But Parthiv Patel and Nitish Rana got together and stitched a 38-run stand to get Mumbai back on track in the chase. Nitish Rana stayed till the end only to be dismissed with only four to get as the hosts cruised to a four-wicket victory against the defending champions Sunrisers Hyderabad. (Scorecard)
Highlights, Mumbai Indians vs Sunrisers Hyderabad straight from Mumbai, India:
23:43 IST; Mumbai 159 for 6 after 18.4 overs in reply to Hyderabad's 158 for 8. Mumbai win by 4 wickets.
23:42 IST: That is it. Harbhajan gets a single and Mumbai have won this match comfortably.
23:40 IST: Wicket! One too many for Nitish Rana. Tries to finish it off in style but in the process gets bowled. Bhuvneshwar gets the wicket after conceding a boundary.
23:38 IST: Four! Rana goes over the top and gets a boundary.
23:34 IST: Wicket: Full toss from Bhuvneshwar and all Pandya could do was to find the fielder at deep mid-wicket.
23:32 IST: Four! Short from Cutting and Pandya gets a glove to it. That's gone too fine for the fine-leg fielder to cut it off.
23:31 IST: Four! This time Pandya goes over covers. Add four more to that total.
23:30 IST: Six! Another great shot by Krunal Pandya. Up and over mid-wicket for a maximum.
23:28 IST: Mumbai need 25 off 24.
23:27 IST: Four! Pandya this time goes behind square.
23:25 IST: Six! Pandya goes big and he has got a lot of bat on that.
23:22 IST: End of a very good spell from Rashid Khan. Returns with figures of 1 for 19 off his four.
23:20 IST: Six! Juicy full toss and Pandya will not miss out on those. Rashid Khan has bowled a very over up until the six. May the dew is a problem in gripping the ball.
23:19 IST: Krunal Pandya is the new man in.
23:17 IST: With 47 to get from 36 balls and six wickets in hand, Mumbai still have their noses in front.
23:15 IST: Wicket: Pollard goes for the pull, times it well but finds the man at square-leg. Mumbai have lost their fourth wicket.
23:11 IST: 51 needed off 42 balls.
23:08 IST: Six! Just a flick of the wrists and that has gone the distance. Pollard gets a move on.
23:06 IST; Mustafizur comes on. Don't forget he conceded 19 of his first over.
23:03 IST: Mumbai going along nicely here. Great finish to the over as Rana cuts it over point for a boundary. Hosts 97 for 3 after 12 overs.
22:56 IST: Kieron Pollard is the new man in. Joins Nitish Rana.
22:53 IST: Six! Rana slogs it over mid-wicket. That's gone a long way.
22:52 IST: Wicket! Parthiv chips it straight to long on. Deepak Hooda strikes.
22:46 IST: Ben Cutting comes on.
22:45 IST: After 8 overs Mumbai are 73 for 2.
22:42 IST: Four! Rana sweeps and sweeps well.
22:40 IST: Just 3 coming of that Rashid Khan over.
22:37 IST: Four More! 19 from that Mustafizur over.
22:37 IST: Four! Upper cut from Parthiv and third man has no chance.
22:36 IST: Four! Great shot from Parthiv. Races away to the fence.
22:35 IST: Mumbai Indians 42/2 after 5 overs
22:33 IST: And he has removed Rohit Sharma! Rashid Khan has picked yet another wicket and this time the prized scalp of Mumbai Indians skipper
.@rashidkhan_19, once again! lbw to have Rohit Sharma walk. Didn't we say, good things will happen. The big gun is gone! #MIvSRH #OrangeArmy

— SunRisers Hyderabad (@SunRisers) April 12, 2017
22:31 IST: Lovely first ball, surprises Patel
22:30 IST: Afghan sensation Rashid Khan is out there to roll over his arm. He has taken five wickets from two matches and was Man of the Match also once
22:27 IST: Rohit is off the mark with a lovely shot through the covers. Some fantastic commitment by rival captain Warner stops the ball going for a four
22:26 IST: Buttler got out for 14 and MI are 28/1
22:24 IST: Skipper Rohit Sharma joins Parthiv Patel at the crease
22:22 IST: OUT! That is the first wicket for Sunrisers as Nehra clean bowls Buttler
22:18 IST: Nice gesture 
Play Hard, Play Fair - Spirit of Cricket at #IPL - @hardikpandya7 and @SDhawan25 #MIvSRH pic.twitter.com/HdrO0CFnGx

— IndianPremierLeague (@IPL) April 12, 2017
22:17 IST: Ashish Nehra into the attack. He swings, batsman edges, just misses the stumps and FOUR! This is called luck
22:13 IST: First boundary comes up, from the bat of Jos Buttler
22:10 IST: Jasprit Bumrah did well in the end to pick up three wickets and restrict Sunrisers Hyderabad to only 158/8 as they were looking to put up a big total with Shikhar Dhawan and David Warner at the crease
22:08 IST: And we are back! Bhuvneshwar Kumar with the ball
21:50 IST: And its done, Surisers Hyderabad scramble to 158 for 8 in twenty overs.
21:49 IST: Out! Rashid Khan attempts a big one, goes high up in the air, Bumrah takes the catch. Third wicket for Jasprit Bumrah
21:48 IST: Bhuvneshwar Kumar is the new batsman in.
21:47 IST: Out! Bumrah attempts a yorker, Naman Ojha gets the toe end of the bat and Pollard takes a clean catch.
21:45 IST:  Rashid Khan comes in for Vijay Shankar, Hyderabad cross 150 runs
21:43 IST: Out! Malinga strikes, Vijay Shankar departs
21:41 IST: After 18 overs Hyderabad stand at 147 for five
21:37 IST: Out! Bumrah gets the yorker right and the stumps are all over the place, Ben Cutting departs
21:36 IST: Four! Bumrah comes into the attack, Cutting slams him with a boundary.
21:34 IST: Big 17th over for Hyderabad, Malinga gives away 14 runs.
​21:31 IST: Four! Cutting dispatches Malinga through covers, 2 boundaries in two balls.
21:30 IST: Ben Cutting welcomes Lasith Malinga with a boundary straight down the ground.
21:26 IST: Naman Ojha joins Ben Cutting out in the middle.
21:25 IST: Out! Yuvraj Singh plays the ball onto his stumps, Hyderabad stands at 123 for four.
21: 21 IST: Four! Yuvraj Singh slams Hardik Pandya through covers.
21:20 IST: Ben Cutting replaces Dhawan out in the middle
21:18 IST: Out! McClenaghan clean bowls Dhawan for 48.
21:10 IST: Four! Dhawan puts the ball away through covers.
21:09 IST: Yuvraj Singh is the new man in.
21:08 IST: Out! Harbhajan Singh strikes yet again, sends Deepak Hooda back to pavilion.
21:06 IST: Four! Dhawan hits the ball on the leg side to reach the ropes.
21:04 IST: Free Hit! Pandya bowls over the waist to Dhawan.
21:02 IST: Krunal Pandya comes into the attack.
21:00 IST: After 12 overs Sunrisers Hyderabad stand at 93 for one.
20:54 IST: Deepak Hooda replaces Warner out in the middle.
20:53 IST: Out! Harbhajan Singh strikes for Mumbai Indians. Dismisses David Warner for 49.
20:51 IST: Big over this, 12 runs from 10th over for Sunrisers Hyderabad.
20:48 IST: Six! Warner swings hard and ball clears the boundary easily
20:47 IST: Four! Dhawan swings hard at Pandya, gets an inside edge and ball misses the wicket-keeper.
20:45 IST: Four! Warner hits McClenaghan for consecutive boundaries.
​20:40 IST: Hardik Pandya concedes only two runs from his first over. Sunrisers Hyderabad stand at 52 for zero after eight overs
20:35 IST: Dhawan survives a scare, third umpire rules out catch by Krunal Pandya
20:32 IST: Hardik Pandya comes into the bowling attack, replaces Jasprit Bumrah
20:29 IST: Four! Dhawan hits McClenaghan for another boundary.
20:27 IST: Six! Dhawan is changing gears now, clears the boundary easily.
20:26 IST: Four! Dhawan hits McClenaghan for a boundary
20:25 IST: Mitchell McClenaghan replaces Lasith Malinga.
20:24 IST: Four! Dhawan gets it away for a boundary.
20:21 IST: This is the 100th match that Rohit Sharma and Lasith Malinga are playing for Mumbai Indians
20:20 IST: After five overs Sunrisers Hyderabad stand at 26 for zero.
20:15 IST: Jasprit Bumrah replaces Malinga.
20:12 IST: Sunrisers Hyderabad 13 for 0 after 3 overs.
20:10 IST: Consecutive boundaries for Warner. This time over the top of mid-off.
20:09 IST: Four! Warner goes over the top and finds the boundary. First of the innings.
20:08 IST: 3 off the second over. Sunrisers Hyderabad 5 for 0.
20:06 IST: Malinga to share the new ball with Harbhajan.
20:05 IST: Sunrisers Hyderabad are off to a slow start, 2 runs off the first over
20:01 IST: David Warner and Shikhar Dhawan are the two openers for Sunrisers Hyderabad
20:00 IST: Harbhajan Singh is opening the bowling attack for Mumbai Indians
19:42 IST: Mustafizur Rahman is back in the SRH squad
The FIZZ is BACK !!! @SunRisers #MIvSRH pic.twitter.com/g2Rr8xiKvl

— IndianPremierLeague (@IPL) April 12, 2017
19: 40 IST: Here is the line up for both the teams
#IPL Match 10 - Here are the Playing XIs for @mipaltan vs @SunRisers #MIvSRH pic.twitter.com/JCh4nt4jVM

— IndianPremierLeague (@IPL) April 12, 2017
19:32 IST: Moises Henriques misses out for Sunrisers Hyderabad. Mumbai Indians unchanged.
19:30 IST: Rohit Sharma to spin the coin. Mumbai Indians have won the toss and have elected to bowl first. 
19:28 IST: We are just minutes away from the toss.
19:25 IST: Hello and welcome to the match between Mumbai Indians and Sunrisers Hyderabad.
Mumbai escaped to victory against Kolkata Knight Riders when the latter self-destructed while defending nearly 35 runs in the last two overs. Some great batting by Nitish Rana and Hardik Pandya set the cat among the pigeons as Mumbai galloped to a win with one ball to spare.
SRH on the other hand absolutely decimated Gujarat Lions in Hyderabad as skipper David Warner and Moises Henriques scored fine half-centuries.