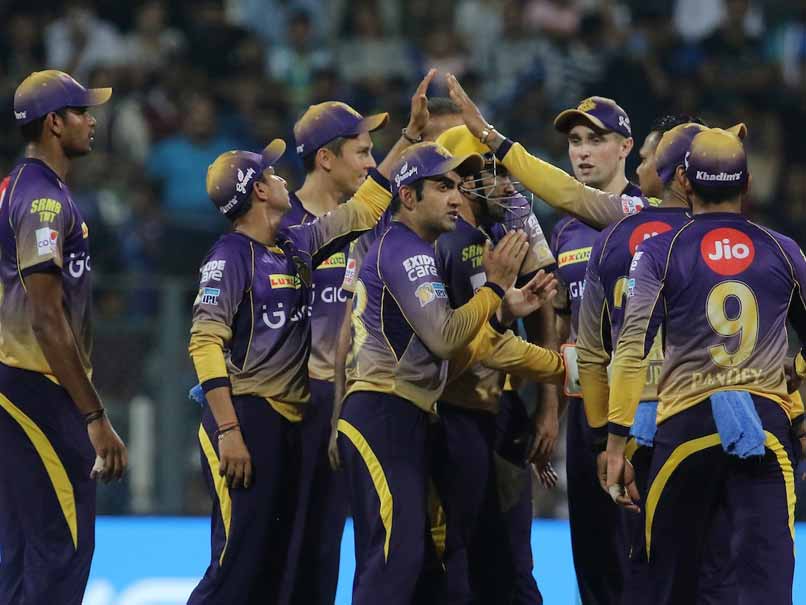 IPL Highlights, KKR vs RCB: Bangalore suffered a humiliating 82-run loss to Kolkata on Sunday.
© BCCI
Royal Challengers Bangalore (RCB) had a nightmare outing against Kolkata Knight Riders (KKR) at the Eden Gardens after being bowled out for a paltry 49 in 9.4 overs -- the lowest ever score in the Indian Premier League (IPL). No RCB batsmen could even get to double digits as Kedar Jadhav recorded a high score of 9. Three KKR bowlers took three wickets apiece -- Nathan Coulter-Nile, Chris Woakes and Colin de Grandhomme. Umesh Yadav chipped in with one wicket as RCB suffered a humiliating 82-run loss for their fifth defeat in seven matches. Meanwhile, KKR recorded their fifth win in seven matches to remain second in the standings with 10 points. (Scorecard)
Catch all the highlights of the match between KKR and RCB straight from Kolkata.
23:45 IST: That's it from us here! Thank you for joining us for this IPL encounter. Do join us tomorrow for the match between Mumbai Indians and Rising Pune Supergiant at the Wankhede. 
23:42 IST: "Probably our worst batting performance, the worst I have been part of the team. Very hurtful for me to stand here and talk. I thought we could capitalize and cash in during the chase. I can't say anything now, but our performance was unacceptable. Disgraceful batting, reckless from us, one of the worst collapses ever," said an upset Virat Kohli.
23:35 IST: Australian pacer Nathan Coulter-Nile is the Man of the Match.
23:22 IST: Out!! And that's it RCB have been sent packing, Bowled out for 49 in 9.4 overs -- the lowest ever IPL score. KKR win 82 runs!!
23:20 IST: Out!! Mills tries to hit Grandhomme out of the park but manages to only sky the ball and is caught at long off. Number nine goes down. RCB are 48/9 in 9.1 overs.
23:19 IST: Four!! Aravind gets it through the covers for a boundary.
23:15 IST: Shocking batting from RCB. They are in the danger of registering the lowest ever score in the IPL -- Rajasthan Royals' 58 in 2009.
23:14 IST: And OUT!!! Another big shout for LBW and Samuel Badree is gone for a duck! Third wicket for Woakes! 
23:10 IST: Incredible stuff from KKR!
23:09 IST: Out!! Big shout for LBW and Negi walks back. Grandhomme gets his first wicket. RCB are 42/7 in 7.3 overs.
23:08 IST: Eden Gardens is absolutely buzzing right now!
23:05 IST: Out!! Another one goes! Binny gets an edge and is caught behind off the bowling of Woakes. What is going on here! RCB are 40/6 in 6.5 overs.
23:04 IST: Big shout for caught behind. KKR players really look fired up!
23:01 IST: Out!! Gayle is gone!! Short from Woakes and Gayle went for the pull and once again only managed to get an edge. RCB are 40/5 in 6.2 overs.
22:58 IST: The ball yet to hit the middle of Gayle's bat just finding the edge. But he will take it as it comes. RCB are 39/4 in 6 overs.
22:56 IST: Four!! Short ball from Umesh and Gayle gets a thick outside edge.
22:54 IST: Gayle has faced 11 balls and scored just 2 runs.
22:53 IST: Four!! A little wide from Coulter-Nile and Binny climbs all over it. Just four runs and a wicket from that over. RCB are 28/4 in 5 overs.
22:49 IST: Out!! Coulter-Nile gets his third wicket and Jadhav takes the long walk back. RCB's chase in tatters.
22:46 IST: Brilliant delivery from Umesh to end over. Just narrowly missed Gayle's leg stump. RCB are 24/3 in 4 overs.
22:44 IST: Four!! Wide and full from Coulter-Nile and Jadhav picks it off for another boundary.
22:42 IST: Four!! Free-hit and Jadhav gets the ball over the slips for a crucial boundary.
22:39 IST: Out!! Huge wicket as De Villiers walks back. RCB in all kinds of trouble. They are 12/3 in 2.3 overs.
22:36 IST: Big shout for LBW but hitting the pads too high. RCB are 7/2 in 2 overs.
22:35 IST: Four!! AB de Villiers on his way with a flick on the leg side for his boundary.
22:32 IST: Out!! Mandeep Singh falls for 1 as Umesh picks up his first wicket. RCB are 3/2 in 1.2 overs. Game on!
22:29 IST: Out!!! Virat Kohli departs for duck! Coulter-Nile bowls a little wide and Kohli gets an edge and straight to second slip. RCB 2/1 in 0.3 overs.
22:28 IST: Lovely ball by Coulter-Nile, bowls a tight bouncer to not allow Gayle to free his arms.
22:27 IST: Chris Gayle on strike to take the free-hit!
22:26 IST: Free-hit!! What a start for Kolkata! Coulter-Nile bowls a first ball No ball.
22:25 IST: For Kolkata, Nathan Coulter-Nile is leading the bowling attack.
22:24 IST: Welcome back to the live blog!
22:11 IST: Stay tuned as we go for a short break and return for RCB's chase.
22:10 IST: Brilliant comeback from RCB. KKR were 65 for one at one time after 5.3 overs and suffered a batting collapse.
22:08 IST: Out!! Kuldeep is cleaned up by Aravind. Kolkata are bowled out for 131 in 19.3 overs.
22:07 IST: Final over and Aravind to bowl it.
22:06 IST: Umesh Yadav all at sea against the Mills' slower balls. Just 5 runs from the over. KKR are 131/9 in 19 overs.
22:01 IST: Kuldeep Yadav just about survives the hat-trick ball.
21:59 IST: Out!! Two wickets in two balls for Negi as Suryakumar walks back and KKR are in shambles.
21:58 IST: Out!! Coulter-Nile tries to clear the long-off boundary but is caught off the bowling of Negi. KKR are 125/8 in 17.3 overs.
21:56 IST: Good over from Mills comes to an end.
21:53 IST: Out!! Slower ball from Mills and Woakes tries to flick it over deep mid-wicket but fails to get a proper connection. KKR are 120/7 in 16.3 overs.
21:52 IST: Four!! Full from Mills and Woakes smashes it to the extra cover boundary.
21:47 IST: Four!! Suryakumar sweeps Aravind for a boundary. Nine from the over. KKR are 116/6 in 16 overs.
21:46 IST: Luckily play hasn't stopped yet. 
21:44 IST: It has again started drizzling! 
21:44 IST: Single to finish the over. KKR are 107/6 in 15 overs.
21:42 IST: Four!! Much better from Woakes this time. A big stride and he lifts Negi over short cover for another boundary.
21:37 IST: Four!! Woakes gets an outside edge and the ball runs away to the third-man boundary.
21:32 IST: Out!! Colin de Grandhomme is caught at first slip. Third wicket for Chahal and RCB are on a roll here. All going downhill for KKR now. They are 93/6 in 11.3 overs.
21:30 IST: Out!! Another one bites the dust as Pandey walks back. KKR are digging a big hole for themselves. 
21:26 IST: The run-rate is still above 8.5. KKR have to be smart from here on in. They still have some batting left.
21:22 IST: Out!! Yusuf has been stumped off the bowling of Chahal. Completely outwitted by the leg-spinner. Big wicket for RCB. KKR are 82/4 in 9.1 overs
21:20 IST: A double for Yusuf.
21:18 IST: A lot now depends on Yusuf Pathan and Manish Pandey. KKR are 79/3 in 9 overs.
21:10 IST: Out!! Another one goes!! Uthappa is caught plumb in front of the wickets by Badree. KKR are 66/3 in 6.2 overs.
21:03 IST: Out!! Short from Binny and Narine is caught at the square leg boundary. He goes for 34 off 17 balls. KKR are 65/2 in 5.4 overs.
21:00 IST: Four!! Binny stray on to the pads of Uthappa and the right-hander works it away to the square boundary.
20:54 IST: Four!! Uthappa gets off the mark with a picture-perfect straight drive. KKR are 52/1 in 4 overs.
20:52 IST: Out!! Gambhir walks back for 14 off 11 balls as KKR suffer their first setback.
20:51 IST: Big appeal and Gambhir might be gone here. The umpires are checking if the ball has carried to the wicket-keeper.
20:49 IST: Four wides!! Things are going from bad to worse for RCB as Mills sprays a full delivery on the leg.
20:45 IST: Back to back fours!! Narine at it again. There seems to be no stopping the West Indian.
20:44 IST: Four!! Gambhir guides the ball to the third-man bounadary.
20:43 IST: The sun will rise from the east tomorrow beacuse Narine has taken a single. This his first single after 60 runs in boundaries in the previous match and this one.
20:42 IST: Badree out of attack and Sreenath Aravind into the attack.
20:39 IST: Six!! Short and wide from Mills and Gambhir just guides it over the third-man boundary. KKR are 25/0 in 2 overs.
20:38 IST: Almost a run-out but Gambhir survives. He seemed a little too eager to get off the strike there.
20:36 IST: Two dot balls from Tymal Mills. Phew!! We have some normalcy in the proceedings.
20:35 IST: Six!! This is madness from Narine. He comes down the track and smashes this one for a maximum. All hell has broken loose. KKR are 18-0 in 1 over.
20:34 IST: Three fours in a row!! A little wider from Badree but Narine dishes out the same pain.
20:33 IST: Four more!! Narine again comes down the track and lifts it over mid-off.
20:32 IST: Four!! Narine comes down the track and smashes it through covers. This was just the second ball by the way.
20:30 IST: Badree to start off the proceedings for RCB.
20:25 IST: A fun stat: Gambhir has scored the most runs against RCB in IPL - 616 runs. KKR fans will be hoping that the trend continues.
20:21 IST: Here are the team changes from the previous match: AB de Villiers, Tymal Mills and Samuel Badree are back. Travis Head, Adam Milne and Shane Watson are out. KKR have brought in Colin de Grandhomme for Shakib Al Hasan.
20:15 IST: Virat Kohli has won the toss and RCB will bowl first against KKR at the Eden Gardens.
20:13 IST: And finally, its toss time!!
20:08 IST: Great News!! The toss will take place at 8:15 and the match will start at 8:30pm. So that means we will have a full match.
19:57 IST: They're starting to take off the covers and that development is greeted by a huge roar at Eden Gardens.
19:49 IST: However, we are still some time away from the toss. There will be an inspection at 8:00pm.
19:47 IST: Good news coming is that the rain has stopped.
19:35 IST: We are minutes away from the toss but it seems to be raining at Eden Gardens. Stay tuned for more updates. 
19:27 IST: Hello! Welcome to the live blog of the Kolkata Knight Riders-Royal Challengers Bangalore IPL match! 
Gambhir can't possibly be in a very happy frame of mind after losing to bottom-ranked Gujarat Lions, while Kohli and his side should be feeling much better after the massive win over the same side. Some of the relief would be in the form of Chris Gayle finally coming good, but with just two wins out of six matches, it is still quite a way to go between now and real-time attempts at the top-four slots for the knockout games. KKR decidedly have a better bowling attack, but given the flat pitches that have been on display, assuming that just bowling will win games is a fallacy, as KKR discovered against Gujarat.