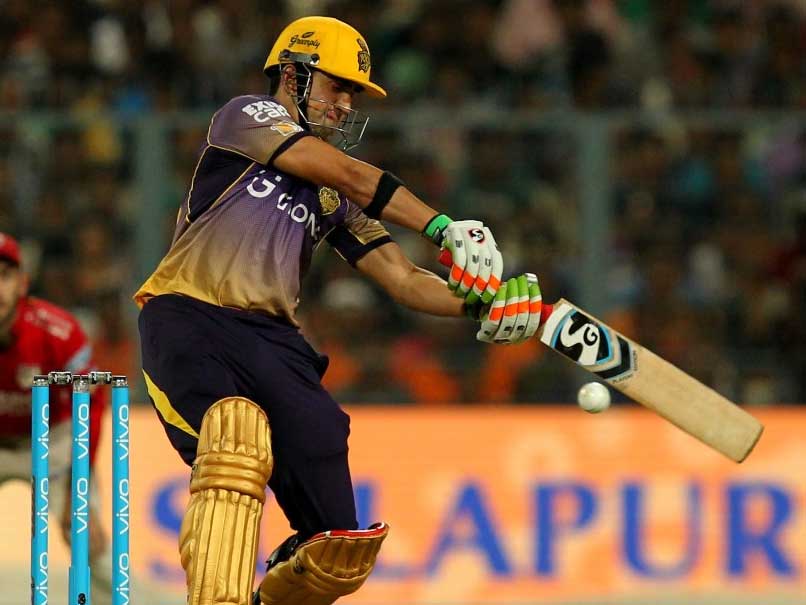 Gautam Gambhir smashed his 33rd IPL fifty as Kolkata eased to an 8-wicket win over Punjab.
© BCCI
Gautam Gambhir smashes his 33rd Indian Premier League (IPL) half-century to help Kolkata Knight Riders register a convincing eight-wicket win over Kings XI Punjab. KXIP's winning run in IPL 2017 came to a grinding halt at the Eden Gardens as they were outclassed both with the bat and ball. KKR captain Gambhir was unbeaten on 72 as he guided his team home with 21 balls to spare. Thanks to their big win, Kolkata are now top of the IPL 10 points table with two wins and a loss. Earlier, Manan Vohra and Hashim Amla gave Kings XI Punjab a blistering start and Glenn Maxwell came in and hit some lusty blows. However, Punjab lost wickets at regular intervals and failed to cash in on their good start to throw away their advantage. Kolkata managed to stem the run flow as Umesh Yadav picked up three wickets in an over. Punjab finally finished with 170 for nine in their 20 overs. (Scorecard)
Catch all the highlights of KKR vs KXIP in Kolkata.
11:32 IST: That's it from us tonight. Thanks for joining us today and do tune in for tomorrow's double header.
11:30 IST: Sunil Narine is the Man of the Match for his impact both with the bat and ball.
11:22 IST: With the convincing win in Kolkata, KKR now top the points table ahead of defending champions Sunrisers Hyderabad. Super effort from Gambhir and Co. today.
11:20 IST: Punjab's unbeaten run this season has been brought to a grinding halt by Kolkata.
11:16 IST: Six!! Pandey finishes it off in style as Kolkata canter to an eight-wicket win over Punjab.
11:13 IST: Again width for Gambhir and punishes it. KKR now just 8 runs away.
23:11 IST: It is a bump ball!
23:11 IST: Appeal for a catch from Miller. It could be a bump ball.
23:04 IST: Four!! Slower short delivery from Mohit and Pandey picks it up early and smashes it to the square boundary. KKR need 14 runs off 30 balls.
23:03 IST: Four!! Manish Pandey finishes off the Axar over with a boundary. 10 off that over. KKR need 23 in 36 balls.
23:02 IST: Four!! Gambhir goes way outside the leg stump and guides the ball to the third man boundary. Great improvisation from the KKR captain.
23:01 IST: KKR are 136/2 after 13 overs
23:00 IST: Gambhir and Pandey are dealing in singles at the moment. The hosts, with eight wickets in hand, are cruising towards their target
22:58 IST: Now this is an interesting stat
#DidYouKnow
The 11th over was the only one in which we didn't score a boundary this innings. #DusKiDahaad #AmiKKR #KKRvKXIP

— KolkataKnightRiders (@KKRiders) April 13, 2017
22:55 IST: And Gambhir has scored his 33rd half-century in the IPL!
Captain terrific!#Gambhir reaches to in 34 balls. This is brilliant batting from the him. #DusKiDahaad #AmiKKR #KKRvKXIP pic.twitter.com/2pxwhNWLRD

— KolkataKnightRiders (@KKRiders) April 13, 2017
22:53 IST: KKR are 123/2 after 11 overs
22:51 IST: A lot depends on Gambhir and next man in Manish Pandey now
22:44 IST: WICKET!! Uthappa tries a fancy paddle and loses his leg stump. Finally something to cheer for Punjab bowlers.
22:43 IST: Four!! Short and wide from Axar and Uthappa doesn't miss out.
22:40 IST: Four!! Short and on the leg and Uthappa just uses the pace of Stoinis to help himself to another boundary,
22:39 IST: 100 up for KKR in 8.1 overs. This has been a batting masterclass so far.
22:37 IST: Smart batting as Uthappa and Gambhir rotate the strike after the boundary.
22:36 IST: Four!! No is the answer as Uthappa rocks back onto his backfoot and guides the ball to the third-man boundary.
22:35 IST: Axar Patel into the attack. Can he put a brakes on the scoring?
22:33 IST: Six!! Uthappa gets off the mark with style by depositing Mohit over the mid-wicket boundary. Unrelenting batting from KKR!
22:29 IST: Four!! Short from Mohit Sharma and Gambhir dispatches it without much fuss.
22:28 IST: KKR need 95 runs in 84 balls. They should canter to victory.
22:23 IST: WICKET!! Narine tries to clear the boundary again but this time is caught at deep-midwicket. But he has done his job. KKR are 76/1 in 5.4 overs.
22:22 IST: Four!! Two sixes and now a boundary. Punjab are in shock while the Eden Gardens is bouncing with joy.
22:19 IST: Back to back sixes!! Full from Aaron and Narine smashes it over the long-on boundary. This has been a masterstroke to promote him up the order.
22:18 IST: Kolkata are running away with this game. 18 from the Glenn Maxwell over. KKR are 60/0 in 5 overs.
22:12 IST: Four!! Again short and wide from Ishant and Gambhir puts it away.
22:09 IST: Single to finish off. 16 runs from that Sandeep Sharma over. KKR are 31/0 in 3 overs.
22:08 IST: Back-to-back fours!! Gambhir comes down the track and drills it through covers.
22:07 IST: Four!! Kolkata are really getting a move now. Gambhir slices it away to point and gets the gap.
22:05 IST: Six!! Narine smacks Sandeep Sharma over the long-off boundary for the first maximum of the Punjab innings. This is what he was sent to do!
22:01 IST: Four!! Again a little wide and Gambhir gets a thick edge and the ball runs away to the third-man boundary. Second for Gambhir and second of the over. Kolkata are 15/0 after 2 overs.
22:00 IST: Four!! Short and wide from Ishant and Gambhir smacks it for his first boundary.
21:56 IST: Surely Narine has been given the license to hit. Won't be mucking around trying to defend. With the field in, it could be a masterstroke from Kolkata.
21:52 IST: Massive surprise as Sunil Narine has walked out to bat along with captain Gautam Gambhir.
21:50 IST: Welcome back for the second innings of the match.
​21:41 IST: Stay tuned for the second innings.
21:40 IST: First innings is over and Kolkata restrict the visitors to 170 for 9 in 20 overs.
21:37 IST: Out! Woakes gets his second as Gambhir completes the catch in his fourth attempt.
21:36 IST: Out! Mohit Sharma hits the ball straight down the throat of Suryakumar Yadav.
21:35 IST: Three runs from the first four balls.
21:34 IST: Chris Woakes comes to ball the final over.
21:32 IST: Comedy of errors for KKR on-field! Fielders give away two over throw runs.
21:30 IST: Four! Mohit Sharma puts one away for a boundary.
21:29 IST: Mohit Sharma and Varun Aaron are the new men in.
21:28 IST: 11 runs and three wickets for Yadav in his final over.
21:27 IST: Out! Yadav is on fire right now, leading edge for Axar Patel.
21:26 IST: Out! Strike two for Yadav, sends dangerous Saha back to pavilion with a low full-toss.
21:24 IST: Massive blow for KXIP!
21:23 IST: Out! Miller hits a full-toss, Pandey completes the job with a dive at mid-wicket.
21:22 IST: Four! Attempted yorker gone wrong, Miller puts the ball away for a boundary.
21:21 IST: Six! Miller swings and swings hard! Welcome Umesh Yadav.
21:19 IST: Four! Ball slips through Narine's buttery fingers.
21:16 IST: Safe! Leading edge off Miller's bat, ball falls on no mans land.
21:15 IST: Boult comes back into the attack.
21:13 IST: Both the teams continue to fight back, the match heading towards an eventful last four overs!
21:12 IST: What a 16th over by Narine, concedes only four runs.
21:10 IST: Narine comes into the attack, two runs form three balls so far.
21:08 IST: Six! There is no stopping Saha, dismisses Chawla over extra cover.
21:07 IST: Six! Wriddhiman Saha joins the party, clears long off fielder easily.
21:05 IST: Costly over this for KKR as Grandhomme concedes 15 runs. 
21:05 IST: Four! Miller gets a top edge as ball flies over the wicket-keeper for boundary.
21:04 IST: Six! Miller smokes Grandhomme over extra-cover.
21:02 IST: Saha taps Grandhomme for a single.
21:01 IST: Four! Saha clears the ball easily for a boundary.
20:59 IST: Wriddhiman Saha joins David Miller in the middle.
20:57 IST: Maxwell tries to cut Yadav, edges the ball to Uthappa.
20:57 IST: Out! Umesh Yadav sends skipper Maxwell cheaply for 25 runs.
20:54 IST: Wonderful over this! One wicket for one run from his first over, perfect start for Grandhomme.
20:53 IST: Out! Grandhomme gets his first IPL wicket, sends Amla back home.
20:52 IST: Debutant Colin de Grandhomme comes in the attack with three dot balls.
20:51 IST: Narine coming back in form as he gives only 2 runs from his third over.
20:50 IST: Looks like Maxwell is joining the party alongside Amla.
20:49 IST: Maxwell scores 23 runs off 10 balls with three fours and a six.
20:47 IST: Four! Maxwell is punishing Chawla, three boundaries in a row.
20:45 IST: Six! Maxwell clears the boundary with ease.
20:42 IST: Dropped! Uthappa drops Maxwell.
20:41 IST: Six! Maxwell welcomes Woakes with a big six on the fine leg.
20:38 IST: Skipper Glenn Maxwell comes out in the middle.
20:36 IST: Out! Stoinis gets an inside edge on the leg stump.
20:34 IST: Narine back in the attack, Stoinis cuts for a single. 
20:33 IST: After seven overs Punjab stand at 62 for one.
20:31 IST: Stoinis taps the ball just around the wicket, Amla scrambles for a single.
20:29 IST: Umesh Yadav comes back into the attack.
20:27 IST: Four! Stoinis the new man in, gets his first boundary at deep square-leg.
20:24 IST: Out! Piyush Chawla strikes for KKR, Vohra departs for 28.
20:21 IST: Four! Manan Vohra welcomes Sunil Narine with a boundary down the leg side.
20:20 IST: After four overs Punjab stand at 45 for zero.
20:18 IST: Four! Consecutive boundaries for Vohra, how costly will the drop be for KKR?
20:17 IST: Chris Woakes replaces Umesh Yadav.
20:15 IST: KKR bowlers are proving to be costly, KXIP striking at 10 runs per over.
20:14 IST: Manan Vohra survives a scare, Boult, Gambhir disappointed.
20:13 IST: Catch dropped! Sunil Narine drops a sitter at third man.
20:11 IST: Four! Consecutive boundaries for Manan Vohra. One through the covers and one down fine leg.
20:09 IST: Six! Short and Vohra pulls and pulls nicely, ball lands on the boundary rope.
20:07 IST: Umesh Yadav getting help from the pitch, bounce and swing for the Indian pacer.
20:06 IST: Manan Vohra gets off the mark. Taps the ball towards mid wicket for two runs.
20:04 IST: Four! Amla gets his second boundary for the day.
20:03 IST: Four! Poor fielding from Piyush Chawla at the square boundary.
20:02 IST: Trent Boult starts off with a dot ball. Swing and bounce for the Kiwi pacer.
20:01 IST: Hashim Amla and Manan Vohra are out in the middle to open for Punjab
20:00 IST: KKR players are making their way out to the middle.
19:58 IST: Virender Sehwag rings the bell to announce the start of play!
19:54 IST: KKR and KXIP have met 19 times earlier and KKR have won 13 times.
19:52 IST: New Zealand pacer Colin de Grandhomme was roped in by KKR to fill the blank space of Andre Russell.
19:42 IST: Here are the playing eleven for both teams.
#IPL Match 11 - Here are the Playing XIs for @KKRiders vs @lionsdenkxip #KKRvKXIP pic.twitter.com/MrEOMOpoDo

— IndianPremierLeague (@IPL) April 13, 2017
19:40 IST: Robin Uthappa comes back in the squad for KKR, injured Chris Lynn out.
​19:38 IST: Kolkata Knight Riders would like to take the home advantage and gain their winning momentum back. 
19:30 IST: It's toss time! Kolkata Knight Riders captain Gautam Gambhir wins toss and elects to bowl vs Kings XI Punjab.
19:00 IST: The performance by Shraddha Kapoor comes to an end as the two teams gear up for the match.
18:57 IST: The spectators are going gaga as Shraddha Kapoor is dancing on hit Bollywood songs.
Actor @ShraddhaKapoor LIVE at #IPL #KKRvKXIP @KKRiders pic.twitter.com/DROGhyIXzn

— IndianPremierLeague (@IPL) April 13, 2017
18:56 IST: Father Shakti Kapoor cheers for her daughter Shraddha Kapoor who is performing on her hit song 'Humma Humma.'
18:55 IST: She is currently dancing to her famous songs from Aashiqui 2 and Ek Villian.
18:54 IST: Shraddha Kapoor takes centre stage and sets the temperature soaring.
18:49 IST: Gautam Gambhir hands over a token of appreciation to the visiting captain Glenn Maxwell as a part of the opening ceremony.
Play Hard, Play Fair - Spirit of Cricket at #IPL - @GautamGambhir and @Gmaxi_32 pic.twitter.com/3XiVnLm7kn

— IndianPremierLeague (@IPL) April 13, 2017
18:48 IST: Gaurav Kapur welcomes KXIP captain Glenn Maxwell. He arrives in a golf buggey as the KXIP thene song plays on.
18:47 IST: Gaurav Kapur welcomes KKR captain Gautam Gambhir. He arrives in a golf buggey as the KKR theme song plays on.
18:36 IST: Bollywood playback singer and actress Monali Thakur has taken the centre stage. She is singing songs namely as 'Tune Mara Entriyaan,' 'Badri Ki Dulhaniyaan.'
18:35 IST: Folk artists are currently performing on the field.
18:33 IST: The band is performing different Bollywood songs as well as Rabindra Sangeet.
The @Shillong_SCC set the ball rolling at the Eden Gardens #IPL #KKRvKXIP - @KKRiders pic.twitter.com/iNyOziqegx

— IndianPremierLeague (@IPL) April 13, 2017
18:30 IST: The opening ceremony begins with songs sung by the band 'Shillong Chamber Choir'
18:07 IST: Bollywood superstar Shraddha Kapoor set to dazzle before the key match between Kolkata Knight Riders and Kings XI Punjab.
18:06 IST: Hello and welcome to the live blog of the match between KKR vs KXIP in Kolkata.
KXIP, with two wins out of two, would be quite high on momentum and morale, so the KKR think-tank headed by skipper Gautam Gambhir would be well served to find ways to get past them.
With dice loaded in favour of the batsmen, it's the bowlers who largely decide who wins or loses.
The batting on both sides can be formidable. KXIP have seen Hashim Amla, skipper Glenn Maxwell, Manan Vohra and David Miller coming good, while Gambhir has led the KKR assault, with help from the now-sidelined Chris Lynn and Manish Pandey.