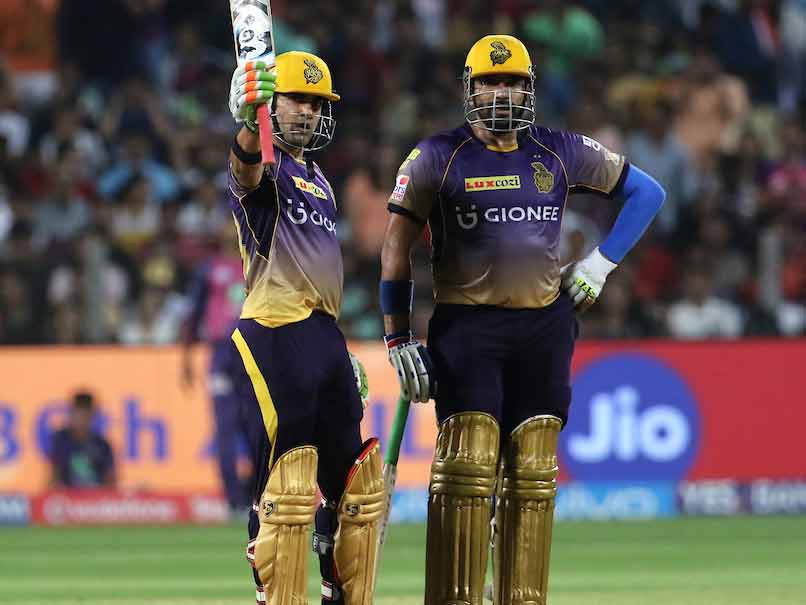 IPL Highlights: KKR vs DD - Gambhir and Uthappa guide Kolkata to easy victory over Delhi at Eden Gardens.
© BCCI
Captain Gautam Gambhir and Robin Uthappa's 100-plus partnership saw Kolkata Knight Riders defeat Delhi Daredevils by seven wickets at the Eden Gardens, in Kolkata, on Friday. Gambhir and Uthappa have been partnering brilliantly this season and it was their heroics with the bat, with help from Nathan Coulter-Nile with his three wickets in the first innings, that saw them consolidate their position at the top of the points table. Gambhir stayed unbeaten on 71 while Uthappa made 59, after being dropped earlier. Kagiso Rabada took two wickets, especially removing Sunil Narine in the early stages, but it wasn't enough for Zaheer Khan's team to ring in a victory. (SCORECARD)
IPL Highlights and updates between KKR vs DD straight from Kolkata, India
19:40 IST: Thank you for joining us for this match. Stay tuned for the second match of the day at Mohali - Kings XI Punjab vs Sunrisers Hyderabad.
19:38 IST: Gambhir is the man of the match for his brilliant unbeaten knock. He says "Whatever awards I've earned, all money goes to CRPF jawans."  
19:19 IST: Wide!!! That does it, end of match!! Kolkata win by 7 wickets!!!  
19:18 IST: FOUR!! Gambhir is at it again!! Kolkata need just 1 run to win!! 
19:16 IST: FOUR!!!! Jackson joins the party! Kolkata need 5 off 24 balls to win!! 
19:15 IST: Four!! Gambhir finds the gap and hits a boundary to long off
19:13 IST: Four! Beautifully timed by Jackson to hit a boundary off Morris.  
19:11 IST: Kolkata need 21 runs with 30 balls remaining for a win. Can they do it??
19:06 IST: OUT!! Rabada strikes again!! Bowls out Manish Pandey (5). Kolkata are 139/3 in 14.5 overs  
19:04 IST: Four!! Manish Pandey adds to the run tally with a boundary off Mishra 
19:03 IST: Gambhir brings up 4000 runs in the IPL 
19:01 IST: Four and four!!! Gambhir is killing it out there! 
18:59 IST: FOUR! Gambhir brings up his 35th IPL 50 and he's also got 6000 runs in T20s 
18:56 IST: OUT!!! Uthappa run out! He can't believe it!! Uthappa departs for 59 as Kolkata are 117/2 in 12.2 overs. Is this the breakthrough Delhi have been hoping for??  
18:56 IST: FOUR!!!! Gambhir smashes a four off Anderson.. getting closer to his 35th IPL half-century
18:52 IST: SIX!!!! Uthappa smashes it over to stands bringing up a 100+ partnership with Gambhir!!! 
SIX!
This is huge from #Uthappa and that six brings up the 100-run partnership with #Gambhir. #DusKiDahaad #AmiKKR #KKRvDD pic.twitter.com/QfwDXIyfUL

— KolkataKnightRiders (@KKRiders) April 28, 2017
18:45 IST: The runs are just flowing for Kolkata! Kolkata need 60 runs off 60 balls to win!
18:44 IST: Four! Gambhir smashes a boundary to deep mid wicket. Kolkata are 101/1 at the end of 10 overs
18:41 IST: And that single brings up Uthappa's 21st IPL half century, fourth this season! What a cracking performance
18:37 IST: FOUR! Short ball smashed over mid off by Uthappa off Cummins.  
18:36 IST: SIX! Uthappa's on fire as he smashes a maximum off Cummins!! Destructive batting which is delighting Kolkata fans at Eden
18:32 IST: SIX again by Uthappa!!! That's a maximum into the stands!!! 16 runs off 3 balls!! 
18:30 IST: SIX! Uthappa hits a maximum off a Morris delivery. Adds a Four in the next delivery!!
18:29 IST: FOUR!! Gambhir brings up another 50+ partnership with Uthappa
18:28 IST: Four! This time from Uthappa. Amit Mishra is surely annoyed with himself for the dropped catch in the previous over 
18:26 IST: Four! And Gambhir smashes a boundary  
18:25 IST: Amit Mishra comes into the attack after the time out...
18:23 IST: FOUR!! Uthappa smashes a boundary to deep mid wicket. Kolkata are 47/1 at the end of 6 overs
18:21 IST: 4 leg byes!! Rabada to Uthappa 
18:20 IST!! Oh my goodness, that dropped catch will prove costly for Delhi! Uthappa seems really lucky! No communication between Sanju Samson and Amit Mishra on the field!
18:16 IST: Four! Beautifully timed by Gambhir as he smashes Cummins for a boundary!  
18:14 IST: Pat Cummins comes into the attack.    
18:10 IST: Gambhir currently has the orange cap guys. Just a bit of info for the Kolkata fans 
18:08 IST: Looks like Karun Nair is taking charge in Zaheer's absence. Kolkata are 26/1 at the end of 3 overs.
18:06 IST: FOUR! Gambhir smashes his first boundary off Anderson
18:05 IST: Zak goes off the field. That will be a blow for Delhi. Anderson comes in instead 
18:04 IST: Zak comes back. He needs one wicket to complete a century of wickets in the IPL 
18:02 IST: Four byes! Rabada looks on in dismay  
18:01 IST: FOUR!! Uthappa comes in and begins with a boundary!!! 
17:59 IST: OUT!!! Bowls out Narine for 4! That will be a major setback for Kolkata! Kolkata are 9/1 in 1.2 overs
17:58 IST: Rabada comes in to bowl. 
17:56 IST: FOUR! Narine hits a boundary as the KKR fans scream in delight! Kolkata are 8/0 after the first over 
17:51 IST: Narine and Gambhir are walking on to the field. Narine on strike as Zaheer Khan to bowl first over 
17:37 IST: Delhi finish at 160/6. Stay tuned for the second innings
17:36 IST: OUT!!! What a catch by Woakes!!! Morris departs for 11 as Delhi are 159/6. Coulter-Nile picks up his third wicket
17:35 IST: 2 balls to go.. Delhi are 159/5
17:32 IST: FOUR! First ball of the final over sees Ankit Bawne hit a boundary to backward square leg
17:31 IST: Coulter-Nile back into the attack... Let's see what Delhi does in the last over
17:30 IST: Excellent over for Kolkata with only 5 runs conceded by Woakes. The last over coming up as Delhi are 154/5
17:28 IST: Woakes is back into the attack... Will he get a wicket?  
17:25 IST: Delhi are 149/5 at the end of 18 overs.  
17:22 IST: RUN OUT!!! Short stay for Anderson as he goes for 2. Delhi are 146/5 in 17.1 overs
17:21 IST: Corey Anderson is very lucky! Kuldeep Yadav drops him off his own bowling twice in the 17th over!! 
17:17 IST: That was some good bowling! 9 runs and two wickets by Coulter-Nile! Delhi are 140/4 at the end of 16 overs
17:16 IST: OUT!!! Coulter-Nile strikes again as he LBW's Shreyas Iyer (47)
17:!5 IST: FOUR!! Iyer smashes an explosive boundary!
17:14 IST: FOUR! Chris Morris comes in and smashes a boundary off Coulter-Nile
17:11 IST: OUT! Coulter-Nile back into the attack and delivers for KKR! LBW's Pant! Pant departs for 6 
17:09 IST: Four... Youngster Rishabh Pant comes in and smashes a boundary off Narine...
17:06 IST: OUT!! Finally Umesh Yadav's hard work pays off as he LBW's Samson! The keeper-batsman departs for 60. Delhi are 123/2 at the end of 14 overs 
17:05 IST!! SIX!!! A monstrous hit by Samson as captain Gambhir looks on unhappily 
17:03 IST: FOUR again! Iyer is on fire! 
17:02 IST: Oh no that's a FOUR!! Yusuf Pathan fails to stop the ball as it tips over the boundary! 
16:59 IST: Expensive over by de Grandhomme as he concedes 15 runs. Delhi are 108/1 at the end of 13 overs as another time out is called for  
16:58 IST: SIX! Iyer slams it to deep mid wicket
16:57 IST: That single brings up a 50-run partnership for Delhi
16:56 IST: Four!! A beautiful boundary by Iyer down the leg side
16:53 IST: What a SIX!! Samson brings up his 6th IPL half century with the maximum off Kuldeep Yadav 
16:50 IST: BTW, Sheldon Jackson is behind the stumps. The change came during the first time out. 
16:49 IST: Umesh Yadav to Shreyas Iyer... bowls a wide  
16:47 IST: Delhi are 78/1 at the end of 10 overs...
16:45 IST: Narine back into the attack.. will he take another wicket?
16:40 IST: Woakes is back into the attack and gives away only 5 runs... Samson inching closer to a half century as he's on 42 at the end of the ninth over.  
16:37 IST: Again an economical over from Kuldeep Yadav giving away only 6 runs. Delhi are 66/1 at the end of 8 overs
16:31 IST: Very good fielding by Woakes as he saves a boundary... Samson manages two instead
16:27 IST: Good bowling by Kuldeep Yadav. Gives away only 5 runs as Delhi are 53/1 at the end of 6 overs 
16:22 IST: OUT! Narine makes up for those wides as he LBW's Nair. The seemingly dangerous partnership is broken as Nair departs for 15.
16:21 IST: Wide... Narine gives 5 wides
16:20 IST: Narine replaces Coulter-Nile, and gives away no run in the first two deliveries 
16:16 IST: FOUR again!! Samson is on fire!
16:15 IST: Four!! Woakes comes in for Kolkata but Samson sweeps for a boundary! 
16:14 IST: Delhi are 31/0 at the end of 3 overs
16:13 IST: FOUR! Samson joins the party! Coulter-Nile is having an expensive over it seems!
16:11 IST: Back-to-back boundaries by Nair, what great timing!
16:09 IST: Six!! What a beautiful shot by Samson to backward square leg 
16:06 IST: Four!! Now its Samson's turn as he hits Umesh Yadav for a boundary
16:05 IST: Great start by Coulter-Nile in the first over but on the last ball, Nair manages to hit a boundary! It's the first Four of the match!  
16:00 IST: For Delhi, it's Sanju Samson and Karun Nair at the crease, Coulter-Nile has the ball 
15:59 IST: KKR walk out, the Delhi batsmen follow. 
15:46 IST: This is what younger brother Irfan had to say about Yusuf Pathan. 
Playing 100 IPL matches 4 d same team is quite an achievement and you have done that with @KKRiders
Mubaraka Lala @IamYusufPathan #champion

— Irfan Pathan (@IrfanPathan) April 28, 2017
15:44 IST: As we wait for the match to start, check out Kolkata warming up. 
The #Knights are ready for another big game in @IPL! #DusKiDahaad #AmiKKR #KKRvDD https://t.co/YpFng5yuj8

— KolkataKnightRiders (@KKRiders) April 28, 2017
15:37 IST: For Kolkata, Nathan Coulter-Nile and Sheldon Jackson replace Darren Bravo and Piyush Chawla. Ankit Bawne comes in for Aditya Tare in the Delhi squad.
#IPL Match 32: Here are the Playing XIs for @KKRiders and @DelhiDaredevils #KKRvDD pic.twitter.com/2Z0Fp1dUIe

— IndianPremierLeague (@IPL) April 28, 2017
15:34 IST: Gambhir wins the toss and opts for bowl first against Delhi.
15:24 IST: Kolkata will start as favorites against Delhi. Gambhir's side has been in fine form so far in the tournament.
15:20 IST: Hello and welcome to our coverage of Match 32 of the Indian Premier League.