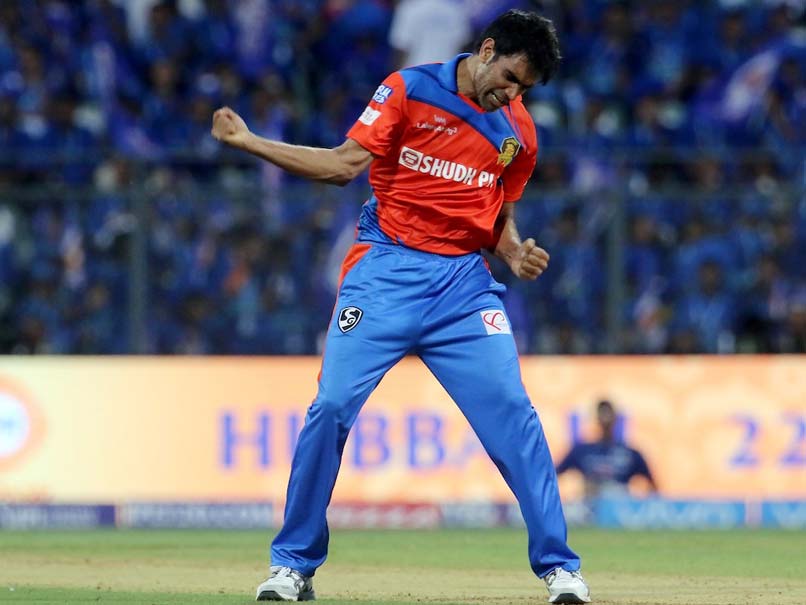 Munaf Patel returned to action for Gujarat Lions against Mumbai Indians
© BCCI
The wheel turned a full circle of Munaf Patel on Sunday, when the former India player found himself back in Indian Premier League (IPL) action for Gujarat Lions (GL) against Mumbai Indians (MI), his former franchise, after a gap of 4 years - 1426 days, to be precise. The tall Baroda fast bowler, famous for his languid style and action akin to Australian great Glenn McGrath, has been out of the news for so long that his return sent Twitter abuzz. Few even knew that he was still playing, though when he did take the field, he looked as fit, or unfit, as he always has.
When GL captained Suresh Raina said Patel would be playing, it took all concerned by surprise. After all, he would not be the first name that comes to mind when picking a squad nowadays.
Patel's last display in the IPL was in 2013, on May 21 to be exact, when he was fielded by MI against Chennai Super Kings.
The bowler would likely like to forget that outing, as he was hammered all over the park by CSK's Australian star Michael Hussey and Raina, and ended up with figure of none for 32 off three overs.
That was the Qualifier 1, played at the Feroz Shah Kotla in New Delhi.
However, MI went on win that match, as well as the IPL. But that was the last time anyone saw Munaf Patel on the field, till Sunday.
He was picked up by GL for Rs 30 lakh in the IPL 2017 auction and coincidentally Raina, one of the men who had created this four-year hiatus, is now his captain.