Story Progress
Back to home
India vs West Indies Live Score, Over 46 to 50 Latest Cricket Score, Updates
Live Updates of Today Match between India vs West Indies from Barabati Stadium, Cuttack. Check commentary and full scoreboard of the match.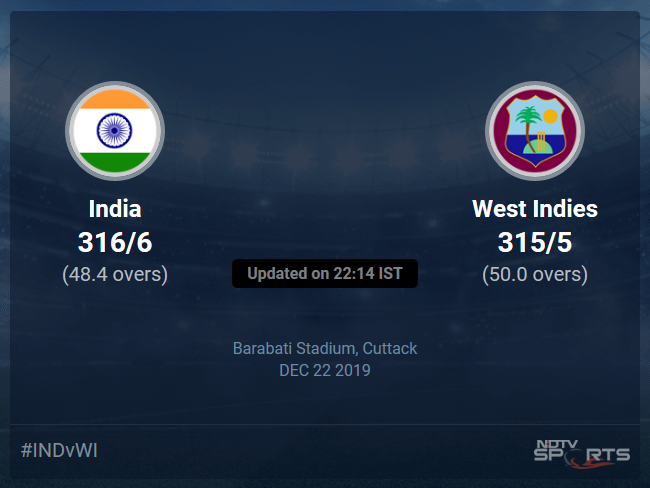 IND vs WI Latest Score
A dedicated team of experts bring you live score, live cricket score, live match update on Sports.NDTV.com. After 48.4 overs, India, chasing a target of 316, are 316/6. The live updates of India vs West Indies scorecard is also available. It is the perfect platform to follow your favourite teams in India vs West Indies 2019/20. Keep a track on your favourite batsmen and bowlers through India vs West Indies 2019/20 today match, ball by ball commentary, India vs West Indies, India vs West Indies live score, India vs West Indies scorecard. Follow the excitement of the India vs West Indies 2019/20 on Sports.NDTV.com as you can follow live match updates and live cricket score through our platform.
That's the end of another exciting series! India have ended up winning the game and series but the fight shown by the visitors is commendable. They pushed India to the limit in all the matches but India were simply better in the end. India, now host Sri Lanka for a three match T20I series starting from 5th January while the Calypso Kings go back home to host Ireland starting on 7th January with the ODIs. Until then, cheers.
Indian skipper, Virat Kohli is also the Man of the Match. Kohli says that having finished games so many time he has some calmness. Tells dew is becoming a factor and one needs just a few partnerships to put the opposition under pressure. Adds that Jadeja took the pressure off him and tells that he was happy to see others (Jadej and Shardul) finish off the game. On the year, Virat says that it has been a beautiful year and feels apart from the 30 bad minutes cricket in the World Cup they have been excellent and adds that they will keep chasing the ICC trophy. On the fast bowling talent India has, Virat says it is a proud moment as India have hardly ever had such potent attacks. Feels that it is the reason they feel they can win games abroad. Says that they will feel proud if they can at least keep the team as strong as before if not make them even stronger. Kohli then goes onto collect the trophy before he is joined by his teammates.
Rohit Sharma is named the Man of the Series. Rohit tells that it was a decider and they wanted to make the most of the track as Cuttack is a good batting wicket. Tells he is sad that he could not continue but tells he enjoyed other performances. Singles out Shardul's pull shot. On the year, he said he has enjoyed it a lot but says winning the World Cup would have been even better but tells he has enjoyed the year personally. Adds that the team has also had a good year and he is happy. Further says that he is not done and is excited for the year to come. Tells that he knows his game and he backed himself. On the red ball cricket, he says he enjoyed it but was also challenging as the ball was moving in India unlike they have seen before.
West Indies skipper, Kieron Pollard says that there was not much to be disappointed about as he is proud from where they have come from. Credits his players for showing the mettle and congratulates the Indian team for winning. Says they are the no.1 side and he is happy that they pushed them to their limits. On being asked about the batting performances, Pollard says that he knew the side had the talent and credits the batters. Singles out a few performances like Hetmyer's, Hope's and Pooran's. Says that they just wanted them to express themselves and tells that there is a lot to look forward to in the future.
Stay tuned for the presentation as we find out who the Man of the Match and Player of the series are.
Early on, West Indies posted a daunting total of 316 in front of the Men in Blue, courtesy Pooran's and Pollard's knocks. They had some vital contributions from Hetmyer, Hope and the rest. This score looked like a good one but the dew might have had an effect on the final result of the game. India bowled well in patches, especially in the middle when they picked up some quick wickets but Pooran and Pollard took the attack to them and in the end reached what looked like a defendable score.
The West Indian bowlers were not upto the mark. They bowled a quite a few loose balls at the start and Rohit and Rahul took full toll of that. Then they changed their lines and lengths helping them make a slight comeback in the match. At one stage, they picked up three quick wickets but needed to pick up more wickets but they could not. Keemo Paul was the pick of the bowlers while the others were disappointing.
Jadeja says he was just thinking that he knew it was a good wicket and the ball came nicely onto the bat so he was very confident. Tells that he told Shardul not to do anything silly as he knew that the pitch was good to bat. Admits there was pressure on him as he hadn't batted much in the series. But tells that Virat told him to play straight as the pitch was good to bat on.
First up, Shardul Thakur. Thakur says that he did not think about Virat Kohli getting out as that would have put him under pressure. All he thought was that there is a set batsmen in the crease. Admits that he has been in such situations in the domestic circuit but says that it was a pleasure to do it in the international stage. On being asked if he is ready to become India's no. 8, Shardul says that he is ready as he thinks he can do the job with the bat as well.
The guys who guided India home towards the end, Shardul Thakur and Ravindra Jadeja are caught down for a quick chat with Harsha Bhogle.
What a match we have had and it is India who come out on top. They have also taken the series 2-1 but it has been a tough fight given by the West Indies. Coming to this chase, India started off brilliantly with Rohit Sharma and KL Rahul who stitched a partnership of 122 runs before Rohit was out. India, after another small partnership between KL Rahul and the Indian skipper lost some vital wickets in the middle. It looked like West Indies would make a comeback but Kohli and Jadeja stitched a valuable 58-run stand to get closer to the target. Kohli fell 15 short of his century and the hosts still required 30 runs off 23 balls but Shardul Thakur came in and finished things off with a good cameo.
48.5 overs (1 Run) Drama at the end! Safely in but India would not have cared as it is a no ball. India win by 4 wickets. On the pads, Jadeja flicks it towards mid-wicket and takes a quick single. The fielder scores a direct hit at the keeper's end. The umpire takes it upstairs but he has also signaled a no ball as Keemo Paul overstepped. The umpire still checks upstairs and replays show Thakur was in but unsure how it would have mattered. Nonetheless India win by 4 wickets and seal the series.
The umpires have gone upstairs for a run out against Shardul Thakur. It looked close but the umpire signals it a no ball and that is game, set and match. On replays, anyway, Thakur was well in.
48.4 overs (0 Run) Full on middle, Jadeja strokes it to mid on.
48.3 overs (2 Runs) Good length ball outside off, Jadeja punches it on the off side and gets a couple. Scores level now.
48.2 overs (4 Runs) FOUR! Edgy but India don't care a bit. Slower bouncer around the body, Jadeja looks to pull but it goes off the top edge fine down the leg side for a boundary.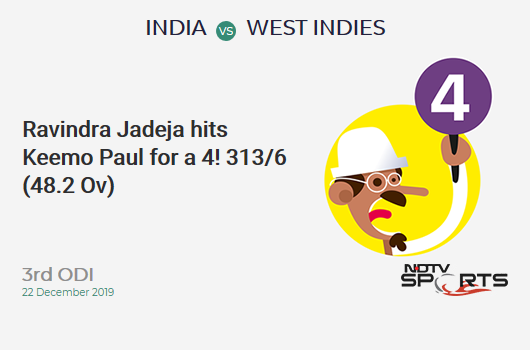 48.1 overs (0 Run) Not Out! Shardul is safely in. Full outside off, Jadeja hits it straight to mid off. Shardul comes out for a single but Jadeja sends him back. Shardul turns and tries to go back but he slips. The throw from the fielder is a poor one and Shardul recovers and makes his ground as Keemo takes the bails off.
Run out appeal taken upstairs. Looks like Shardul is back in.
47.6 overs (1 Run) Back of a length on off, Jadeja pulls it towards deep mid-wicket and gets a single. 15 off the over. Just 7 needed off 12.
47.5 overs (1 Run) On the body, Thakur glances it to the leg side and takes a single. 17 from 6 for Shardul. Who would have thought that he'd be the man to take them so close?
47.4 overs (4 Runs) FOUR! Jadeja was the man but Shardul says I am no walkover! Full on middle, Thakur hits it right in the gap between deep mid-wicket and long on for a boundary.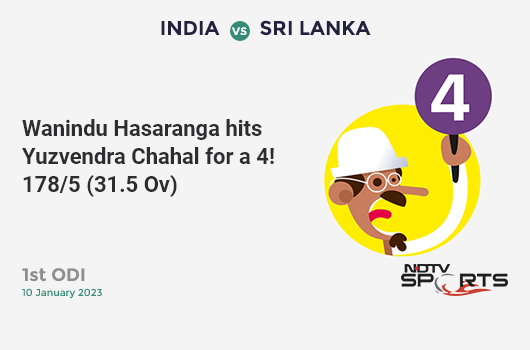 47.3 overs (6 Runs) EDGED AND SIX! Bouncer around the body, Thakur looks to pull but gets a top edge. The ball flies and it goes over the square leg fence for a biggie. Jadeja applauds his partner, the dressing room is going wild and the crowd is going bonkers.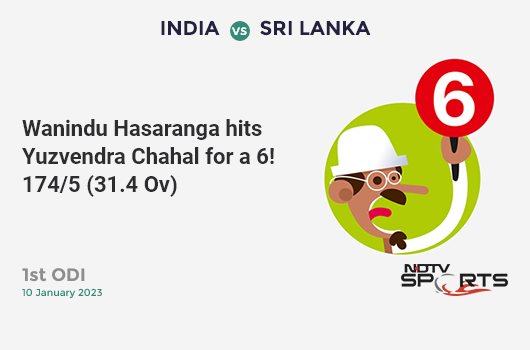 47.3 overs (1 Run) WIDE! Bouncer bounces too high. Shardul looks to pull but misses. The square leg umpire signals it as wide to the umpire and it has been wided.
47.2 overs (1 Run) Slower ball on the body, Jadeja pulls it towards short fine leg and takes a single. A bit to the left or right and that would have been a boundary.
47.1 overs (0 Run) Length ball outside off, Jadeja has a slash at it but misses. Better from Sheldon.
47.1 overs (1 Run) WIDE! Slower ball gone wrong. Misses it completely and bowls it well down the leg side. Jadeja does not even offer any shot. The last thing Cottrell would look to bowl is a wide ball.
22 needed off the last 3 overs now. Cottrell to bowl out. If he can get rid of Jadeja in this over then West Indies might feel like they are in with a chance.
46.6 overs (1 Run) On the pads, Jadeja flicks it to fine leg and keeps the strike.
46.5 overs (1 Run) Back of a length around off, Shardul pulls it to long on for a run.
46.4 overs (1 Run) Good length ball around off, Jadeja punches it towards long off for one.
46.3 overs (1 Run) Now guides this one down to third man and gives the strike to Jadeja.
46.2 overs (4 Runs) FOUR! Shardul is not bad with the bat in hand and he has proved just that. Full outside off, Shardul lunges forward and creams his drive through covers. And the loudest cheer in the cubical was for this shot.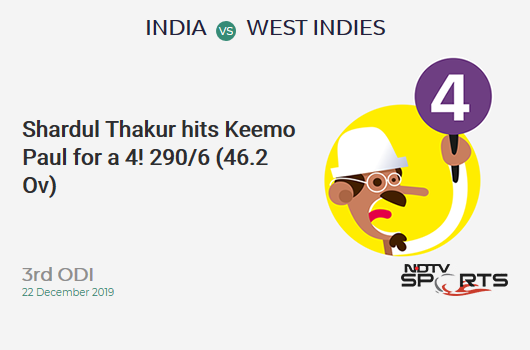 Shardul Thakur replaces the Indian skipper out in the middle.
46.1 overs (0 Run) OUT! Chopped on! Is this the turning point in this game? Stunned silence in the ground as the skipper walks back 15 short of his century. Keemo Paul strikes on the first ball of his comeback over. The ray of hope, West Indies were looking for. Kohli cannot believe what has happened. Full outside off, Kohli looks to drive away from the body. The ball takes the inside edge and goes on to disturb the stumps. India into the bowlers now. 30 needed in 23, can West Indies pull off a miracle?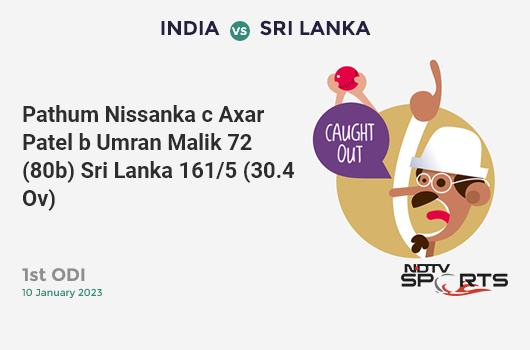 Keemo Paul is back on. 8-0-44-2 are his figures so far.
45.6 overs (1 Run) Full delivery on middle, Virat works it to mid-wicket and takes a single. 30 runs required from 24 balls.
45.5 overs (1 Run) Short ball on middle, Jadeja pulls it with disdain in front of square. Pooran runs across and makes a good diving stop. Only a single. Jadeja wanted a double but Kohli sends him back.
45.4 overs (1 Run) Slower delivery on middle, Kohli tucks it to mid-wicket and calls Jadeja for a single.
45.3 overs (1 Run) Short ball on middle, Jadeja pulls it to deep mid-wicket for a single. 33 needed off 27 balls.
45.2 overs (4 Runs) FOUR! This is excellent batting! Full delivery outside off, Jadeja thrashes it over the extra cover fielder for a boundary.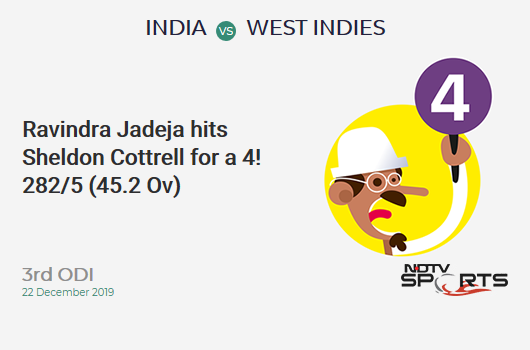 45.1 overs (0 Run) BOUNCER! It is bowled around off, Jadeja sways away from it. The umpire signals it one for the over. It should have been as it was way over Jadeja's head.
Match Reports
Topics mentioned in this article