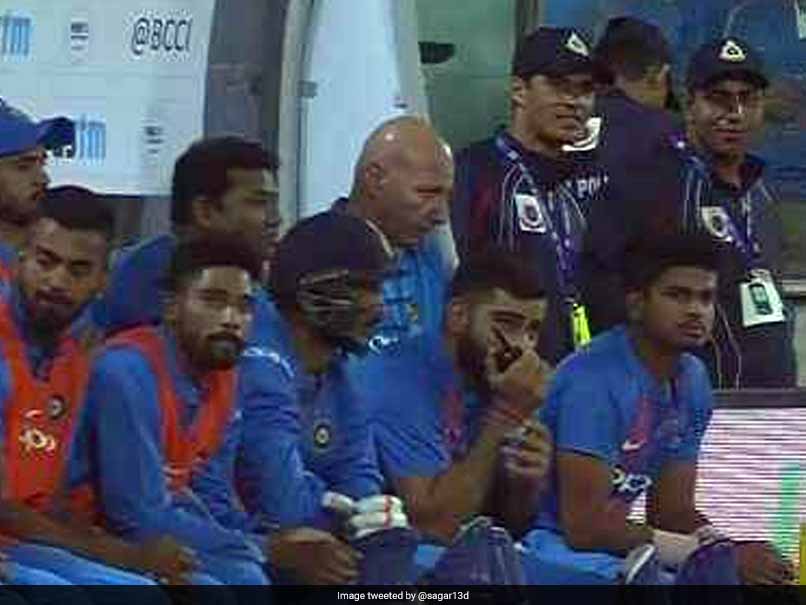 Kohli was seen using a walkie-talkie during the first T20I vs New Zealand
© Twitter
Virat Kohli was seen using a walkie-talkie during the first T20I between India and New Zealand at the Feroz Shah Kotla at New Delhi, which led to many believing that it was an out of the ordinary incident. However, on Thursday, a BCCI official told NDTV that the International Cricket Council (ICC) had been informed about the incident and that the Indian skipper had done 'nothing wrong'. According to the Indian cricket board, there were six official walkie-talkies with one being with the team. Kohli was sitting at the dug-out and TV footage showed him talking on the set.
The BCCI official told NDTV that there was "no breach of rules" and that Kohli was "communicating with the dressing room to ask for water".
"ICC was informed about this, no breach of rules by Virat," the official told NDTV.
"Virat did nothing wrong. There are six official walkie-talkies and one is always with the team. Virat was communicating with the dressing room. He was asking for water. This is standard practice," the official added.
Meanwhile, an ICC official gave a clean chit to India skipper, saying that Kohli had sought permission from venue Anti-Corruption Unit (ACU) manager.
"While walkie-talkie is used by support staff to communicate between dugout and the dressing room, Kohli had sought permission from Venue ACU manager before using it," an ICC official, who did not wish to be named, told PTI.
As per the ICC, while mobile phones are banned from dressing rooms, players and members of team management are allowed to use walkie-talkies.
India went on to win the first T20I by 53 runs. The hosts also recorded their first ever T20 win against Kiwis in six outings.
Riding on Shikhar Dhawan (80) and Rohit Sharma's (80) blazing innings and Virat Kohli's late flourish, India made 202/3 in 20 overs. Chasing a mammoth total, New Zealand could only manage to score 149 for eight.
(With Inputs From Akash Dasgupta)