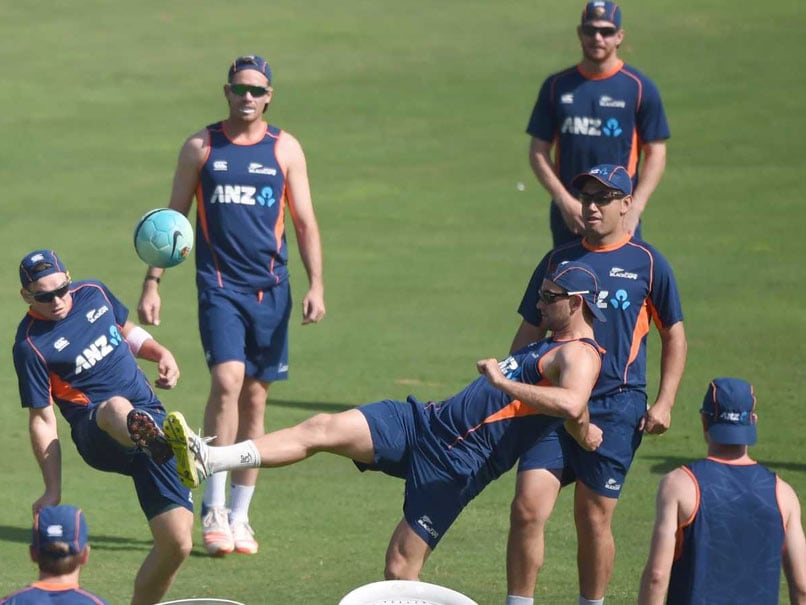 There was an air of excitement around the guys at training, said Tim Southee
© AFP
With the three-match One-day International (ODI) series tied at 1-1, the visitors are more excited than tense at the prospect of winning their maiden ODI series in India at Kanpur, said pacer Tim Southee. The visitors came close to winning the series last year before going down 2-3 and now they have another shot at going past the formidable Virat Kohli-led side in their own backyard. Southee further added that there was an air of excitement at the training and the team is freshened up after an off day. But the pacer maintained that the series is on the line.
"No pressure, it's more excitement I would say. There was an air of excitement around the guys today at training. Obviously, we feel freshened up after the day off yesterday. The series is on the line tomorrow," Southee said.
"That's what we play for and like I said, good sides have come here and walked away empty handed. I guess it'll be nice to seal the series here. But India is a tough team in their own conditions as they have shown that over a while," he added.
India have won their last six ODI series in a row after losing at home in October 2015, when they went down 2-3 to South Africa.
The cooler weather means conditions at Kanpur are different to what teams faced in Mumbai and Pune, and Southee said his team would have to adapt quickly to have any chance of winning tomorrow.
"The beauty of a series is as it goes on it's the same for both teams. You get more information about the opposition batters and there's information going out there as well. "Obviously it's a different ground and it offers different challenges, so if we can adapt to that quickly and see what is working then we'll go a long way in a good bowling performance," he said.
The pacer himself is looking forward to bowling in the pleasant weather.
"Training today was nice; it wasn't too hot. We know that coming to India, the heat is always a challenge. What we experienced in Mumbai was something, some of the players never experienced before...the humidity and the amount of fluids lost. Pune was relatively nice. It is different again here."
Asked if the current side is among the most prepared to tour India, Southee said, "We were involved in a lot of preparations coming into the series. Various guys were participating in different competitions around the world, be it in the Caribbean or in England or some of the guys on the A tour here."
"Some of the guys had breaks too. We came together in Mumbai where we had two good warm-up games before that first one-dayer. India bounced back nicely. Now with the series on the line, as I said, a lot of good sides have come here and haven't been able to move India over, so it'll be very satisfying if we could do that tomorrow."
(With PTI inputs)