Story Progress
Back to home
Virat Kohli Says 'It's Just The Beginning' After India's 18-Test Unbeaten Run
Virat Kohli, after India's innings and 75 runs win over England, said the 18-Test unbeaten run is only a 'tiny bit' of what the current side can achieve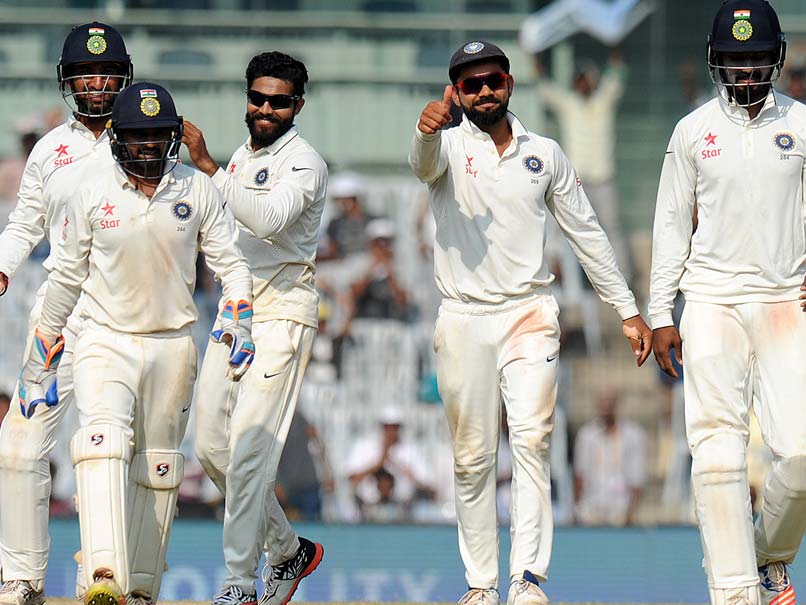 Virat Kohli and Indian team members after winning the fifth Test against England.
© AFP
Highlights
India will end 2016 as the No. 1 Team in Tests

India are on a 18-Test unbeaten run

India beat England 4-0 in a five-Test series
Virat Kohli-led Indian Test team, after its Chennai Test win, is on a 18-match unbeaten run - the most by any Indian team ever. Despite the achievement, the captain says it's 'just the beginning' of what the current side can achieve.
"As a team we have had a very good 2016 apart from two setbacks. One was the ODI series in Australia and second was World T20. We won the Asia Cup, ODI series against New Zealand in India and won all the Test series. It's been a memorable 2016 for the team and that's something I am really proud of," Kohli said after India's innings and 75 runs win over England in Chennai.
"To be part of such a good year and such a good season, especially with the team in transition is something we can be really proud of.
"But this is just the foundation that's been laid for us to carry on for lot many years. It's just the beginning. It's nothing that we want to achieve, it's not even a tiny bit of that. We understand where we want to go and hopefully the guys can keep putting this kind of effort and take the team where it belongs."
Asked if this team could be called Virat's Team India, the captain said: "I can't say that. How can I say that?"
'Complete performance'
Summing up the team's performance in the five-match series, Kohli said his side ticked most of the boxes.
"I would say it's a complete performance. From the time we were put under pressure in the first game to coming back and winning the next four Tests. We lost four tosses, including Rajkot but won three games out of that is very satisfying. As a captain, I feel it's a complete series for us. Everyone contributed at different times, especially the lower-order's contribution is something that stands out for me in this series."
Kohli said the quality of cricket, facilities and infrastructure must improve.
"The facilities should improve. Cricketers become professional. Their mindset becomes good. If you see, whoever comes into the team he knows there is a certain benchmark for fitness in the team. Of performance. Of mindset. We want players to be match ready when they join the Indian team. You shouldn't be spending a year in international cricket just learning what to do now. You lose a lot of time in that.
"Many players can't face that pressure. But if you are prepared, if you are professional, if you know you have to work hard, if you know how to prepare for a game, you have a better chance of performing," he said.
Generation next
Citing examples of KL Rahul and Karun Nair, Kohli said, "You can see their performance for yourself, especially Karun. Replacing a batsman like Ajinkya Rahane, who has been performing consistently in the last two years in Test cricket. To walk in and score a triple hundred. There couldn't have been a bigger statement.
"It shows that the next generation will keep getting smarter looking at others, learning how it is done. What we need to do when we reach the Indian team. It is just evolution. It is sometimes surprising looking at these youngsters, how quickly they pick things up. They are very smart and it shows on the field in how they play.
Time of declaration
Asked about the timing of the declaration, the Indian captain explained: "It's a very tricky situation to give yourself 20 more overs, if they haven't bowled you out for in almost 200 overs. You know you don't feel like saying...this guy is close to 300 and it doesn't happen every day. It's not like he is taking 10 overs to do it. He was hitting sixes, fours. He was getting us a bigger lead. So it was a perfect scenario where he got us to a stage where we couldn't have batted again and at the same time, we had enough overs.
"If the wicket was doing enough, then those overs were good enough. If we have five bowlers, we should be able to knock teams off in 90-plus overs. That's exactly what we did. When we've played abroad, most of the teams have gives us batting on the last day. With 90 overs and a target that is achievable. It's all how you go about that particular situation. Good thing was Karun really stepped it up close to his milestone and he didn't take too long to get there.
"So it gave us five overs yesterday. This game is very unpredictable. After the first session I'm sure you guys weren't talking about all this. You would have said that 'oh it's going to be a boring draw, nothing is happening' and suddenly things happen. In Test cricket, a team can lose in one session and that's exactly what happened today," he said.
Karun showed character
Kohli said Karun has always shown a lot of character. "He could pull the ball well. He used his feet, drive the ball well. At No.3, when the ball is swinging, he is lethal. I've not seen anyone currently in India sweep so well against spinners. He's just the complete package. It's difficult to find guys like that, who have such character when they are batting and understand their game so well at such a young age.
"It's important to back guys like Karun. He was always our No.1 choice as a middle-order back-up. Credit to him. The chance came, just the third innings and he's done wonders. I congratulate him. He's delivered what we expected him to. He exceeded everyone's expectations."
Kohli, however, admitted it is never easy when a team gets outplayed.
"We have gone through that ourselves as a team and it's never too easy. Specially when you win two tosses and you get 400-plus totals and then you have innings defeat. Obviously it's deflating for them as an opposition. I know what they would be feeling like, we have gone through the same in past as well. It's never easy for the team, that's what I can say."
Kohli feels that the crowd want to see a result oriented Test match and that is what Indian team is offering them.
Promoted
"The kind of cricket that we play, we are always playing for results. That's something that crowd want to see. They want to see Test matches getting to a conclusion, not ending in boring draws. Even if it is a draw, it has to be a competitive one. That's something the crowd wants to see.
"That's the kind of cricket we have played over the past few months. That's why we see so many people come in. It is not going to be the kind of cricket that doesn't take the game anywhere. It's going to be played with a vision to win. That's exactly what the crowd want. That's where the connect is made between the crowd and the players," Kohli concluded.
Topics mentioned in this article
Virat Kohli
India Cricket Team
England Cricket Team
India vs England 2016
Cricket