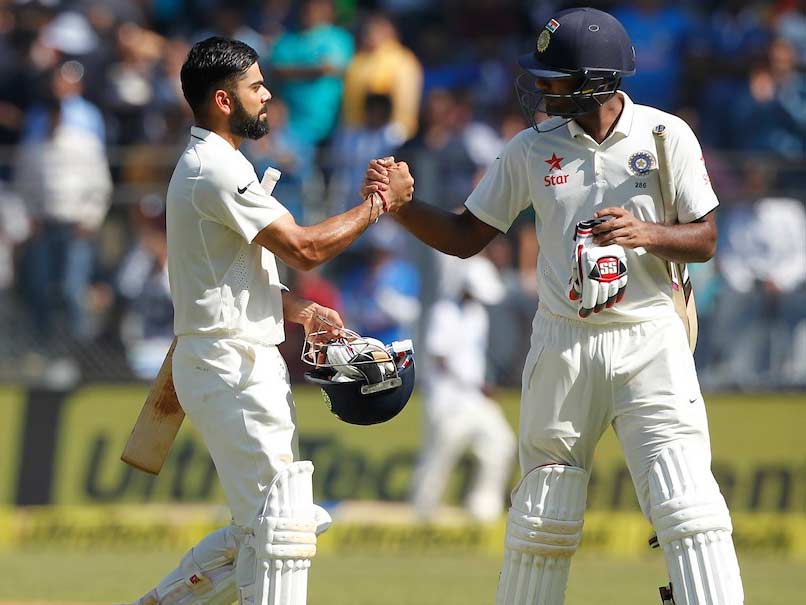 Virat Kohli and Jayant Yadav were involved in a 241-run stand against England in Mumbai.
© AFP
Virat Kohli seems to be doing everything right this year. After stellar shows in World T20 and Indian Premier League (IPL), he became the fifth player to notch three double centuries in one calendar year when he scored 235 against England in the fourth Test in Mumbai on Sunday.
Only Michael Clarke holds the unique record of four double centuries in a year (2012). With India playing one more Test this year, Kohli can match his record, according to former India captain Sunil Gavaskar. Sir Don Bradman (1930) , Ricky Ponting (2003) and Brendon McCullum (2014) are the other three players to score three double centuries in a year.
"Kohli can very well score four double centuries as India still have one more Test to play against England. His form, throughout the year, has been brilliant. And his 235 at the Wankhede Stadium was absolutely special," Gavaskar told NDTV.
"I think the people present at the stadium on Sunday were privileged to see such a master-class. There were several youngsters in the stands and it would be a great learning experience for them."
Kohli's 235 is also the top score by an Indian Test captain, surpassing Mahendra Singh Dhoni's 224 against Australia in 2013. He is also the second Indian captain after Gavaskar to score 500-plus in one Test series.
"The way he was running between the wickets shows a great deal about his physical fitness. With improved fitness, you become mentally stronger. Kohli didn't allow any sort of weakness. He scored runs quickly and was mentally sharp," Gavaskar said.
'Jayant batted like Kohli'
Gavaskar also lauded centurion Jayant Yadav, who became the first No. 9 Indian batsman to score a ton.
"I must say that he batted like Virat Kohli in the first hour of play. That is the biggest compliment that I can give him. His performance shows the bench strength of the Indian team," Gavaskar said.
England, with four wickets in hand, trail India by 49 runs going into the final day of the match. "India can finish the game in the first session itself. I believe the match will end around lunch," he said.