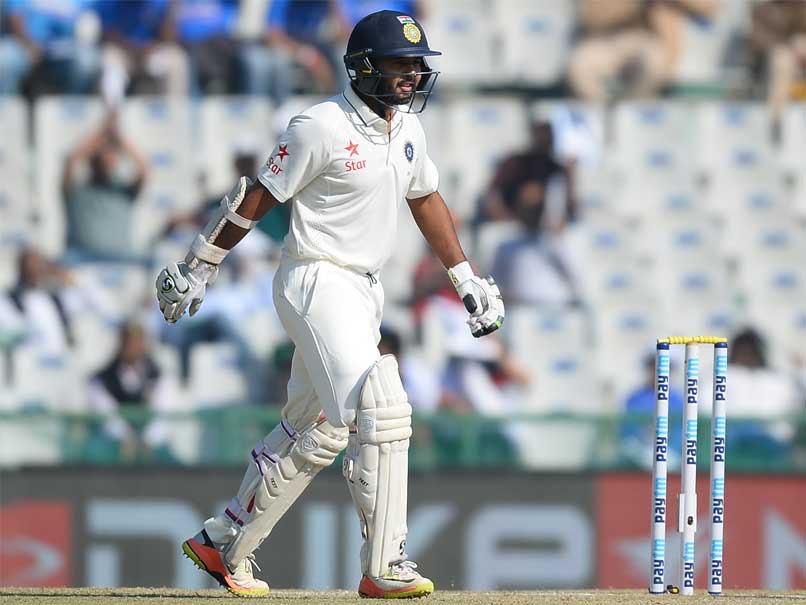 Parthiv Patel performed well in the third India vs England Test series.
© BCCI
India coach Anil Kumble had words of praise for comeback-man Parthiv Patel, who had replaced Wriddhiman Saha in the Vizag Test and will continue to don the keeping gloves in the fourth Test against England in Mumbai as well.
"Even when he (Patel) came in as a 16-year-old -- he still looks 16 if you shave off the beard -- he showed a lot of maturity in India colours. He saved the Test match for India," Kumble said during a media briefing in Mumbai on Tuesday.
"It certainly shows that if you are putting in the hard yards in domestic cricket, never losing your faith, and believing that you can make a comeback in the Indian team, then it is possible.
"I was pleased that he could walk walk into the match and not only keep wickets and bat at six or seven but when he was asked to open the innings, he put his hand up and did that really well.
"That goes to show not just the individual but the character of the player, to say that team comes about self.
"He was not worried about failing. When you are coming into a team, making a comeback after eight years, you always want to do well for yourself. But here was Parthiv who was ready to put his hand up and say, I don't mind opening, and he did that really well.
"Really shows the character of the players and I am am really pleased for him," the former India leg-spinner said.
Saha's hopes of returning to the playing XI for the Test, starting on December 8, were scotched as he has failed to recover from a strain in his left thigh.
Patel, who impressed with scores of 42 and 67 in the two innings at Mohali on his return to the side after eight years, gets another chance to impress the team management.
Saha, who had suffered the niggle during the second Test at Vizag, has been rested for the upcoming Test.
"The BCCI medical team has confirmed that wicketkeeper Wriddhiman Saha is still recuperating from the strain in his left thigh, which he sustained during the second Test match at Vizag," a Board of Control for Cricket in India (BCCI) release said.
"As a precautionary measure, Saha has been advised rest. The BCCI medical team is monitoring the wicketkeeper-batsman's progress," it added.
Meanwhile, Delhi seamer Ishant Sharma, who has been part of the squad for the first three Tests, has been released for his wedding.
India leads the five-Test series against England 2-0 after winning the second and third Tests by 246 runs and eight wickets respectively.