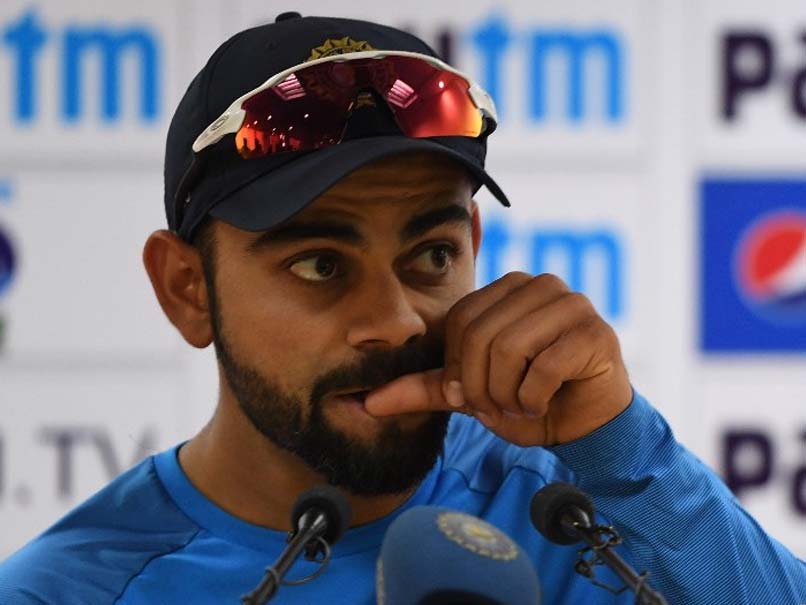 Virat Kohli is doubtful for the fourth and final Test match at Dharamsala
© AFP
Former India captain Sunil Gavaskar reckoned that Virat Kohli's leadership qualities will come in handy for India even if the Indian skipper has not really made a huge difference with the bat in hand in the fourth and final Test against Australia at the Himachal Pradesh Cricket Association Stadium in Dharamsala, starting on Saturday. Kohli's participation is under cloud after he suffered a shoulder injury while fielding on the opening day of the third Test in Ranchi. Kohli in a pre-match press conference said that he will only play the match if he is 100 per cent fit.
"If you look at the previous three Test matches Virat Kohli has not really contributed with the bat but as a leader he has been there and as a leader he has shepherded the team together. So the fact that he has not been contributing with the bat has been taken care of by the likes of KL Rahul, Murali Vijay, Cheteshwar Pujara, Ajinkya Rahane to some extent and Wriddhiman Saha down the order, Jadeja also. But it is as a leader that you want a person," said Gavaskar.
The team management needs to take the final call on whether Kohli would be able to make it to final eleven of the all-important Dharamsala Test match but Gavaskar felt that his presence is good enough to lift the Indians up and even if the 28-year-old is 50 per cent fit, he should be able to make it to the side.
"I think what the team management has to look at is how important is this player to your team, in an all-round sense and not just as a batsman sense. So if his presence on the field is going to lift your team up, even if he is 50% fit, 60% or 70% fit, it is his presence in the team that is going to energise the team, then you got to play him. You got to convince him. Virat personally would like to go in as 100 per cent fit because that is what you will expect from any other player of the team but if the side feels that he is a must for this deciding game then they might want to convince him," the former India opener said.
Talking about whether Kohli's absence will make things easier for the Australian team during the fourth Test of the series, Gavaskar reckoned, "Not really. With the way others have responded and with Virat not being there, clearly a challenge for the others and may be the Australians would feel that there is one big hurdle out of the way, but the visitors know that the hosts for this particular game will come all guns firing. Because both teams know this is the deciding thing. Despite the fact that Virat might not play, I don't think Indians would be too disadvantaged as they have the ability to regroup and pick themselves up."
While assessing Ajinkya Rahane's captaincy in the last game, Gavaskar went on to add, "Rahane has a different style. Much more quieter. Virat is a lot more aggressive and in your face kind of style. But Rahane showed a good sense of what was going on. He showed good awareness as to what bowling changes needs to be made, not to overbowl some bowlers. He was handicapped to a great extent by the fact that India went in with just four bowlers and the fifth bowler was hardly ever used. So that might be bit of a problem. That is something that they will have to think about as well as their combination for the game tomorrow. But Rahane did not do badly at all as the leader when Virat was off the field in the Ranchi Test."