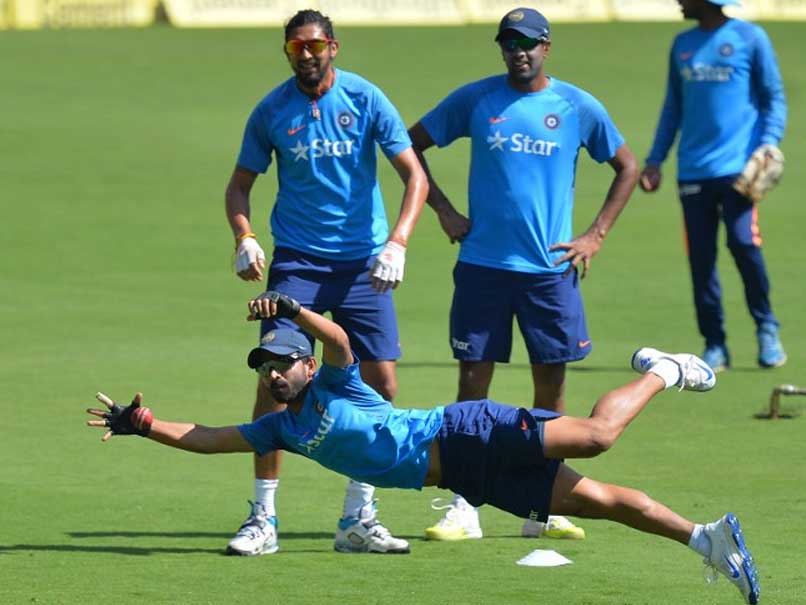 Ajinkya Rahane to take up the job of captaincy in Virat Kohli's absence
© AFP
With India captain Virat Kohli nursing a shoulder injury and not quite sure whether he would be fit enough to play the final Test match against Australia in Dharamsala, vice-captain Ajinkya Rahane, in all probability, will take up the job of the captain in Kohli's absence. Rahane captained India in the last Test in Ranchi when Kohli was receiving treatment in the dressing room for most part of the Australian first innings. Talking about Rahane taking up the job of captaincy, Australia captain Steve Smith reckoned that the Mumbai batsman will do a good job as skipper, terming him as a "more chilled out guy" than his opposite number.
Asked how much India would miss Kohli's leadership if he is forced to skip the series-deciding fourth Test, Smith showered accolades on his Rising Pune Supergiants teammate Rahane.
"No, I think they'll be fine. I think Ajinkya Rahane will probably step up to captain their side. I thought he did a pretty good job last week (in Ranchi) when he was out on the field in Virat's absence. So, I'm confident, he'll be able to do a good job for them."
Playing alongside Rahane has given Smith an opportunity to know him and his assessment is that Rahane is less emotional.
"He (Rahane) is probably a bit more chilled out, out on the field. Probably, not quite as emotional. But, no, look, I think he understands the game really well.
"I've been fortunate enough to play a fair bit of cricket with Ajinkya, and I think he reads the game and understands the game really well. So if Virat was to miss this Test match, then I'm sure the Indian side will still be in very good hands."
The visiting captain praised Shreyas Iyer, Kohli's possible replacement.
"He (Iyer) is pretty aggressive and he probably hit the first ball he faced for a six if I remember correctly. The knock was on a pretty good wicket, where there was not much of pace on the wicket in Mumbai and we didn't play any of our frontline pacers (Mitchell Starc and Josh Hazlewood).
"So he played really well there. It is just one game but he definitely looks like a good player for future."
Going into the match, Smith said the favourites tag doesn't bother him one bit.
"I am not really bothered if we are the favourites or underdogs to be honest with you. It is a game of cricket, 1-1 in the series and everything to play for in this game. As I said earlier, I am not worried about the end result or the match.
"I am just focussed on controlling what we can and take it one ball at a time and the process. We have to concentrate a much more than what we have been doing and it is a beautiful place in Dharamsala and it is just exciting for us as a team."
(With PTI Inputs)