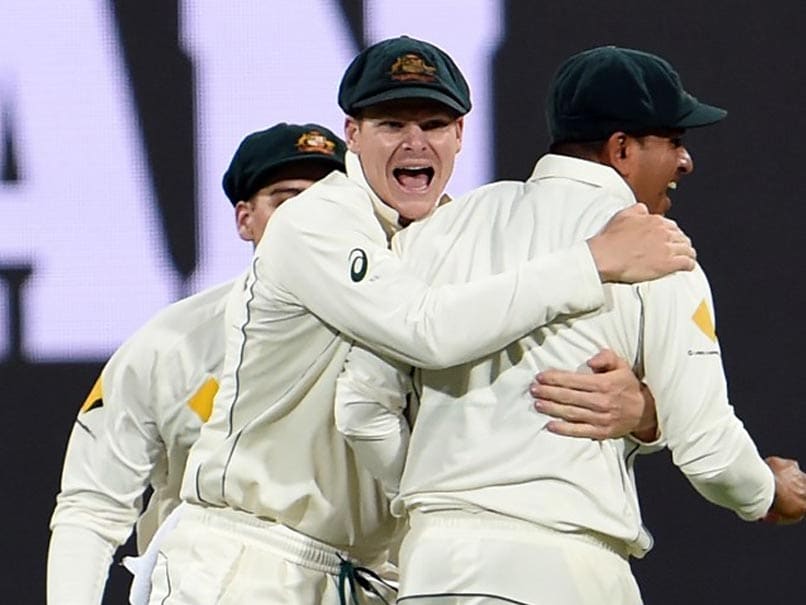 Steve Smith is confident to do well in India
© AFP
Australian captain Steve Smith, all set to face India in the four-match Test series starting from February 23, claimed on Tuesday that beating India in their own backyard will go down as the 'best time of life' for the players of his team. "It's a great challenge to play here in India. We know if we can pull something off and win a series here, we can look back at it in 10-20 years as some of the best times in our life. It's a great occasion to play here in India," said Smith at his first media conference after arriving here.
Australia, who are yet to win a Test in India since beating the hosts 2-1 in the best-of-three rubber way back in 2004-05, will commence their tour with a three-day warm-up game here against India A.
"This is going to be a difficult tour and I am excited by that challenge. All of us are excited about what's to come in the next six weeks," said the 27-year-old Smith, who is no stranger to Indian conditions after taking part in the Indian Premier League on a regular basis over the last few years.
India have not lost a Test series at home since losing to England in 2012 and by beating Bangladesh extended their winning streak to 20 matches. The hosts on Monday won the 6th consecutive Test series, which is also a record.
Australia had prepared for some time in Dubai before reaching Mumbai, and Smith said they had tried to play in conditions similar to what they will experience here.
"The boys have been in Dubai for some time now preparing on good wickets, challenging themselves. We have prepared very well and are ready to go," he said.
"We are excited about the tour and know it's going to be difficult. India are a very good team, particularly in home conditions. There's a tour match (from February 17-19 at CCI, Mumbai).
All the boys have been working hard, formulating good game plans and hopefully will have a successful series," he added.
Admitting that Ashwin would be a major threat, Smith said they have formulated plans to counter the premier Indian spinner who became the fastest to reach 250 wickets in Test cricket during the 208-run win over Bangladesh in Hyderabad in the one-off game that ended on Monday.
"Look, all our batters will have game plans to try and counter him. He's a world class bowler and among the fastest to complete 250 Test wickets just a couple of days ago. We know he's going to be difficult to face, but guys are going to formulate plans and hopefully they are going to get him out of the game as much as possible," Smith added.
(With inputs from PTI)